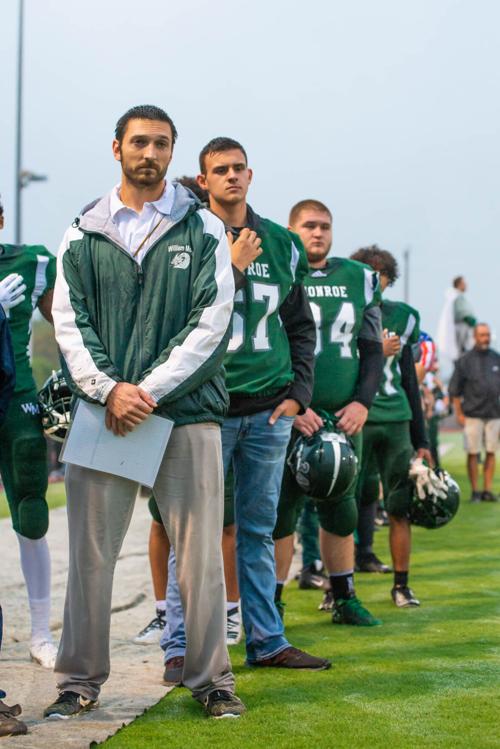 Mitchell Morris learned the game of football growing up in Greene County.
Now he will lead the county's next generation of gridiron standouts as the head football coach at William Monroe High School. He succeeds Jon Rocha, who stepped down earlier this year after seven years in charge of the program.
"William Monroe has always been a special place to me," Morris said. "I grew up in Greene and went to school here. Not only that, pretty much most of my family went to school here. I grew up coming to games and the football program has always been a big part of my life."
Morris was an all-district quarterback at William Monroe in 2011 under Coach Mark Sanford.
"He was an unbelievable coach and an even better person. I can't speak highly enough about him," Morris said. "He was the one that really showed me what a good work ethic looked like and pointed me in the direction of becoming a coach. I think if I can have half the impact that he had on me with my players, then I am doing a pretty decent job."
Morris didn't play college football, but found his niche as a student coach at Old Dominion University. He was a defensive coach for the Monarchs when future Walter Payton Award-winning quarterback Taylor Heinicke was ripping apart college defenses.
Morris came back to Greene County and joined Rocha's staff to help on the offensive side of the ball. In 2015, he worked primarily with the quarterbacks on the roster and he spent the past three seasons as Rocha's offensive coordinator.
"My time as an assistant was a great experience and I can't thank Coach Rocha enough for giving me the opportunity to coach on his staff for the last five seasons," Morris said. "He gave me more roles and responsibilities each year and really put me in situations that helped me develop as a coach. I was fortunate enough to be around some great coaches and players during that time and really learned a lot from those guys."
Morris said that his time as a William Monroe assistant solidified his passion for coaching.
"I was definitely reassured that coaching football is something that I would like to do for a long time," Morris said. "I love this game. I love coaching and being around kids. I feel very blessed to be in a position where I can have an impact on the young men of the community."
As a member of Rocha's staff, Morris has a strong familiarity with William Monroe's current roster. The Dragons graduated 17 seniors from last year's team, but nearly 20 players with varsity experience are set to return, giving William Monroe a strong foundation heading into the 2021 fall season.
"I think being a part of the previous program will really benefit me moving forward," Morris said. "I already know the kids and I know the community. It saves time getting to know each other, especially starting out."
Morris was there for his players earlier this month following the untimely death of William Monroe running back Josh Johnson.
"I was able to talk to the team during the time of events that we had planned for Josh," Morris said. "Josh was going to be big part of our offense for the next two years and he will be a difficult player to try and replace. That being said, Josh will still be a big part of this program moving forward."
Morris plans on hitting the ground running to put his stamp on the program right away.
Offensively, he plans to attack with numbers, leverage and angles and vows to get the ball in their playmakers' hands to generate explosive plays. Defensively, he preaches "relentless pursuit" of the football and tackling well.
"I think if you do those things well each Friday, you have a pretty good chance of being successful," Morris said.
During the interview process, Morris said he was most encouraged by the unwavering support felt from the players and the community, which confirmed he made the right decision to apply for the position.
"My coaching philosophies begin and end with forming positive relationships with my players," Morris said. "My players are going to know that I care for each of them. It goes back to the saying of 'they don't care how much you know, until they know how much you care.' The coach-player relationship will be the driving force of the program."