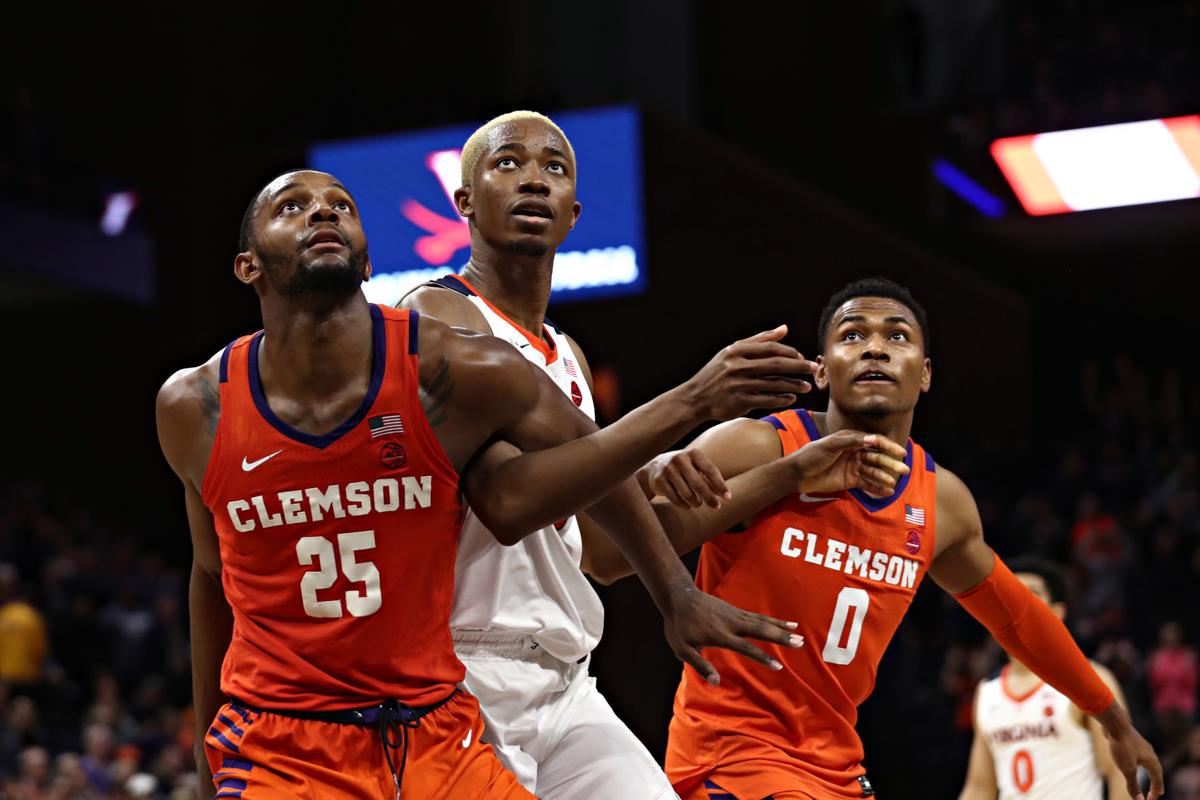 When Aamir Simms transferred from Fluvanna County High School to Blue Ridge School for his sophomore year, his goal was simple: develop as a person and a basketball player.
He accomplished both goals.
During his senior year at Blue Ridge, Simms averaged 13.4 points and 9.4 rebounds per game as he led the Barons to the VISAA Division II state championship.
That success at Blue Ridge led to a scholarship offer from Clemson, where Simms continued to thrive.
As a senior, Simms started all 24 games for head coach Brad Brownell, averaging a team-high 13.4 points and 6.4 rebounds a game. He also shot 53% from the floor and nearly 41% from 3-point range.
"I just want to thank Coach Brownell for giving me that career path," said Simms, who finished his Clemson career with 1,107 points. "I think my time at Clemson was nothing short of amazing. I think everyone put me in position to succeed right away. They worked adamantly to get me prepared. It was an unbelievable experience to get to that point. I always wanted to play in the best conference and against the best players and I did that in the ACC."
After his college season ended in the NCAA Tournament, Simms reluctantly took a couple of days off to visit family and friends in Virginia before flying to Las Vegas to gear up for the NBA Draft process.
"I wanted to get right back into it right after we lost in the [NCAA Tournament] but [Brownell] talked me out of it," Simms said. "I've been in Vegas since the beginning of May and I've been working on pre-draft stuff ever since."
After playing power forward for Clemson, Simms projects to be a 3-and-D small forward or potentially a stretch-four in the NBA. Because of that, he's spent countless hours in the gym trying to improve.
A self-proclaimed "early bird," Simms spends roughly five hours a day in the gym. His current regimen includes lifting weights, stretching and intense workouts with his personal trainers.
"I've been working relentlessly and getting acclimated to the 3-point line," Simms said. "I've been working on my hips, my body and my shooting, too. It's all been worth it."
Last month, Simms took part in the NBA Combine in Chicago and was invited to participate in the NBA G-League Elite Camp last week.
He measured in at 6-foot 8½-inches in shoes and weighed in at 234.6 pounds with 5.3% body fat. His standing reach was 8-foot 11-inches with 70.25" wingspan and a 28-inch vertical jump.
On the court, Simms saw 46.6 minutes of action in two games, which ranked fourth at the G-League camp. He made 10 of 16 shots from the floor, including a 3-for-6 mark from behind the arc, and finished with 26 points. Simms also posted 10 defensive rebounds and four assists.
Simms believes his talents are comparable to former Georgetown standout and current Brooklyn Nets sixth man Jeff Green, who has the ability to play and defend multiple positions.
Simms has been projected as a potential mid- to late second-round pick. He hopes his work leading up to the draft will improve that.
"I've been working my way up," he said. "[Scouts] love what they've been seeing. I keep sharpening my perimeter shooting and my lateral quickness. Being able to guard multiple positions and rebounding are key and those are things I'm going to be working on to refine my craft."
The framework for Simms' professional basketball dreams were formulated at Blue Ridge. In his three seasons with the Barons, Simms led the team to two VISAA Division II state championships.
Blue Ridge Coach Cade Lemcke, who was an assistant during Simms' first season at Blue Ridge, said there was always something special about him.
"When Aamir arrived to Blue Ridge, he was a little goofy and immature, but you could tell there was a charisma about him and an ability to draw people to him," Lemcke said. "Over his time on campus, he not only matured as a player and a young man, but his ability to lead people became more and more apparent. It was not surprising to us that he became one of the best leaders in the history of Clemson athletics. He has only scratched the surface for what God has in store for him and the way he will be able to use basketball to bring others together."
Simms was a 1,000-point scorer during his career with the Barons and was a four-star recruit out of high school by 247 Sports, ESPN and Rivals.
"Blue Ridge was probably one of the biggest life-changing experiences," said Simms, who was the 2017 Central Virginia Boys Basketball Player of the Year. "Blue Ridge was a college prep school and having Coach Cade there for you was the icing on the cake in helping with my workouts and my discipline. Blue Ridge was definitely progress, I think we kind of set the tone, and getting to Blue Ridge helped my career and how to approach things even at the next level."
Another big factor in Simms' progression at Blue Ridge was playing alongside former Virginia standout and current Milwaukee Bucks forward Mamadi Diakite. The duo pushed each other in practice in epic battles that brought the best out in both of them.
"It's been great to see Mamadi develop," Simms said. "Going against him in college and high school and being able to play against him soon in the NBA is tremendous."
Lemcke said the two developed a special bond at Blue Ridge.
"Mamadi and Aamir have a big-brother, little-brother relationship that was apparent at Blue Ridge and also in the ACC during the seasons that followed," Lemcke said. "One of the proudest moments was seeing both of them representing their teams at ACC Media Day as captains back in the 2019-20 season."
Simms and Diakite have maintained their relationship since Blue Ridge and the bond has continued to grow. Simms said he and Diakite still talk about twice a week.
"I definitely try to let him keep his space," Simms said. "I talked to him before my trip to Chicago and he gave me some pointers and some things to look for. He's been pretty helpful in doing his job as an older brother and earning brownie points."
Last year, Diakite was in a similar position as Simms heading into the NBA Draft. Although he was not one of the 60 players selected by an NBA team, Diakite didn't let that deter him. He signed a two-way contract with the Bucks last November and spent most of the season in the G-League.
After earning All-G League first team honors with the Lakeland Magic, Diakite signed a multi-year standard NBA contract with the Bucks in April. Diakite made his NBA debut on April 24 against the Philadelphia 76ers and made his first career start May 18 with the Chicago Bulls.
Diakite was the first Blue Ridge player to appear in an NBA game and Lemcke believes there's more in the pipeline, starting with Simms and possibly current Liberty star Darius McGhee.
"There are a handful of other guys who have a chance to join him over the next few years," Lemcke said. "It certainly is exciting to see these guys reach their goal of making it to the NBA, but we are just excited to see how they have impacted their teams and campuses at the college level. Having players with that type of talent and potential is something we don't take for granted, and at times, feels a little surreal. We are excited to see what God has in store for Aamir and I know he can add value to several NBA teams in the coming years."
For Simms, he's excited and driven by the opportunity to play basketball at a high level.
"I'm just looking forward to the opportunity to get knowledge from the older guys," Simms said. "Some team will see the light and I just have to continue to work. I know I can succeed in this league. The NBA is hard and I'm just curious and want to learn more about basketball and I will do everything in my power to get there."