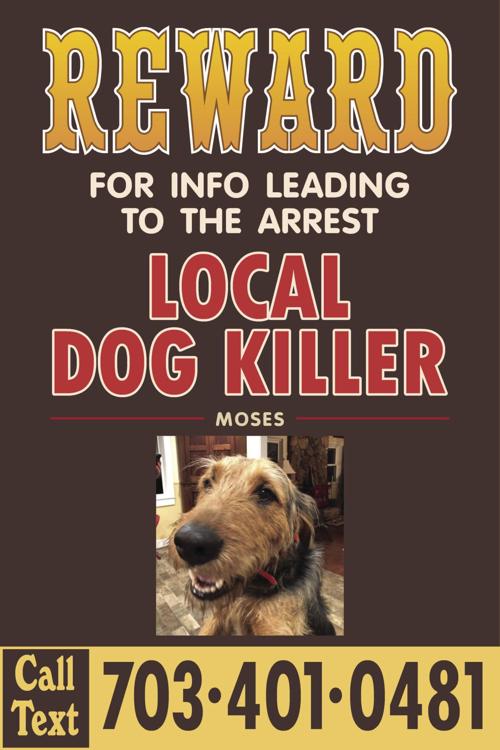 Editor's note: Since this is an active investigation, the Greene County Sheriff's Office was not able to release information. Anyone with information on the case is asked to call Deputy Schmitt at (434) 985-2222.
Our family buried a large part of our hearts on Thursday, Feb. 11. As snow began to blanket the ground, I stood watching from our kitchen door as my husband and son worked digging a grave to lay one of our best friends to rest. My tears fell as quickly as the white flakes from the sky. It seemed fitting, as much as anything like this can be fitting, but I chose to take it that the universe wept with us as we laid our beautiful, gentle friend into the cold ground.
Moses, named for the mighty works of caring and safety performed by his Biblical namesake, came into our lives in the summer of 2018. He was a mix of Airedale terrier and Black/Tan hound and was one of the most amazing dogs we had ever been honored enough to own. Born on the farm of a friend in Dyke, Moses clambered over his litter mates in order to get to us when we were choosing our puppy. We needed a dog to help guard our chicken flock and farm against foxes and bear. He did an amazing job, befriending our farm stock from the small chicks and cats up to our foals and horses. He loved our young grandchildren and the dogs of our grown sons' families. His greatest trait, to me, was his absolute insistence on receiving a full-hearted hug at the beginning and end of each day. He literally would refuse to touch his food until those few minutes were spent just being with each other—human and hound. In retrospect, this was the greatest gift he could possibly have given us by which to remember him.
You see, to our consternation, Moses had developed a routine of visiting our neighbors briefly throughout the week. From what we have been told in recent days, he was never a bother to anyone. He simply found joy in the visits and connecting with those who live in close proximity to our farm. He was never gone long, as he knew his responsibilities on the farm and did not shirk them for more than a couple of hours.
Over the weekend of Feb. 6 and 7 this changed. He was let out after his breakfast and did not come home after his morning run. We were particularly concerned because his collar—engraved with his name and our number—had broken earlier that week and the replacement collar had not yet arrived. Repeatedly that weekend, we called and looked for him, driving and calling, to no avail. We put out the word to animal control in hopes he had been seen and picked up.
Early in the week, my husband placed posters near our farm and at critical road junctures, Moses' sweet face clearly printed front and center. My gut wrenched as I knew my dog would not stay gone of his own accord with the icy winter weather bearing down upon us.
We did not have to wait long to learn that was true. Precious neighbors who live in the area of Lydia Mountain called to make us aware that a dog fitting his description was seen tossed over a steep roadside, coming to rest in an icy mountain stream. My husband left his job immediately to meet the kind soul who shared this information, hoping against hope that this was not our dog. Upon first glance down that ravine, all doubt was crushed. He hiked through brambles and branches to reach him and even worse fears were confirmed as he gathered the lifeless body to bring Moses home. My burly, mountain-man husband tried valiantly to keep it together as the landowner where he was found simply cried.
Our sweet, kind, loyal and loving 2.5-year-old friend had been murdered. From conversations with the sheriff, we know he was shot at long range, likely with the use of a scope from a rifle such as a 243. This cruel and heartless act took the life of our dog and has devastated our family. You see, our dogs normally live for upwards of 15-17 years. We love them fiercely and are gifted in return with long years of companionship and laughter. For this reason we have partnered with Greene County Animal Control, Greene County law enforcement and the animal lovers of Dogwood Valley and Lydia Mountain in an all-out attempt to identify Moses' murderer.
The mountains talk. It can be from the whisper of wind as it rattles the branches of leafless trees or from the trickle of streams racing toward the South River. It can also be from decent, animal-loving human beings who recognize that the law and our taxes provide alternative solutions to dealing with an unwanted domestic animal as opposed to a bullet fired by a cowardly, cruel hand at a distance too far to even provide the dog a chance to flee. We should be better than this!
If you know something, please say something. We have learned that we are not the only ones who have experienced the suspicious loss of a dog in this area. Some of the stories are literally sickening. All dogs, even those who "always" stay home, can run off their own land for any number of reasons at some point in time. That does NOT mean they should be executed.
Please don't allow this to continue to happen. If you or anyone you know ever experiences an animal on your property that is not wanted, reach for your phone and call Greene County Animal Control as opposed to reaching for a gun. If you are unsure of the laws that would allow you to shoot a domestic animal on your property, please also call them so you can be educated. It is a rare instance that justifies a shooting.
As Moses lay on the tailgate of my husband's truck, I received a package in our mail. I opened it to see that it was his brand new, engraved leather collar. I sent it down to be placed on him in death since his life was robbed from us.
A reward is being offered for any information leading to the arrest of the perpetrator of this crime. You may contact Greene County Animal Control or the number on the posted signs.
Should you wish to contribute to the GoFundMe reward fund, you may do so at http://gf.me/u/zjki3f. If we are unable to identify his killer, all collected funds will be donated to Greene County Animal Control and Animal Shelter.