Greene County keeps pushing for a fair withdrawal from RSA. Orange County, Madison County and Greene County formed the RSA in 1969 as a regional service authority to provide water and sewer service to the three counties. The two primary reasons for creating RSA were to develop a new water system in Orange County and to develop a new water system in Greene County for the Town of Stanardsville, including a reservoir.
In more than 50 years, RSA has never built the reservoir or the new water system for Stanardsville. The water plant RSA operates on the Rapidan River is too small, outdated and years beyond its useful life. The RSA plant produces barely enough water for Greene County. The RSA plant has no place to store "raw" water for treatment. The plant can treat only what it can draw from the river. There is no reserve supply of water for Greene County.
Greene County is near the headwaters of the Rapidan River, which is the sole source of our water. The river is not very big in Greene County, and the amount of water in the river here depends on the weather. Creating a reservoir to store a supply of "raw" water is necessary in order for Greene County to have a reliable water supply for current and future customers. Greene County's need for water storage capacity has been recognized since before RSA existed. Building a reservoir in Greene County was one of the reasons that RSA was formed.
In 2002, Virginia had the worst drought on record. The Rapidan River nearly ran dry. Greene County very nearly ran out of water. At the height of the drought, RSA had less than two days' supply of water for Greene County.
Stanardsville systems failing
Stanardsville lacks the water capacity and water pressure to fight a fire. Opening a single fire hydrant has left a neighborhood without enough water to take a shower or fill a pot. Leaks in RSA's Stanardsville water system are common. Because RSA never lived up to its purpose, no reservoir was built and the very limited water supply remains inadequate to meet present or future needs.
RSA has done no better with the old sewer system in Stanardsville. The mayor of Stanardsville has reported chronic sewage leaks to RSA for years. Multiple residents have reported chronic sewer back-ups into their homes. Raw waste has flowed into Mitchell Creek on and off for years. The old clay pipes that move sewage in much of the town are cracked and leaky. RSA's leaky sewer system is terrible for Stanardsville customers and bad for the environment.
Ruckersville system lacking
RSA's water system in Ruckersville is no better. Most of RSA's fire hydrants are on the bigger Ruckersville system. Of the 265 fire hydrants on the RSA water system in Greene County, it is estimated that more than a third of the hydrants won't work. The hydrants won't open because they have not been maintained. The "frozen" hydrants are useless in an emergency.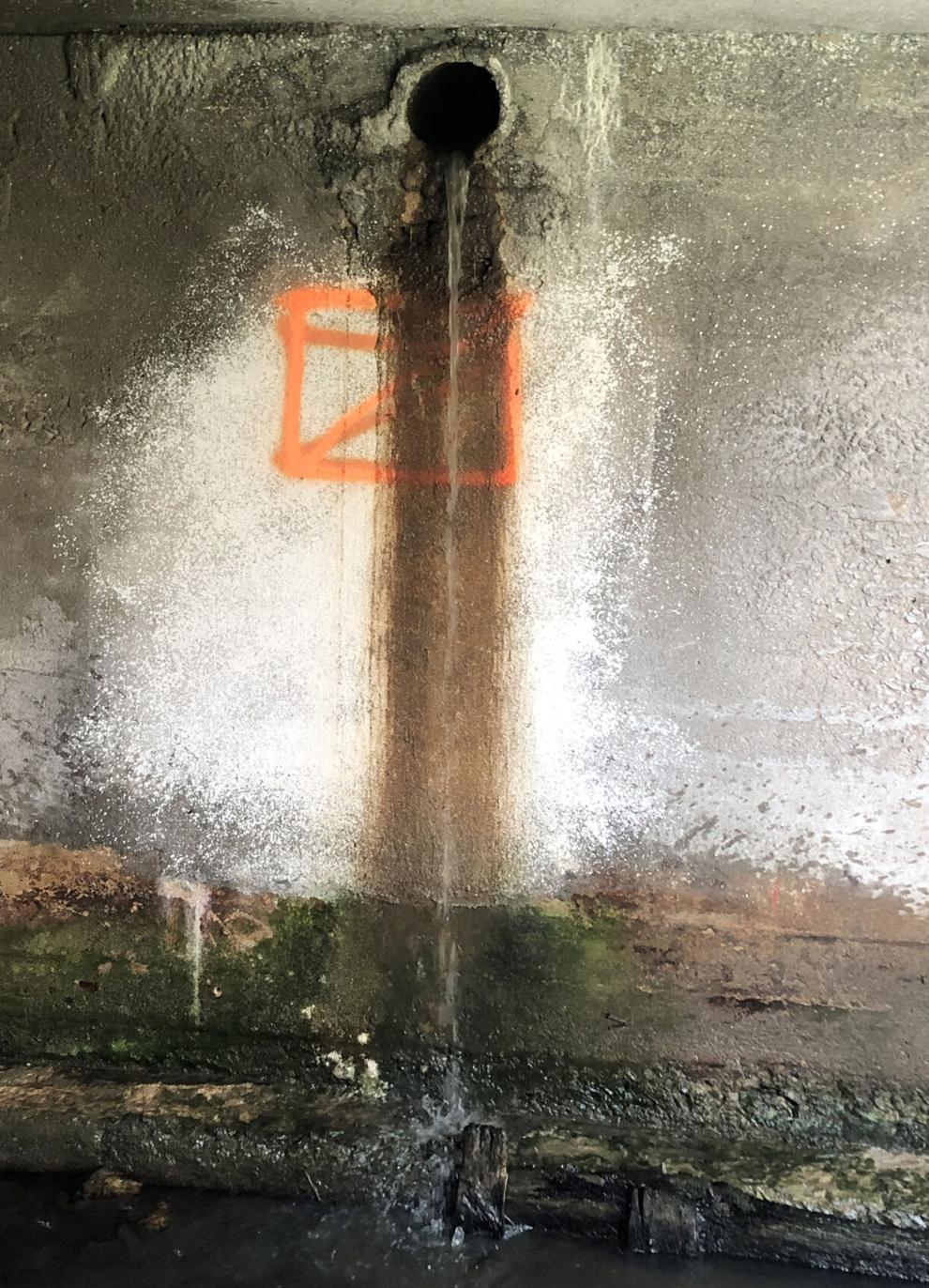 Since 1969, RSA's water system in Ruckersville has grown with each new business and each new development, without any orderly plan. Pipes have been added on in sizes to meet the need of the moment, rather than planned to meet the future needs of the growing community. The lack of planning and orderly development of the water system means many undersized pipes will have to be torn out and replaced as Ruckersville grows.
After the 2002 drought, Virginia called for better water supply planning to ensure sufficient water supplies across our growing commonwealth. RSA called for Greene County to do its own water supply planning, saying it was the county's job and not RSA's. Greene County developed a 50-year Water Supply Plan in compliance with the state's mandate. Information about this plan can be found on Greene County's website. Greene County's plan includes a 100-acre reservoir and a new water treatment plant that are designed to meet the needs of our growing county well into the future.
RSA told Greene that the county would have to build the Water Supply Project on its own. RSA declared it would not do this task that RSA was created to do. RSA declared that Greene County would have to pay for the Water Supply Project by itself, with no money from RSA. And RSA declared that before Greene County could build its Water Supply Project it would first have to pay off RSA's debt on RSA's old water plant on the Rapidan River.
Having no other choice, Greene County assumed RSA's debt on the old water plant. The agreements that transferred responsibility for RSA's debts to Greene County also created the Greene County facility fee, a fee paid by RSA water users in Greene County. RSA knew from the beginning that Greene County would need the facility fee – first to pay off RSA's debt, and then to pay for Greene County's Water Supply Project. RSA insisted on being paid a 10% billing charge to collect the facility fee for Greene County, on top of having Greene County pay for RSA's new billing software.
It should also be noted that while the facility fee was paid only by water users, 7.5 cents worth of the real estate tax paid by all Greene County taxpayers is used to pay for water and sewer infrastructure.
Though RSA refused to take responsibility for the future water supply that was their primary mission, RSA was made aware of Greene's developing Water Supply Plan each step of the way. Greene County selected the site for the reservoir with RSA's input. Greene County bought the land for the reservoir and paid millions of dollars to purchase the environmental impact credits required by federal law. The County's engineer designed the reservoir dam and new water plant. RSA reviewed the plans for the new water plant and required modifications that added a lot to the cost. RSA signed off on the water plant plans. RSA heard the financial presentations given at Board of Supervisors meetings explaining the costs and the facility fees that would be needed to pay for Greene County's Water Supply Project.
Several Greene County Boards of Supervisors have learned bitter lessons in this process. The county learned that environmental regulations that did not exist back when RSA was formed to build a new water system here will add nearly $10 million to the cost of the Water Supply Project. The county learned that the new reservoir and water treatment plant would now cost many times what it would have cost in the 1970s.
Ready to build, but stymied
By 2020, Greene County was nearly ready to begin construction of the dam to create its new reservoir. Anticipating the need for more money to fund the construction, Greene County went back to RSA and asked for small, gradual increases to the facility fee. The increases Greene County requested were consistent with the financing plan that the county's rate consultant presented to the Board of Supervisors, RSA and the whole community back in 2017.
Instead of acting on Greene County's request to gradually increase the facility fee as planned, the RSA summarily eliminated the facility fee entirely on July 16, 2020. RSA justified their action by calling the facility fee an "illegal tax." RSA's action violated multiple agreements between RSA and Greene County. When Greene County complained about this outrageous action, the Orange and Madison county members of the RSA Board voted to prohibit Greene County's members from voting or even speaking at RSA Board meetings.
Greene County sued RSA for breaching their agreements. The litigation is still ongoing.
The Greene Board of Supervisors also passed a resolution asking Orange and Madison to consent to Greene County withdrawing from RSA. The Orange and Madison Boards both refused to give their consent. They even refused to discuss Greene County's request. (Greene County can't just leave RSA. Under the law by which RSA was created, Orange and Madison must consent to Greene's withdrawal.)
Greene County added Orange County and Madison County as parties to the litigation. Greene's case went before the judge on multiple preliminary matters that RSA brought up trying to block Greene County's lawsuit. Greene County has won in court every time.
In 2021, Greene pressed again for Orange and Madison to give their consent for Greene County to withdraw from RSA. The Greene Board of Supervisors passed a second resolution asking again for Orange and Madison to consent to Greene's withdrawal. This spring, Orange and Madison passed resolutions agreeing that Greene may withdraw from RSA. Orange and Madison also made an agreement between themselves about how the RSA Board will change after Greene departs from RSA.
Allowed to leave but still stuck
RSA, Orange County and Madison County all said that action on Greene's withdrawal from RSA would have to wait for the judge's ruling on whether the Greene County facility fee was an "illegal tax." At the end of June, Circuit Court Judge Worrell ruled that Greene's facility fee was legal and that it was not an "illegal tax." RSA was wrong when they eliminated the facility fee. By the end of September 2021, RSA's unilateral elimination of the facility fee will have cost Greene County nearly $1.8 million.
Since the court ruled on the facility fee, Greene County has been working on its withdrawal from RSA and plans for its own Greene County Water & Sewer department. The county is talking with the Virginia Resource Authority that must approve Greene's withdrawal. Greene County drafted a proposed Withdrawal Agreement. Orange County drafted a Concurrent Resolution that will have to be adopted by all three Boards of Supervisors to finalize Greene County's withdrawal.
Greene County does not plan on bringing back the facility fee. A professional rate consultant hired by Greene County has completed a rate study to show what Greene's withdrawal will do to water and sewer rates, both in Greene County and in Orange and Madison. The rate study shows that in order to pay the debt that Greene County was forced to assume from RSA years ago, water and sewer rates will have to go up in Greene by about 19%. But there will be no facility fee. So, Greene County customer bills will be lower than RSA customer bills were with the facility fee.
The rate study also shows that RSA will have to raise water and sewer rates in Orange and Madison to make up for Greene's withdrawal. Why? Because RSA customers in Greene County have been paying a "contribution" to RSA's reserves. This "contribution" amounts to more than $11 per month per account (water or sewer) and adds up to more than $550,000 for RSA in this year alone. When Greene County customers are served by Greene County Water & Sewer, their mandatory "contribution" to RSA reserves will end.
According to their recent financial report, RSA has about $11 million in cash reserves. RSA Board Chairman Lee Frame (from Orange County) says that the RSA reserve money is all availability fees from Orange County – but RSA's own financial data shows otherwise. RSA's own data shows that Greene County customers have been paying a big "contribution" to RSA reserves. Greene County taxpayers and ratepayers have also been paying the RSA debt that the county assumed in 2005. Greene County is entitled to its share of RSA's cash reserves. Greene has paid more than its share.
Why is RSA delaying still?
While Greene, Orange and Madison are working on Greene's withdrawal, RSA continues to drag its feet. Despite having Greene County's Withdrawal Agreement to consider, emergency repairs in Stanardsville, on-going projects to complete in Greene and plans to make for the future of RSA, the RSA Board canceled their August meeting. Greene County's RSA representatives were not consulted; they were simply told there would be no meeting.
The RSA Board meets on the third Thursday of every month at 2 p.m. Their meeting locations vary. RSA Board meeting information can be found online at www.rapidan.org
Greene County's Withdrawal Agreement is important to RSA and all three of its partner counties. The Withdrawal Agreement will end the lawsuit that Greene filed last year. All of the parties want to see the litigation end. Greene County wants to end the litigation as soon as possible, but we must have a fair Withdrawal Agreement.
The Withdrawal Agreement will turn over RSA assets in Greene County to Greene County. Greene County already owns the Ruckersville Sewer Plant – the county paid for the sewer plant to be built. Greene County RSA ratepayers and taxpayers are paying for all of RSA's facilities located here and they have been for years. Greene County should own all of the RSA facilities located here because our residents have paid for them.
Greene County has learned that someone at RSA is saying RSA should sell their Greene County facilities and keep the money. Greene County would not tolerate such an outcome. Greene citizens paid for the facilities here. Greene County RSA customers and citizens are welcome to let RSA know their thoughts on this issue.
Greene County wants our community to know that the Board of Supervisors decision to withdraw from RSA is firm. Greene County knows that our community will be much better off on our own. Greene County and the Town of Stanardsville can work together for a better future. Our ability to work together effectively has been demonstrated in recent years by the Stanardsville Streetscape Improvement Project and the Greene Commons Project. The Stanardsville Town Council recently passed their own resolution supporting Greene County's withdrawal from RSA.
Greene a priority? We don't think so
Greene County has recently been told that RSA believes they have not had an opportunity to tell us what they could offer for us to stay in their regional authority. We say RSA has been showing us for years what they have to offer to Greene County and we don't want any more of it. Greene County is leaving RSA.
Greene County Water & Sewer is our future. We will have to fix or replace the fire hydrants that don't work and make the water and sewer improvements that RSA has ignored for many years. The new infrastructure we need will not be cheap, but we will be building it for ourselves and for our own future. Greene County is determined to provide good value to our citizen customers while keeping costs as low as possible. The county is seeking and applying for grants to fund our major projects and is optimistic that we could benefit from federal and/or state infrastructure dollars. Our Water Supply Project is literally "shovel ready" and we are looking forward to it. Plans are also in the works to finally fix the water and sewer problems in the Town of Stanardsville that RSA has long ignored.
Mark Taylor is the administrator of Greene County.