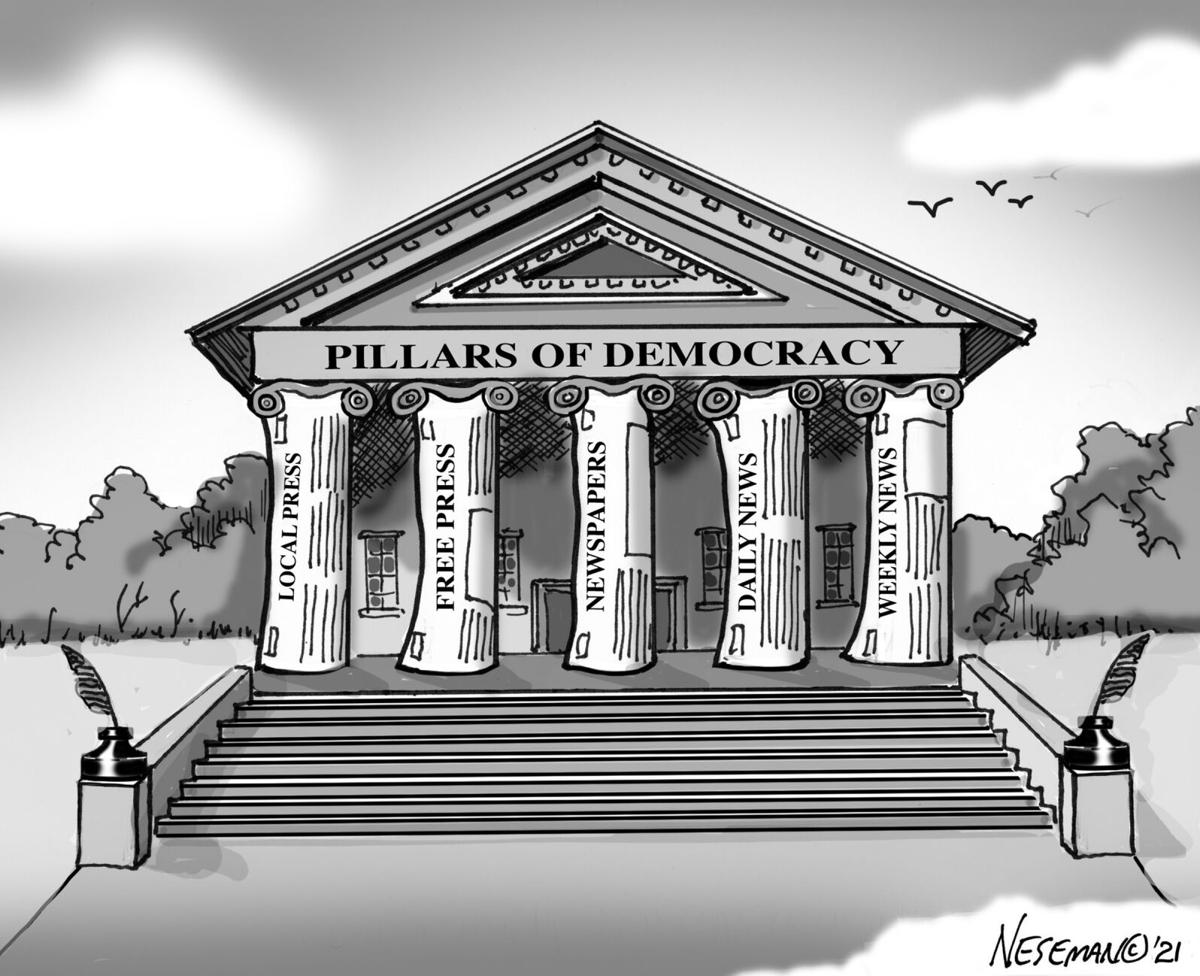 How important is local news to you? Sunday starts the 81st National Newspaper Week and we're asking you to ponder that question.
To us, it's a deeply ingrained focus—it's all we do here at the Greene County Record. Don't get us wrong, we pay attention to state and national news, but we've never seen a Washington Post reporter at a Greene County Planning Commission meeting or School Board meeting.
If local news is important to you, and you don't subscribe, ask yourself why? We're in the community covering everything from local government to high school sports and education to crime and so much more—original stories you won't find elsewhere. Going above and beyond for our community isn't just a job, it's a way of life for the two of us and we do it all—attending, photographing, interviewing and writing about the events and then laying out the newspaper every Tuesday morning. We've been known to hand deliver missed newspapers, as well.
We have heard from people in our community who believe important news, such as coronavirus information, should be available to everyone at no cost. We don't disagree, but there is a financial cost to producing the news—salaries that are not extravagant and have been stagnant for decades; the rent on our building; gas, because you will see us at the multitude of meetings and events in our community; technology; archival costs to preserve the history of Greene County—we keep all the bound books of old newspapers in our office and make a new one for each year; electricity, water, sewer and phone—no one discounts us those costs because we're producing important content.
Newspapers used to rely on local advertising to help cover the costs of production, but things have changed somewhat with the advent of social media and a marked decline in print advertising from local businesses. Now, newspapers have had to rely on paid subscriptions to offset the costs of production.
According to the "Black and White and Undead All Over" study by Tony Baranowski and the West Virginia University NewStart program, "Communities would do well to embrace and support their local watchdogs as they struggle with the issue of how best to communicate with the public in an era of caustic social media dialogue and ever-shifting technology formats. Newspapers, even at the most local levels, continue to be the best arbiters of these new modes of communication while remaining dedicated to their traditional model."
In the study, Julie Bergman, a 30-year veteran of community newspaper publishing in northern Minnesota, calls the need for dependable local news sources, "the big pumpkin theory."
"They can get their national information and their statewide information from many different sources," she said. "Who else is going to run the picture of the big pumpkin their neighbor grew that they can talk about over coffee? I'm not making fun of that! I think that's an important kind of feature news that makes a person and people feel a part of a place. And that's why I'm so bullish on community newspapers, whatever form or shape they take."
We celebrate you—our readers—this week, as well. Thank you for understanding the value of community journalism; it's your support that gets us through the more difficult times. We encourage everyone in the community to understand the blessing of having a local media outlet in our rural area—one that cares about this community as much as you do. It's our home, too.
To subscribe, call (434) 985-2315 Monday-Friday between 8 a.m. and 4 p.m. and leave a message if we're out doing interviews or covering an event—we promise we will call you back.