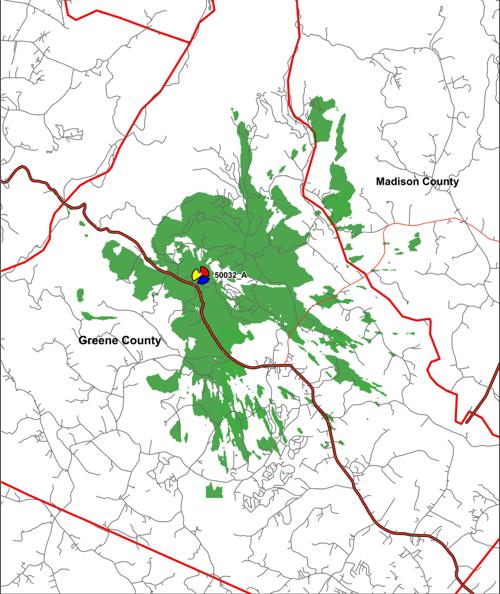 A proposed extension on a current tower on Lydia Mountain could bring high-speed internet to roughly 575 homes in Greene, Madison and Rockingham counties if approved by the Greene County Board of Supervisors.
The Greene County Planning Commission unanimously approved the special use permit (SUP) for the 12-foot extension at its Jan. 20 meeting.
The American Tower is located on 3.67 acres off Tower Road, which is zoned conservation. The new height will be 140 feet and six inches.
"If you're driving up toward (Skyline Drive) on Route 33, when you get near the old rock church if you look up, depending on the season, you may see the current tower," said Jim Frydl, planning director and zoning administrator. "We did just recently go through our telecommunications ordinance and revise it to come into compliance with federal and state changes. One of the missions or goals of the board of supervisors when writing that was to have as few towers as possible and one of the key goals is to have co-location as frequently as possible. What this request is is to co-locate a needed service on an existing tower."
Jessica Wilmer, site acquisition manager with Shentel, said the business has acquired a licensed spectrum that will be dedicated to its beam internet. This is similar to wireless service for cellular phones, only the box is attached to the home.
"It's 5G carrier-grade broadband internet that will be brought to underserved homes wirelessly from the nearby tower," she said. "Beam internet is different than other wireless internet service providers because we have our own spectrum that's licensed and dedicated solely to us. We're highlighting the most rural areas that are very limited right now. We have several packages that can offer speeds of 25, 50 or 100 megabytes of download."
Frydl said responses from homeowners in the area that will be served show they are lucky if they have anything even approaching dial-up speed for internet.
"So many of us, all of us really, are working from home and schools are doing remote learning," Wilmer said. "The digital divide is really becoming apparent for those … who don't have internet service or adequate internet service."
The extension to the tower is necessary because of how high the tree line is, Wilmer said.
"If it's not extended, we would not be able to co-locate here because of the tree line and a new tower would need to be built in this vicinity," she said. "We'd rather use an existing structure if at all possible."
Commissioner Steve Kruskamp asked whether Stanardsville falls within the potential coverage map.
"Stanardsville has fiber internet service; we're targeting only the areas that do not have fiber internet service," Wilmer said.
Commissioner John McCloskey asked whether other towers in Greene have been considered for something similar.
"Mr. Frydl was kind enough to give us a list of all the towers currently located in Greene and we have a database of our own that has towers and carriers listed," Wilmer said. "We are looking at each one on an individual basis and in those areas that we can get funding in. This is a very new product for us. We just launched about 25 sites at the end of last year and this coming year we have about 100 sites that we're going to propose in 88 counties."
No one spoke during the public hearing.
"I've had numerous phone calls of people who can't work from home and the kids can't get their education with virtual schooling from home," Frydl said. "We have people begging for internet and the people in this area (to be served) that get it pay $100 a month to get less than 5 megabytes. This area is pretty densely populated where Greene Acres is located."
Dogwood Valley would also be covered by this tower.
"This request seems to me to be almost a no-brainer," said Commissioner Ron Williams. "It's a minimal increase in height that's not going to cause any significant change to the viewshed. It's going to provide potential fast internet service to a large population of underserved houses in the county, so I would very much be in support of approving this initiative."
Commissioner Mike Traber motioned to recommend approval of the SUP and Jay Willer, chair, seconded.
"I want to join my colleagues in thanking you and your company for paying attention to Greene County," Willer said. "I'd like to echo some of what Mr. Frydl said about finding an existing tower that you can co-locate … and hope you will find other places where you can find new customers here as well."
The Greene County Board of Supervisors will hold a public hearing on this SUP at an upcoming meeting before voting on final approval.