It's been exactly a year since Greene took the rescue reins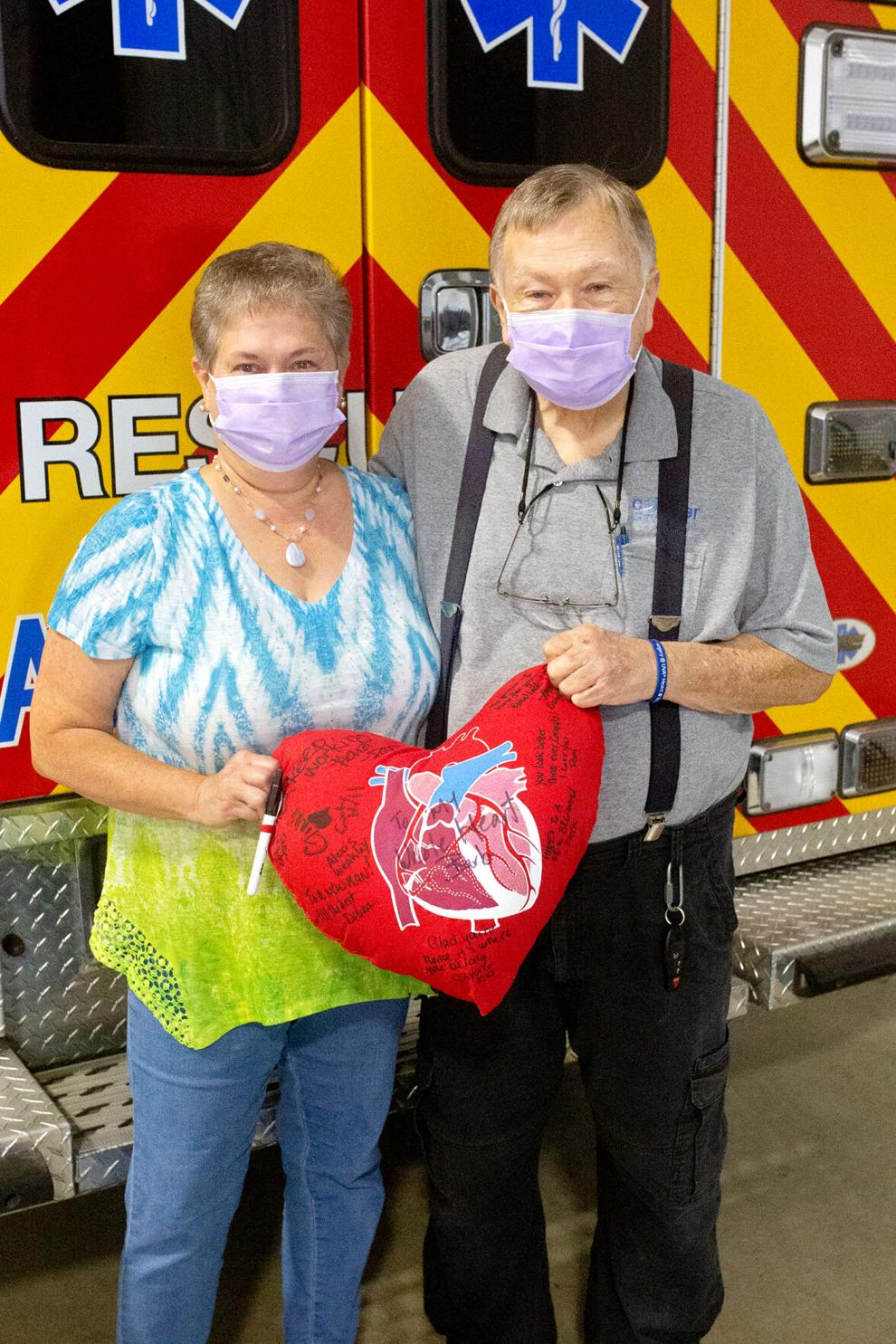 After 44 years of marriage, Barbara Walker knows which anniversary is her favorite: Sept. 10, 2021. Even though Bob was still in the hospital, he was alive to celebrate it. However, that wasn't a given after he had a heart attack on Aug. 21. The Walkers both credit the providers from the Greene County Emergency Medical Services (EMS) for that fact. The duo brought pizza to the squad on Monday to say thank you on the same week the squad itself is celebrating their one-year anniversary.
"How old am I today? Does anyone know?" Bob asked the squad members who helped save his life. "I'm 51 days old."
Barbara recalled the experience.
"We were sitting there watching TV and we were getting ready to watch a movie and he made a funny noise," Barbara said. "Usually I say, 'Hey, are you alright?' and I get that (thumbs up). I didn't get that and I don't know what made me stand up but I stood up and got in front of him and he wasn't responding. I grabbed the phone and the poor dispatcher; I still don't even know what I said."
Barbara, a lifetime member of the Greene County Volunteer Rescue Squad, had never been on this side of an emergency.
"I remember the dispatcher asking if he was breathing and I told them I didn't think he was," she said. "The dispatcher said to get him on the floor and I said I couldn't. I just did what I had to do. I was basically bouncing the BarcaLounger off the wall (performing CPR). It was life over limb, I had to do everything I could but the good news is these guys were only minutes away—thank God."
As a medic, it aggravated her that she couldn't get Bob to the floor herself, but once the squad arrived they got him on the floor, started the intraosseous (IO) to administer medication directly into his system and got his pulse back.
"Honestly, they did not work on him very long. They came in and did their thing right away," Barbara said. "And once they showed, up, Barb just completely fell apart. I had never acted that way before."
In her 20 years of rescue, her husband is only her second "code save," or bringing someone back from a cardiac arrest, which is pretty rare.
Bob, 69, spent two weeks in the hospital after his triple bypass and two weeks in a rehab facility before he was able to go home.
"I'm happy to have this scar," Bob said after showing post-surgery photos. "I had no signs, nothing—no chest pains, no arm pains. Thank you guys for being there."
There was no family history of heart disease, either, Barbara said.
"You don't know how grateful we are," she told the rescue providers Monday. "The support has been just overwhelming. I heard from people I hadn't heard from in years and years. My daughter was right there, thank God."
Barbara recalled in addition to rescue personnel, deputies, firefighters and even Dr. Debra Perina, operational medical director of the EMS, there.
"You had the whole response there," Perina told Bob, who was one of the longest-serving directors on the volunteer rescue squad.
When asked whether he felt special, Bob answered: "Damn Skippy and behind that, blessed."
Today is the one-year anniversary for the Greene County EMS (GEMS). In April 2020, Greene found itself up against a wall when UVA's Medic 5 sent a letter saying it would no longer provide ambulance service for the county as of Oct. 14, 2020. The supervisors approved May 12, 2020, the creation of a county-owned paid EMS.
"We had 155 days to get this department created and online by
Oct. 14," said Melissa Meador, director of emergency services.
The budget didn't leave a lot of wiggle room for funding the new squad for fiscal year 2021—agreeing to operate at the same funding level as was paid to UVA. Running four units (two ambulances) for
24 hours a day was costing the county about $1.1 million annually.
The creation of the EMS happened in the middle of the global coronavirus pandemic, which required additional personal protection protocols be established, as well.
"Our protocols are advancing; it's a good thing," said Emergency Medical Technician Alexis Weakley.
Paramedic Cynthia Patterson also serves as the squad's infection control officer.
"Before COVID-19, we'd wear a surgical mask and that's pretty much the highest protection we used," Patterson said. "And now we have the N95 masks and the P100 respirators and even though it's been hot outside, we have to wear gowns."
In addition to the extra protection equipment used, Patterson said there is more stress on a basic difficulty breathing call than previously.
"You have a high-risk patient and they're not really high-risk medically, but they are high-risk to you," Patterson said. "And even though you know you're protected there is still that small thought of 'what if it fails?' I think about that on every COVID patient—what if? So, it's still scary."
Meador said for as tight as the policy is, the providers do not complain.
"We are very fortunate that we have not had any outbreaks among staff," she said. "One exposure could take eight of us out."
Patterson said she wouldn't say they've been lucky, per se.
"They follow what they're supposed to and I think even though we get tired of this, everyone is still cautious," she said.
As time has passed, the call volume has increased—and not only because of COVID-19. As of the end of August, the squad had received 2,269 calls; taken 1,402 patients to the hospital; had 14 medevac calls; and 808 refusals and/or cancellations—which is about seven calls per day.
"These men and women are running anywhere from five calls a day to 15 calls a day," Meador said. "It's been hectic. Our call volume does drop off at about 10 p.m. and so I'm hopeful every night when I go to bed that they're going to get good rest (and help stave off burnout). The daytime hours are hitting us pretty hard right now."
The supervisors approved one new medic position, starting
Oct. 1. However, it's not full ambulance staffing.
"We're trying to determine whether we run that person in a chase vehicle for that third call and then I come to make a crew? Or, do we focus that person more on training? What do we want this position to look like?" Meador asked.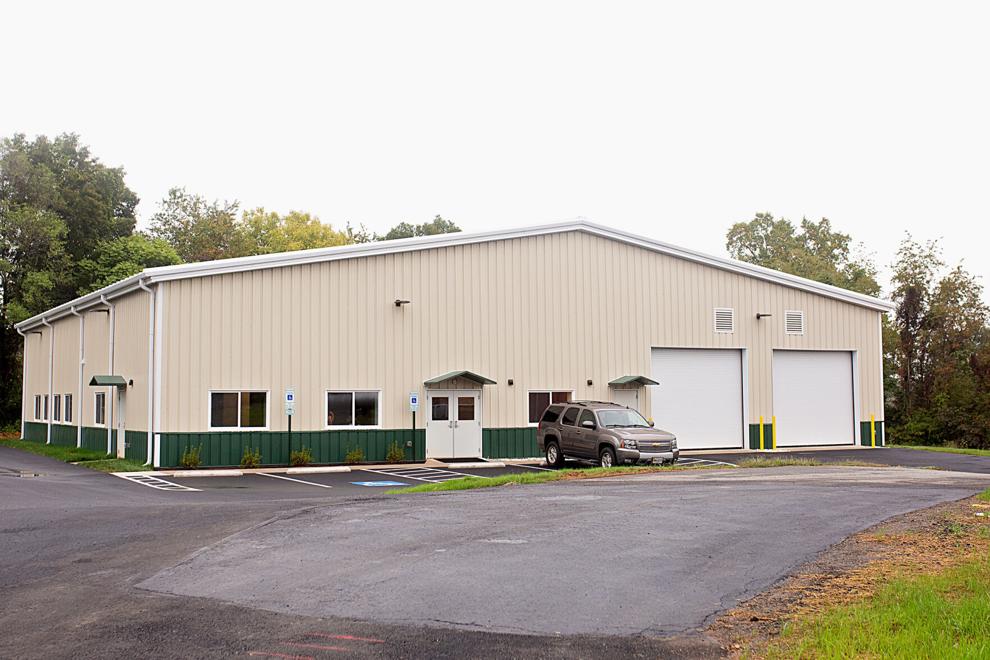 The supervisors approved using federal dollars given to the county as part of the COVID-19 relief funding to build the squad a new building. The first night in the building was Sept. 15 and they've been there ever since. Prior to that, the squad was renting part of the Stanardsville Volunteer Fire Department building.
"I don't know what I would have done if we couldn't have stayed at the firehouse," Meador said. "I didn't have a Plan B."
The new building is behind the old building on U.S. Route 33 business and has two large bays that can hold six total ambulances and two rescue vehicles in the center. There are doors on both sides of the building to make it easier to get the trucks out, as well.
Meador's office is now in the new building, as is the EMS supervisor's, which is an open position at this time after Aaron Anderegg resigned in August. Donna Dunivan-Wood, the administrative assistant, will have her office in the building, as well.
"I think being in one building is going to benefit us all," Meador said. "There's no delay when something is amiss. I think us being under one roof is going make everything across the board even better than it already is."
There is a large training room that will also double as the emergency operations center (EOC) the next time there is an emergency in the county.
"This entire building is on a generator," Meador said. "That was a main concern at the county administration building with the EOC there not having the whole building on a generator. Everything in this building is on a generator, so we won't miss a beat."
Meador said having the new location serve as the emergency operations center is a relief to her.
"When I was at the county administration building I had to have a backup to the backup if we lost power," she said. "Depending on which grid was affected the plan was to go to Stanardsville or Ruckersville fire departments."
There are six bedrooms and individual bathrooms for the crew in the building, as well as a large kitchen and communal area with recliners and a television.
Patterson said it's nice for the crew to have its own space, and Weakley agreed.
Meador said if the county hadn't initiated the contract for the new building when it did last fall it would have taken 12-18 months if not longer to get the building up.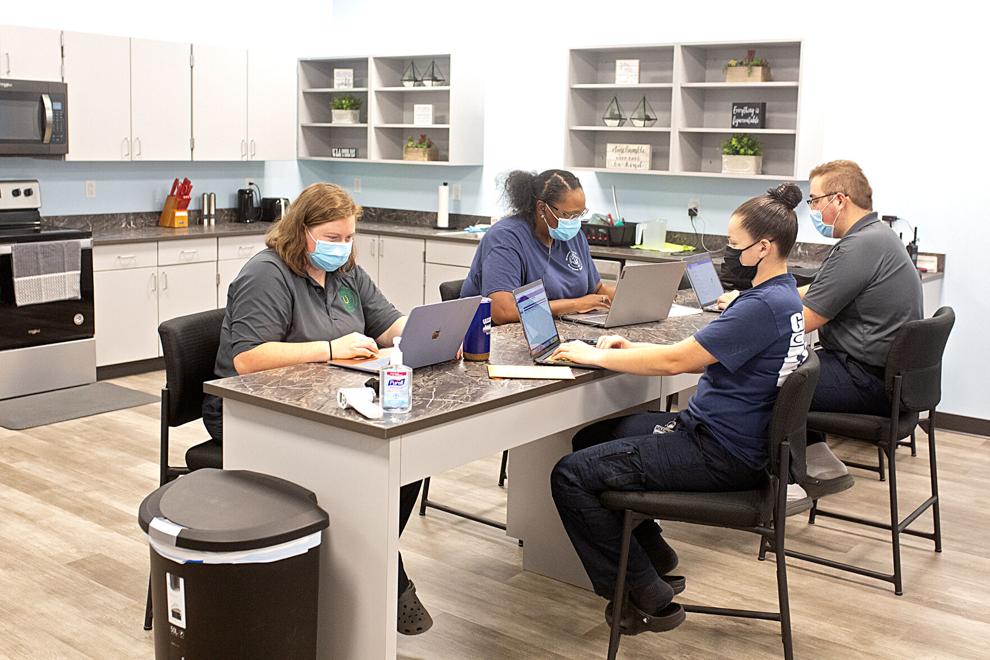 Meador said the new department has exceeded her expectations but there is still a lot of growing that is needed.
"We still have a lot of learning (to do). We put something together pretty rapidly and there was every opportunity for this to fail and we did not. And not only did we not fail, we are thriving."
"It's hard to believe we have been in existence for just one year! The service has grown by leaps and bounds, increasing capabilities of the providers and adding additional specialized equipment to provide a level of critical care to the county citizens that did not exist before," Perina said. "The crews have worked extremely hard to increase their knowledge base and learned new skills to provide the highest level of care possible. I am very proud of everyone's efforts."
There are only four on duty at a time—two teams to staff two ambulances, but is that enough coverage for Greene?
"In the long run, absolutely not," Meador said. "And I think we're at the point that it's not now. Last budget cycle we put in for additional staffing and we were successful at one additional position, but it's not enough."
Patterson and Weakley both agreed that the department has to grow.
"We have a high call volume," Weakley said.
"While the community is evolving, we, as an agency, need to grow," Patterson said. "We're not going to be able to handle that growth or we'll run out our people and then you start worrying about retention."
Patterson also asked that the community members have patience with them.
"People get frustrated when we come on a scene that we're not getting off the truck and grabbing a bag and running inside anymore," she said. "We have to get off the truck, protect ourselves, then grab that bag and tend to them."
Meador said she could not be prouder of the way the crew has handled the past year.
"I am excited for the future; the way they've all handled the past year—a new department, a pandemic, no secure 'home' and crazy personal protective equipment protocols. But they have held it together, responding to calls and asking what else they can do," Meador said. "The past year has been a whirlwind. If I had to rate the last year on a scale of one to 10, I would say we were at a nine. There are always things that you look back on and ask why you didn't do this or that, but as long as we're learning from it and moving forward, I'm happy. I am overjoyed with the staff and their initiative and abilities and it's going to continue into the future."