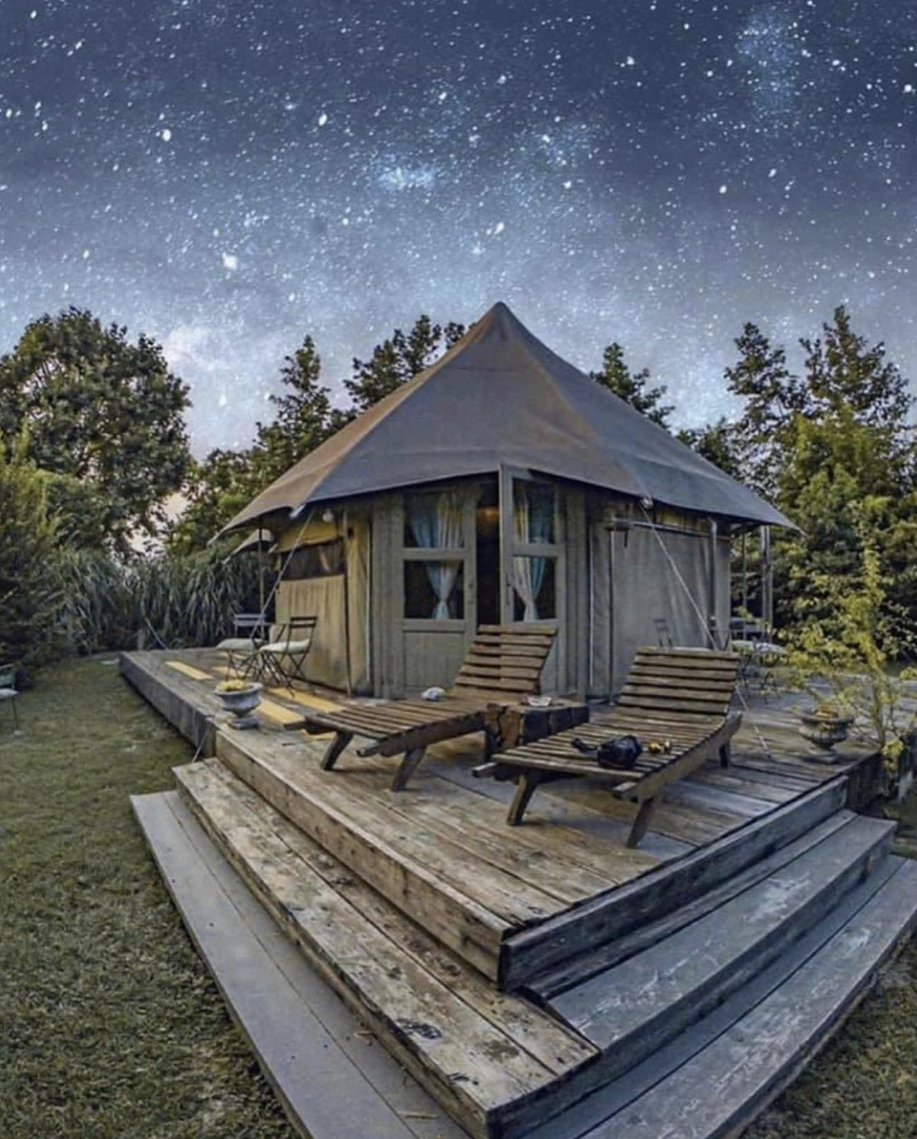 The Greene County Planning Commission Dec. 15 voted 3-2 to recommend denial of a Special Use Permit (SUP) for a proposed glamping retreat off Mutton Hollow Road in Stanardsville. Sojourner Glamping Inc. is seeking the permit for a campground resort on 117 acres just west of the intersection of Mutton Hollow and Dyke roads. The current owners of the property had planned to use the site for 29 homes in a development called Stone Brook, though none have yet been built.
Andy Murphy, co-founder of Sojourner Glamping and Zaina Lodge in Ghana, said the plan is to build 144 sites from one to three bedrooms each, a full-service restaurant, a camp store, an adults-only pool, a family pool and a kids' club building and playground. While some trees will be removed for tent sites, he expects to add more for screening around the buildings. The original 29-home plan would have cleared more trees from the property and some higher up on the ridge would have been seen from U.S. Route 33.
"Just a reminder, a special use permit is a use that is approved by the Board of Supervisors with the understanding that [the property] potentially has greater uses than by-right uses," said county planning director and zoning administrator Jim Frydl at the meeting. "So the process is to identify and evaluate any impacts; trying to decide if those impacts can be mitigated; and then make a decision based on that."
The two parcels proposed for the resort are part of A-1 agricultural zoning and are surrounded on all sides by smaller family farms. The top of the slope would be mainly kept wooded for hiking and recreation, while many of the sites would be closer to the Mutton Hollow road entrance. The Virginia Department of Transportation (VDOT) also completed a traffic study which showed the estimated impact to be an increase from 13% capacity to 15% of maximum capacity on Route 810.
"Glamping means camping with resort-style amenities and what you find in the research … is that glamping is mainly being driven by families with small children," Murphy said. "Families with small children as well as Millennials and Gen Z who tend to be slightly higher income, people who are looking to escape cities and find retreats in nature, that's the target market. … We like this (location) because of the proximity to Shenandoah National Park, the beauty of Greene County, and also we just think it's an ideal location for what we're looking for."
During the presentation, Murphy showed photos of the property from 2008 before it was purchased for the housing development; it had been used as a private landfill and has since been cleared of garbage to remove the impact on the local streams. He also showed the planned housing development, which would include clear-cutting of tree cover and wide roads with street lights.
"One of the reasons why we chose Greene was because of the rural character of the area," Murphy said. "It's in our interest to preserve it as much as it is yours as well. We don't want to see this place change, and we don't believe that we will. The idea is, if there's a structure that's not an accommodation unit, it should look and feel like a barn and look like it should be there. We want to compliment the natural landscape as much as we can using muted colors, so dark greens, browns, greys, things like that that will blend in as well."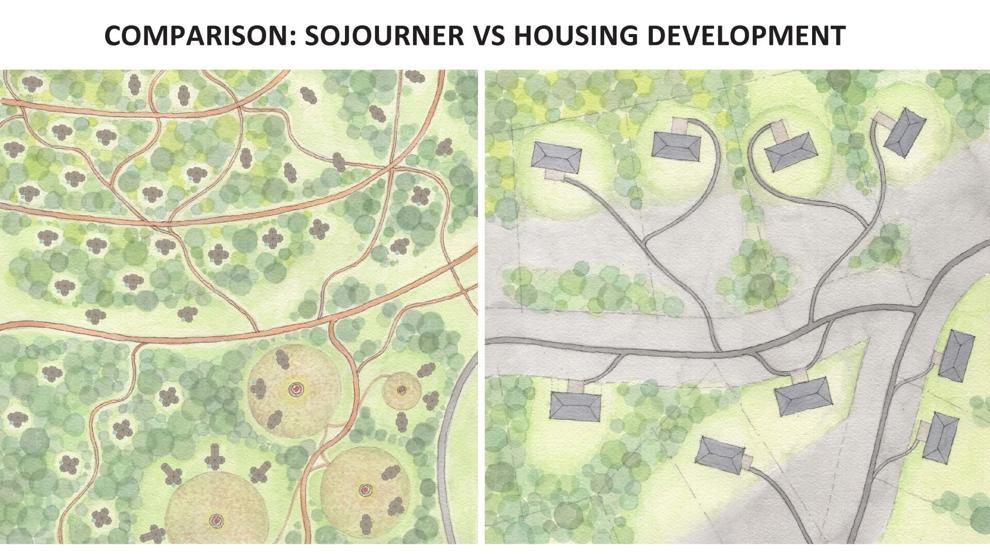 The applicant also described in detail the 33 recommended conditions of the SUP including landscape boundary screening, total number of units, minimum setback from the property lines, fencing, quiet hours, storm water planning, fire suppression and more. All buildings would be at least 121 feet from the front property line and more than 50 feet from any property line, and the proposed facilities would be dark sky compliant, meaning all outdoor lighting would be directed downward and low to the ground to prevent light pollution from obscuring the night sky.
"About 373 feet off the main line is where the reception would be and the camp store," Murphy said in regards to the site plan. "I know sometimes online I was hearing we were going to do a grocery store—it's a camp store, for common amenities that people need when they camp if they want to barbecue or do s'mores, things like that. … I'm 100% happy to partner with local business to supply their goods. The idea is everything at the restaurant, the more can be from people in Greene or around Greene, the better it is for us."
Murphy said he wanted Sojourners to feel like a part of the community and would invite locals to come and eat at the restaurant, visit the spa and host events at the recreation facility.
Attorney Valerie Long spoke on behalf of the applicant to highlight some of the benefits of the project to Greene County.
"Right off the bat, it would elevate the county as a top-rated tourism destination, increase the local tax revenue $3.8 million just over the first five years ... increase local employment, training and internship opportunities," Long said. "All of those back-of-house facilities, they're going to need local businesses that they can purchase from and purchase those services … and then they have opportunities and a strong interest in featuring local brands, artisans, food service providers, local wineries and other things like that."
Long also addressed many of the concerns they have already heard about the proposal.
"We know there's a lot of concern about preserving the natural character of the area," she said. "As Andy indicated, that's the whole point—that's why they love this area. The whole purpose is to bring their guests out and enjoy the natural character and the beauty of Greene County and all that it can offer. The interests of the applicant and the neighbors on this issue are aligned."
The attendees at the public hearing seemed to disagree, however, as shown by the standing-room-only crowd in the small meeting room. More than 60 members of the public filled every available chair, with at least 15-20 more in the hallway outside and a few sitting on the floor. Several had made "no glamping" stickers and t-shirts to wear to the meeting, and 20 people spoke during public comment with only two in favor of the project.
Todd Sansom, owner of Maybelle's Market in Dyke, spoke in favor of the project and the boost to local businesses it could bring.
"Any business that gives folks something to eat, something to drink, something to wear or something to do stands to benefit by the prospect of over 100 well-funded tourist families with a full weekend to explore everything Greene County has to offer," he said. "I can tell you from my heart, if this proposal was slated for the intersection beside my driveway… I would still be standing here in support because I'm tired of the sheriff's department not having enough money to fund deputies; I'm tired of wondering why the drinking water in Stanardsville turns cloudy and brown; I'm tired of watching teachers I know drop their kids off in Greene only to go work in Albemarle for better pay while Greene struggles to fill teacher openings; and I'm tired of forking over thousands of dollars in property taxes every year and seeing none of these problems improve."
Eusebia Estes, a neighbor to the property, spoke on her concerns about trespassing on her property from visitors to the resort. Barbara Haney, another neighbor, spoke to the increase in traffic and concerns for the water supply in the area. Sheriff Steve Smith, who also lives down the street from the proposed site, mentioned his concern about not having enough deputies to field extra calls from trespassers. Martha Ledford, who operates vacation rentals on her small farm, said she was concerned for the impact on her business.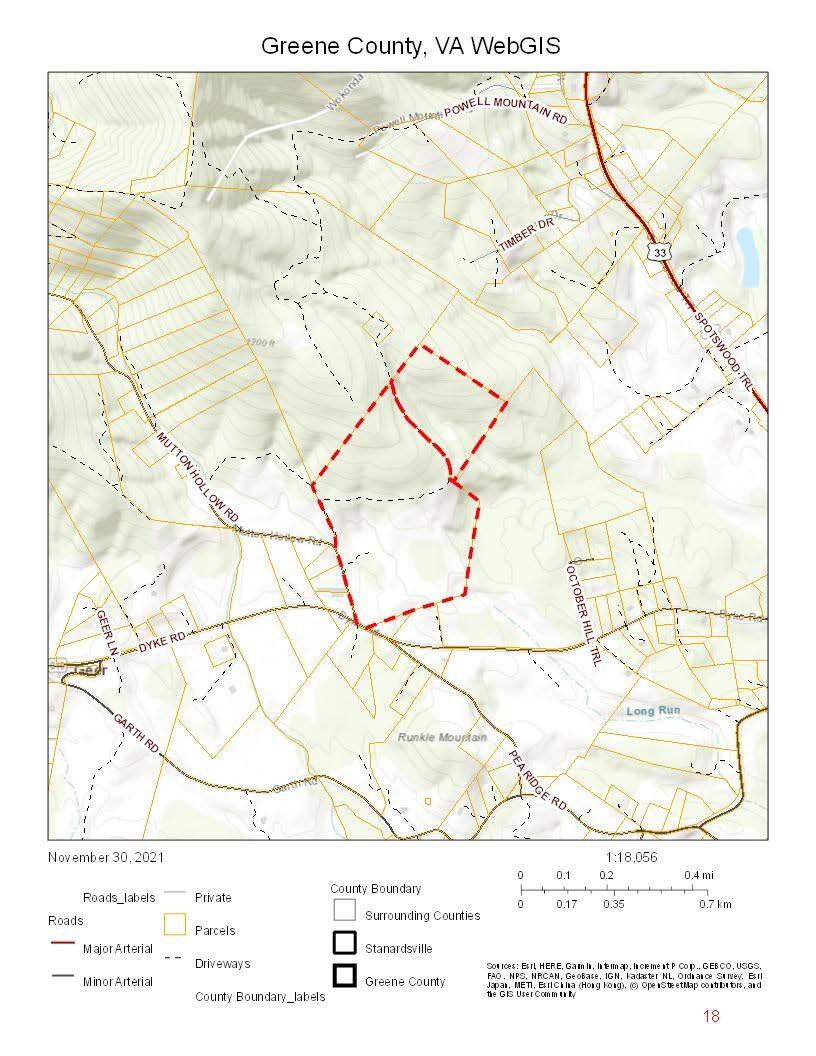 "In my opinion, this project is a risky gamble with investor money, county resources and our homes," said Scott Mingledorff. "It grants permission for large-scale commercial exploitation that will adversely affect residents and rob them—and the county—of the rural character of our most scenic region. It is overreach on a grand scale."
Steve Phillips said he believed 144 was far too many camp sites for this property. Ben Lawson, a geologist, said he thought the project would exacerbate groundwater problems in the area and dry up wells for nearby farms.
"One of the reasons we came to this area—we're right across from Mutton Hollow road—was because of the natural beauty and the character of the land," said Pamela Dumas. "We worked all our life to buy a little piece of land here because of that. Twenty-nine other houses would be our neighbors; people in a resort would not be our neighbors."
Cory Woods, an administrator at the Blue Ridge School in St. George, said he thought the resort would be a great place for parents of their students to stay when they come to visit. Bill Short, who spoke via Zoom, pointed out that a petition had already been submitted to the planning commission with approximately 500 signatures against the project. The petition, as received by the commission in late October, is available online at shorturl.at/gnGKW.
After about 90 minutes of public comment, the commissioners had their say.
Commissioner John McCloskey said he thought it was a great project but not the right location. "I would consider 50 sites, but 144 I think is very excessive for that area," he said.
"The use must be in harmony with the uses permitted by-right under the zoning permit and the zoning district must not affect adversely the use of neighboring properties," said Commissioner Steve Kruskamp. "I think we heard an overwhelming statement by all those adjacent properties saying that this would affect the use."
Commissioner Michael Traber said in response to all the "what ifs" presented by the commenters, he wanted to present an alternative viewpoint: "What if somebody has a really good ag. stand that does really great because you have more tourists driving by and decide to pick up some of your produce? What if your local agriculture business—your local cattle, your local vegetable stands that you're growing—are used in another facility that's nearby? What if we have a 20% increase in the number of people that show up at the strawberry festival? The clay festival? All things that are making the county more of a destination (and less of a truck stop)."
Traber also said he would love to have a source of tax revenue that doesn't come with an additional strain on county resources.
"Change happens—change is going to happen in Greene County, and we need to find a way to balance it," said Chairman Jay Willer. "The part that troubles me is simply the size of it. … It's a huge thing to build into that part of Greene County and the number of conditions don't contain all of that impact."
Willer was the deciding vote as Kruskamp made a motion to recommend denial and McCloskey seconded, despite an attempt by the applicant to request a deferral. After nearly 4 hours of discussion, the final vote was 3-2 for denial, with Williams and Traber voting against (aka in support of the SUP). As the vote by the Planning Commission is simply a recommendation to the Board of Supervisors, the issue will go before the BOS in early 2022 for a final hearing and vote; the exact date has not yet been announced at press time.