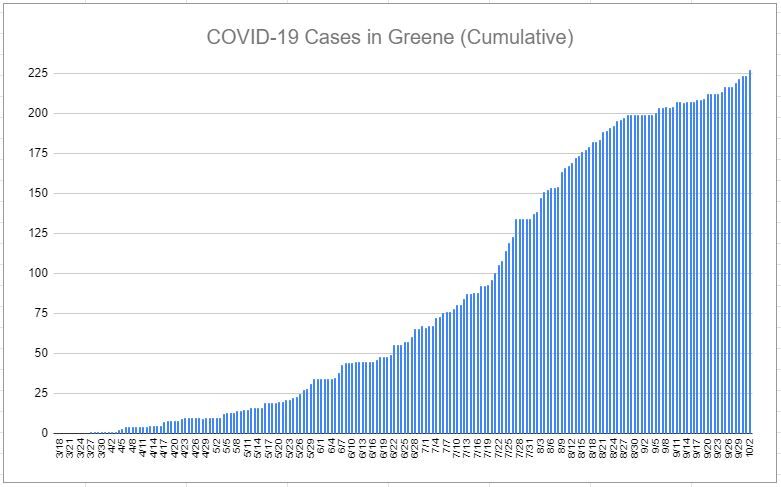 On Monday and Wednesday, parents of middle and high school students in the county received letters informing them of one confirmed case of COVID-19 from each school.
The high school student who tested positive had not been in school since Sept. 18 and the local health department was able to confirm that they contracted it outside of school. Because the individual had stayed home from school, no students or staff members were considered to have been in close contact with the student and no further quarantine or testing were needed.
"We are confident in the mitigation strategies we have in place but have been preparing for these situations," Superintendent of Greene County Public Schools Dr. Andrea Whitmarsh said Thursday. "As long as there are positive cases in our community, there will be a chance that there are positive cases in our school community, as well. The mitigation strategies are in place to minimize spread within our schools."
As of press time there were 227 total confirmed cases of COVID-19 in Greene County since late March, with 11 requiring hospitalization and three deaths. Only 23 of the total cases have occurred since school started Sept. 8.
In the letter to parents Sept. 28, William Monroe High School Principal Katie Brunelle reminded parents that the schools are working very closely with the local health department to conduct contact tracing for any confirmed cases.
"I am writing this letter to keep you as informed as possible so we are all able to navigate through this situation in the safest, healthiest and most efficient way possible," Brunelle wrote. "The Thomas Jefferson Health District has expressed continued confidence in our health guidelines and recommends that William Monroe High School remain open."
The schools continue to count on parents to encourage good behaviors with their children who are attending school in person this fall and to frequently assess their child's health to check for any possible symptoms and keep children home in the event of illness.
"As we have advised since the start of the school year, please also make sure you are performing health screenings with your child each morning," the letter continued. "You can assist us as well by promoting healthy behaviors, such as: staying home from work or school when feeling sick, even if symptoms are mild; wearing a face covering; covering coughs and sneezes with a tissue and then immediately washing your hands; washing your hands with soap and water for at least 20 seconds; avoiding touching your eyes, nose and mouth; cleaning and disinfecting surfaces that are often touched; avoiding close contact with people who are sick; taking care of your overall health."
On Sept. 30, a similar letter went home to parents of William Monroe Middle School students stating that one student had tested positive there as well.
"The Thomas Jefferson Health District has confirmed this positive case and is actively conducting contact tracing procedures," middle school Principal Dr. Brenda Walton said in the letter. "Thanks to the safety guidelines and physical distancing measures we have in place at our school, no close contacts have been identified within our school at this time. Parents, we ask that you continue to encourage good habits with your child, continue to monitor your child's health, and take note of any symptoms of COVID-19. If your child experiences any of these symptoms they should consult his/her physician and not come to school."
The list of identifying symptoms, along with instructions on where to go for more information and who to contact if a parent suspects their child may have been exposed, were included as well.
"We will continue to work closely with the Thomas Jefferson Health District to ensure that our students and staff remain healthy and we have the most up-to-date information," Whitmarsh said.
Be the first to know
Get local news delivered to your inbox!