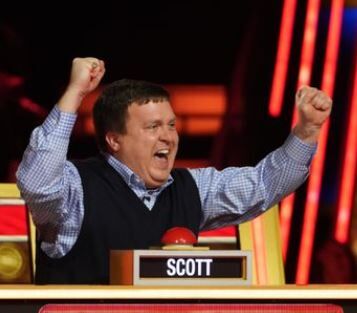 "No whammies! No whammies!" 
That's the anthem of contestants on the classic gameshow "Press Your Luck;" if you hit the box with one, you lose everything. Luckily, Nathanael Greene Primary School first-grade teacher Scott Wills successfully avoided the little devil when he competed on the updated show in January.
"Press Your Luck" was revived by ABC in 2019 with host Elizabeth Banks. The show pits three contestants against each other answering questions to earn spins on the "Big Board" and then they use those spins to win cash and prizes while avoiding the whammy.
It originally aired on CBS daytime from September 1983-September 1986.
Like everything else in our world today, COVID-19 postponed his show from airing over the summer. It'll be on ABC tonight at 9 p.m.
This is not the first time Wills has competed in a televised gameshow; he was on "Wheel of Fortune" in 2011.
"I was sitting around the house and said to my wife, Tammy, it's time to do another gameshow for fun," said Wills, who has been a teacher in Greene County for 16 years. "I decided on 'Press Your Luck,' filed out the application and never thought they'd call me."
Wills got the call while he was working a University of Virginia basketball game.
"They flew my wife and daughter and I out there absolutely free, because Tammy and Emma were my supporters," he said. "They paid for our meals; it was just a great time."
When they arrived, Wills participated in a "Press Your Luck" boot camp.
"We had to show them that we were TV ready," he laughed. "The next day they scheduled us. It was just an amazing experience to be there with Elizabeth Banks. She was really nice to be around. She was very supportive; she wanted to give the money away."
Wills didn't walk off the stage empty-handed, though you'll have to watch to see what was won. 
"I could have kept on going, but I was thinking of the school at that time," Wills said. "Elizabeth (Banks) said, 'OK you've gotten the school stuff, now it's about you.' But, if you hit a whammy it's all gone! I didn't know how much the other people on the show had won. They had a $500,000 winner, a $400,000 winner, a $300,000 winner. I didn't get that. It don't even know what to say about the whole event; it was surreal, very surreal."
"But, we had a great time while we were out in Hollywood," he said. "I got to take Emma to Madame Tussauds (wax museum). She got to see that, so that was fun."
Wills, who spent hours watching gameshows with his grandmothers growing up, always wanted to be on one. He said his grandmothers would have had a ball watching him.
"When my mom would go to school, I would either stay with my grandmothers or the babysitter and we would watch game shows," he said. "It was game show, game show, news, soap operas. So I felt like they were watching me from above on the gameshows."
Wills even remembers watching "Press Your Luck" in the mid-1980s when it was originally on.
"Being on 'Wheel of Fortune' was fun, but it was nothing compared to 'Press Your Luck,'" Wills said. "I was more energized while there. I won $1,500 on 'Wheel of Fortune,' so the total is different."
His love of gameshows spills over into his classroom. Wills enjoys incorporating lessons that are similar to gameshows into his classroom.
"The kids love it. I like to give out prizes, too," he said.
Over the 16 years, Wills has taught fourth, third, second and now first grades—all in Greene County Public Schools.
Nathanael Greene Primary School Principal Danielle Alicea said she has been waiting for the airing of the show.
"We are so excited for Scott Wills and his recent adventure on the game show 'Press Your Luck!'" Alicea said.
Wills has deep roots here in Greene. His great-great-grandparents were part of the forced removal off the mountains to create Shenandoah National Park in the 1930s.
"I just bleed Greene," he said of his love for the county. "Greene is where I started out, first going to school here, the people and the community. This place has been a community that has been through thick and thin and stuck together. I think it's the hospitality of this entire county; I know I could go to somebody if I needed help. I think that's what keeps me here."
"I definitely bleed orange and blue, too," Wills said of his loyalty to UVA.
Last year's class knew he'd taped "Press Your Luck," but this year's doesn't. He said he can't wait to show them afterward since it airs after their bedtimes. He added he's thrilled to be back in the classroom with the kids.
"I love being with the kids and talking to them. I missed it," he said. "I felt lost almost, without being here. We may have difficult times, but this is my job. That's why I try to make the teachers at the school perk up because I know some of them are having rough times. I dressed up as the dragon again just to surprise everybody and I went around saying 'Rise up, you are a wonderful educator!' I went to every teacher, just trying to make them happy."
Wills's show will air tonight, Oct. 8, at 9 p.m. on ABC.
Be the first to know
Get local news delivered to your inbox!