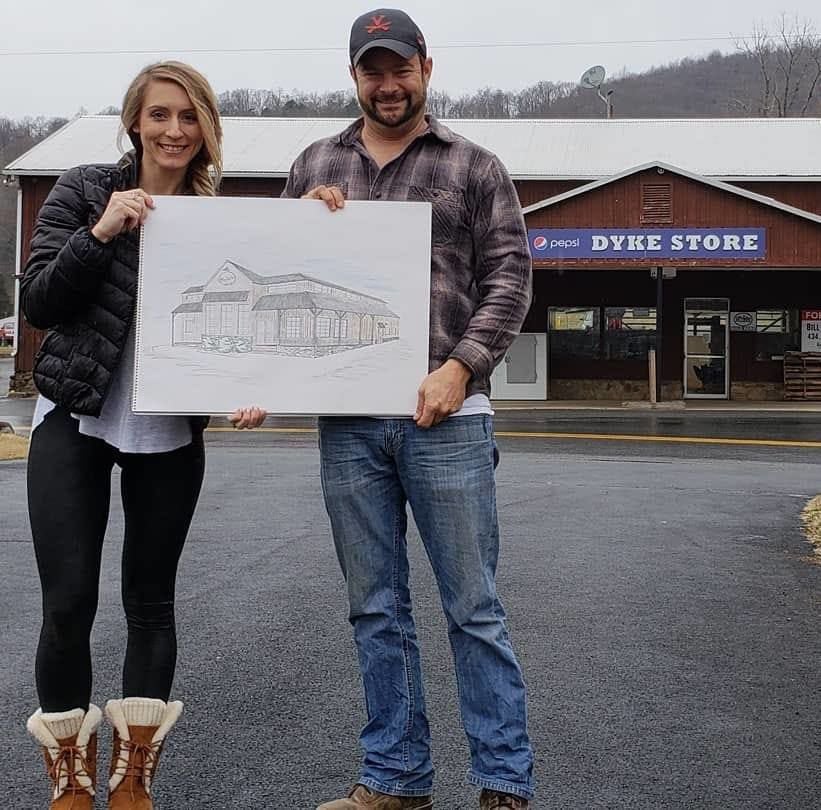 A Stanardsville couple has purchased the Dyke Store and they are excited about the changes they have planned and hope to create a gathering place for locals and a destination for travelers.
Todd and Katie Sansom plan to rename the location Maybelle's after their 7-month-old golden retriever.
"It was about June last year when we were driving Dyke Road and we noticed the "for sale" sign, and I just off-the-cuff said we ought to buy that and turn it into something. Then we were going to dinner and talking about it and suddenly realized we weren't really kidding anymore," Todd Sansom said. 
The couple soon put a contract on the property at the intersection of Dyke and Bacon Hollow roads.
"We moved back here four years ago from Tennessee," said Todd Sansom, who lives on the farm where he grew up near Haneytown. "I went to college in Nashville and worked in the music business for awhile. I always knew I wanted to come back here."
Todd Sansom operates an Angus cattle farm with the property in Greene and two others in Madison County.
"We were looking for something we could sink our teeth into as a couple," he said.
The couple plans to replace the existing 1930s structure with a new building and configuration.
The old store, which also houses the Dyke Post Office, will remain operational while construction is under way.
"Some folks have asked why we can't save what's there. You could if that's all you wanted to do, but present codes and how close it is to Dyke Road and all those things make it limited. It's not cost-effective to work with what's there to modernize it," Todd Sansom said. "But, we're trying to blend the nuts-and-bolts of a gas station with the local charm and marketplace and feel that would make you come out on a Saturday and choose to have lunch there."
Katie Sansom said she's most excited about the possibilities for local products for sale and a place to eat breakfast and lunch. Both said they'd love to create a Yoder's type location, but with a gas station.
"We're trying to design something that caters to everybody," Todd Sansom said. "You've got tourists to the local wineries, Blue Ridge School and the out-of-towners that brings, as well as the students, and then the locals who come for their morning coffee and fuel."
The gas pumps will be relocated to in front of the building instead of the rear as they are now. There will be a grand porch with seating, as well as the post office, which Todd Sansom said was extremely important to the duo.
"A seamless transition of the post office between us and the owners was really important to us because they're looking for excuses to close rural post offices," he said. "We didn't want to give that to them."
The Sansoms also purchased the lot across Bacon Hollow Road and the Roach River that also is zoned commercial.
"We're hoping to have a pavilion or something there, additional parking or a gathering place," he said. "Something a little more community oriented. That is in the brainstorming phrase right now."
Todd Sansom said keeping things local is important to him.
"We're hoping to partner with local food and winery selections," he said.  "Junior Shifflett of Dyke Builders is going to be doing our construction. One thing that's really exciting for us is to hire a local business and we're trying to do that as much as possible."
Katie Sansom said she knows it's going to be a change but hopes the same people who patronize the store now will continue.
"It's going to be a big change, but we hope everyone who loves the Dyke Store will love Maybelle's and still come together," she said.
Todd Sansom said he hopes they are able to create a local gathering place for everyone.
"I'm hoping that all interests in southwestern Greene County will feel like they have a home base," he said. "Of course the county has made a plan—and I agree with— to keep the growth out east along U.S. Route 29, and as a resident over here and landowner, I want that. The byproduct of that, though, is these are the only commercially zoned properties in the area, so it's really important that it gets used right."
Maybelle's has a Facebook page @ Maybellesdykeva where Katie Sansom said the business owners will provide updates on the progress of the new store.
"We're going to take everyone on the journey with us," she said. "We want everybody to feel like it's a second home."
The Sansoms are planning for an early 2020 opening.