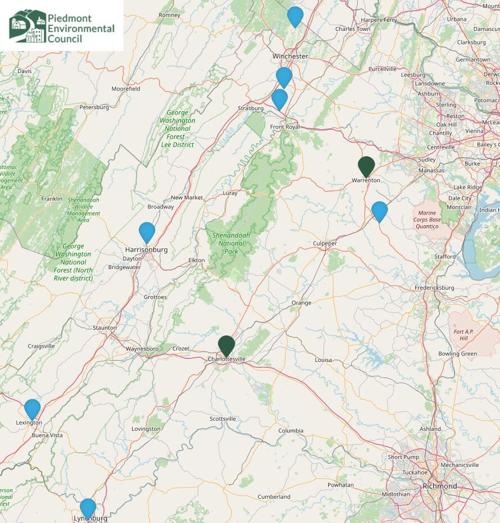 A recent study by the Piedmont Environmental Council (PEC) and American Farmland Trust (AFT), spurred by pandemic-related breakdowns in national and local food supply systems, has led to the development of a new meat-cutter training program to be offered by the Rappahannock Center for Education beginning late fall 2021.
Using a national training model, the program is intended to help local meat processors expand their operations and increase their capacity to serve the region's cattle farmers by building a larger pool of available skilled laborers in the field. The training program is one important outcome of a four-month study launched by PEC and conducted in partnership with AFT in response to the effects of the COVID-19 pandemic on the local food supply system.
"When the pandemic shut down many national meat processors, smaller Piedmont-area processors found themselves in such demand that they were operating at 125% to 150% capacity," said PEC Senior Adviser John McCarthy. "Storage limitations and lack of sufficient skilled laborers in the field made it impossible to keep up. As a result, local cattle farmers faced 12 to 18-month waits to get their product processed and to market."
Greene County farmers were encouraged at the news of the new training program, saying it gave them hope for a smoother future after a long year and a half of pandemic-related business difficulties.
"It's important to encourage prospective entrepreneurs in the meat industry," said 21-year-old Margaret Myers, who maintains a herd of 20 beef cows at Little Brook Farm in Ruckersville. "Small butchery businesses are complex and entail great responsibility, but they are integral to the success of small farms and local food. I'd love to see new businesses begin and the existing businesses streamline their operations."
Martha Ledford of Cair Paravel Enterprises agreed.
"We have been using Blue Ridge Meats near Front Royal as our processor and they have been short staffed for a long time—definitely prior to the pandemic," Ledford said. "With more folks raising their own hogs and beeves (cattle), their business has grown exponentially; however, they are having difficulties with finding qualified cutters. I hope that our Technical Education Center will be able to add a course in meat cutting … I think that it is important for us to look at the skills students are going to need in the future as well as those in high-demand fields that are understaffed."
One problem with small processors is that the facility must be USDA certified in order to sell animal products to the public.
"All of us in the industry are watching really closely an act called the Prime Act," said Todd Sansom of Rapidan Valley Farm and Maybelle's Market in Dyke. "What it would do is open up for more local butcher shops or processing … this is designed to make it easier on the local small farmer and small processor, so you could have more farm-to-table in your community without some of the current restrictions of USDA. That would be a game-changer for our industry."
Those in the cattle industry have certainly been hit hard by some of the national supply chain issues which were exacerbated by the pandemic in the past year.
"The pandemic revealed many vulnerabilities in the national food supply chain—vulnerabilities that are unacceptable in a region with some of the most productive agricultural soils in the country," McCarthy said. "Part of PEC's mission for the last 50 years has been to protect and promote the Piedmont's agricultural economy. This breakdown in our local food supply presented an opportunity and a responsibility to scope out the problem and provide some viable solutions."
With funding from the Prince Charitable Trusts, PEC hired Fuller Consulting, a nationally recognized expert on animal processing operations. Fuller, PEC and AFT visited every one of the seven operating USDA-certified animal processing facilities in the region—in Winchester, Stephens City, Middletown, Harrisonburg, Lexington, Bealeton and Lynchburg—documenting their operations, capacities, staffing, challenges and opportunities.
"One challenge that each and every processor reported was access to trained labor," McCarthy said. "Trained meat cutters are in high demand and short supply, and bringing untrained people in to fill these roles forces slowdowns in operations and safety concerns."
Processors shared that these relatively high-paying jobs require a fair amount of physical strength and precision with cutting tools and machines and that skills imparted in training or on the job are very necessary to responsibly process carcasses. As a direct outgrowth of the study, AFT and PEC are working with the Rappahannock Center for Education to develop a meat-cutter training program, expected to be offered in late fall 2021.
"This is a logical extension of our workforce training programs, which provide training in areas of high employment needs," said Rappahannock Center for Education CEO Doug Schiffman. "We are particularly excited to be able to work with local farmers and meat processors to help alleviate the backups in processing caused by employment shortages. Our first training class will begin in late fall 2021, with an anticipated enrollment of six to 10 students."
Jacob Gilley, who is a cattle farmer himself as well as AFT's mid-Atlantic sustainable grazing manager, said, "It's great to see PEC, AFT, the Rappahannock Center for Education, Virginia Tech and other organizations in Virginia working together to overcome these very real challenges for not only local producers like myself, but for the entire local food system so that consumers can continue to have access to locally produced, delicious, healthy and safe food."
Cliff Braun of The Farm at South River in Stanardsville said the new program is great news for local producers.
"Existing workforces are being pushed to the brink and absenteeism is a tough management issue," Braun said. "We were contacted today by our long-time processor who requested that we delay a week, bringing the steers that have been scheduled for processing next week for nearly a year. On another front, this program presents an opportunity for those young adults who are searching for a meaningful career to get the necessary training to immediately get a job when they complete the training course—seems like a win-win for all concerned."
Another outcome of the study is PEC's development of an interactive asset map of local processors, accessible on PEC's website at processing.pecva.org. Building on the tradition of PEC's "Buy Fresh Buy Local" guide, which helps connect community members with local farms and food, this asset map will provide Piedmont beef farmers a one-stop resource with locations, contacts and operations information on all the processors surveyed.
"Our hope is that this will streamline producers' access and throughput so they can get on with the business of raising high quality local beef for consumers," McCarthy added.
The survey also resulted in concrete suggestions for expansion potential at two facilities. In these cases, Fuller was able to provide detailed plans for equipment acquisition and process modifications that would increase production from 15 percent to as much as 50%. These process analysis and "de-bottlenecking" suggestions may be useful to both facilities in applying for just-announced USDA grants to expand smaller processing operations.
Building on the success of PEC's survey of Piedmont-area meat processors, Virginia Polytechnic Institute and Virginia State University are now embarking on a statewide survey of all meat processors in the commonwealth. They have also expressed interest in offering the proposed meat-cutter training program that PEC and AFT have under development for deployment throughout the state.