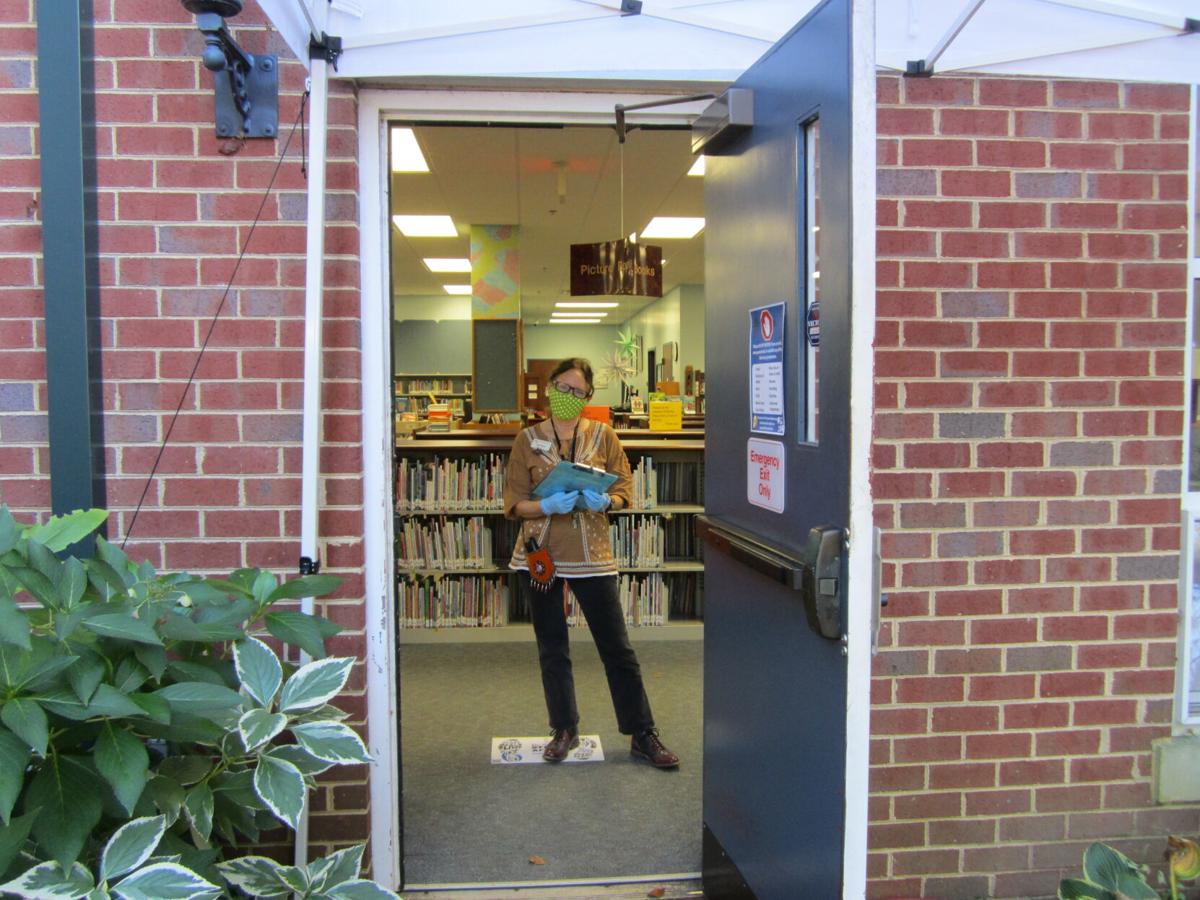 The Greene County Library is finally open for business – sort of.
Jefferson-Madison Regional Libraries (JMRL) Sept. 21 moved to tier three of its COVID-19 response plan for three of its branches. Greene, Louisa and Nelson county branches were affected by the change and will now offer in-person services by appointment in addition to curbside and virtual.
"All the branches' hours are diverging now because we all have really different situations and populations that we're serving in our communities," said Greene Library Branch Manager Ginny Reese. "Here at Greene, we have appointment services three days a week, and that's on Mondays, Wednesdays and Saturdays."
In accordance with state law, masks and six feet of physical distance between patrons is required within public buildings, including libraries. Patrons who are sick are asked to limit their interaction to curbside appointments only. In-library appointments are scheduled for no more than 45 minutes and are capped at one per person per day to allow the library to serve as many people as possible during operating hours.
Greene Library is also open for curbside services on Tuesdays, Thursdays and Fridays. Hours are from 11 a.m. to 4 p.m. Tuesday through Saturday with extended evening hours of 1-7 p.m. on Mondays.
"We have one evening a week, and that is an appointment day, and that was expressly to let people who are working in the daytime be able to come into the library in the evening," Reese said. "The rest of the days, Tuesday through Saturday, extending until four is a new thing. We realized that we needed to do that in order to give access to people who are getting off school, whether it's teachers or students, and allow them to either come for curbside pickup or get into the library during that last hour that we are open."
Both curbside services and appointments are now operating through the reading garden door to allow for social distancing from the JABA senior center, which also recently reopened its doors near the main library entrance. The reading garden is adjacent to Main Street in Stanardsville.
"We are lucky to have our beautiful reading garden, and we have covered it with a tent canopy for days when it's raining," Reese said. "If there are people who have trouble walking around to the reading garden, we will also carry their books out to them and put them in their trunk. People just have to ask about that."
Whether for curbside or in-person appointments, library staff is happy to help answer questions or pre-checkout materials over the phone to expedite the process.
"We're always answering the phone if staff are in the branch, even if it's not during our formal open hours, and we'll make appointments at any time," Reese said. "Curbside, we try to schedule that too, because when we know someone's coming we go ahead and verify who they are on the phone and then we have the materials pre-checked out to them, so it really speeds things along. We're trying to make that move along quickly and not have people gathering either at the ID window or at our reading garden door where we're putting materials out, for safety reasons."
The library will also accept walk-up visitors for curbside or inside appointments as availability allows. At present, no more than five patrons are permitted within the branch at any one time. Library staff will also be pre-screening visitors to ask whether they have had any symptoms of illness and to remind them that mask-wearing and distancing are required within the building.
"We're not encouraging people to come in and have long visits in the branch; most of the furniture that you might be able to sit on has all been removed," Reese said. "We hope you will come in and do what you need to do and not plan to stay … so it's all designed to be very safe, but still let people into the building because we know that people need the computer access and people are anxious to get back into the branch and be able to browse the collection."
Faxing, printing and copying services are also available either by appointment or curbside with assistance from the staff.
"For people who are still more comfortable using curbside and maybe are not comfortable with finding their own materials on our catalogue and putting them on hold, we can also, if patrons call in and tell us what kinds of books they're looking for, we can do their browsing for them and use our readers advisory resources and skills to find a good set of books for them and we'll put them on hold and they can pick them up safely at curbside," Reese said. "We'd love to do that and we encourage people to call and ask us to help them with that whenever they would like to."
JMRL took advantage of the six months the library doors were closed to the public to make numerous improvements to its digital services, including: a newly redesigned "Find It" catalog that integrates librarian-suggested reading lists and digital resources into the searchable online catalog of books and materials (hestia.jmrl.org/
findit); a new website that you can preview and offer feedback on (beta.jmrl.org); a greatly expanded selection of virtual programming; virtual storytime via YouTube and Facebook Live; and even a call-in storytime with pre-recorded 16-minute readings of stories by children's librarians that are changed frequently (accessed by calling the main library branch and pressing eight).
The library system is accepting user feedback for both the new catalog and the beta test of the new website.
"It's a beautiful website and we hope people will take a look and try that out and give us feedback as well," Reese said. "It's all the same information on the new website, but we think it'll be a lot easier for people to find what they're looking for."
With streamlined access to digital media, Reese hopes more patrons will continue to take advantage of all the Greene Library has to offer. She says in the past six months alone, downloadable materials are up more than 50% in circulation compared to the same time period last year.
"We're having a great time with people coming back into the building. We've been seeing people through the ID window where they show their driver's license or library cards, but I haven't been able to see people in person in the library," she said. "It's been really great to have people back inside and it does feel pretty safe."
Be the first to know
Get local news delivered to your inbox!