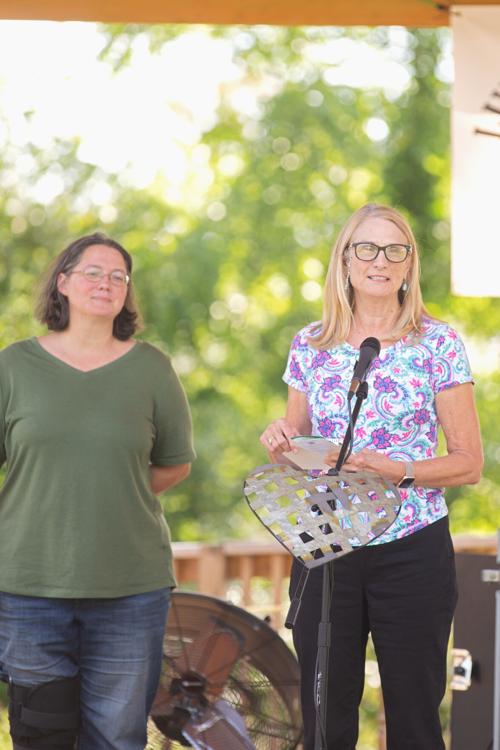 It was a chance bicycle ride through Stanardsville a couple years ago that brought Sandra Emery to GRACE—Greene Alliance of Church/Community Efforts, that is.
"Right as they were opening the thrift store, I happened to be riding my bicycle by and decided to stop in and see what was happening," said Emery, who started her new role in the organization as executive director on Sept. 1. "I just felt like it was a good place and said I'd like to stat volunteering. I started out with the simple thing of pricing the clothes and worked my way up to the cashier. I really liked it."
GRACE assists people who are either below or just above the poverty level and everyone who works for GRACE is a volunteer.
GRACE helps people in need in a myriad of ways—from helping with overdue utility bills to covering rent or medications for a client. Additionally, the group puts together household and hygiene bags for neighbors to help offset the cost of the items, which cannot be purchased with food stamps.
"I think the Lord had been moving in my heart a real compassion for what he calls 'the least of these,'" Emery said. "And the more I get close to that, the more I realize there is no least of these to Him. Everyone is valuable. As I was in the store I was thinking, 'This is my only interaction with some of the people I'm meeting; I wouldn't meet them otherwise.' I felt very humbled by that and I needed that. That was one experience in my life that was missing."
Doris Swenson, who held the position of executive director for nine years, retired last winter.
In January, Emery learned the GRACE office in Stanardsville was in need of a caseworker. In August, she applied to be the interim executive director for the organization.
"It is a big job; it's a lot bigger than I thought," said Emery, who has lived in Greene County for four years. "That's not too surprising; there are just so many things to learn."
Emery has a background in information technology and is planning to use knowledge to implement a database system for easier record keeping. Currently, everything is done using paper.
She also plans to focus more on relationships with the clients—or neighbors as she likes to call them.
"We want to get out of a cycle of helping over and over and move into doing more that is transforming—helping with financial education and counseling," Emery said. "We'd like to involve some of the churches and neighborhoods. We have some ideas, but they aren't yet fleshed out but we want to move in the direction of building relationships."
Emery has agreed to hold the position for one year with the hope that by this time next year a permanent executive director can be hired.
"GRACE also wants people to know that we are more than just a place to come for financial assistance," Emery said. "We want to be a place where people can come and get a referral for something—if you need diapers, we can refer you to a pregnancy center that has a program for giving diapers."
Planning for two of GRACE's biggest programs—the Thanksgiving Box and Christmas Gift programs—is well under way and registration is set for next weekend. Registration will be accept from 1-7 p.m. on Friday, Oct. 1, and from 9 a.m. to 1 p.m. on Saturday, Oct. 2, at the American Legion Post 128, 636 Madison Road, Stanardsville. Children 14 and under are eligible for gifts from the GRACE Christmas Gift Program, but Shop-With-A-Cop will be registering for children through age 17 during GRACE's registrations. Clients may only register for one of these programs. People need to show a photo ID, proof of Greene County residency if photo ID is not current and proof of income—which cannot exceed 150% of the poverty guidelines. And for the Christmas Gift Program, people must show proof of guardianship for those children that are not their own. GRACE also needs volunteers to help with signups on both of those days. Contact Karel Seger at (434) 985-6792 at the GRACE office.
Emery said GRACE really needs volunteers—both in its main office and at the Another Time Around thrift store.
"We've had some turnover lately because people moved away," she said. "We could use another caseworker. We need people that can do data entry because with a new database we need someone who can keep confidentiality and help us move to paperless. The store always needs help—whether pricing items or cashiers."
The thrift store is the organization's largest fundraiser, though it does receive donations from the community and churches.
Emery said one thing she's noticed is the need for affordable housing in Greene County.
"We have a lot of folks who are disability and they can't afford an apartment, they need a room, they need to share a home with some people but there's just nothing available," she said. "Really the housing situation is critical. I hope to reach out to the churches and the community at large to see if anyone would want to rent a room in their home, especially any close to public transportation."
Donations of household paper products, household cleaners and toiletry items can be brought to the GRACE office at 329 Main St. in Stanardsville, between 10 a.m. and 1 p.m. on Tuesdays and Thursdays. Items can be donated to the thrift store while it's open on Wednesdays-Saturdays from 10 a.m. to 4 p.m. Items cannot be left out in front of either location.
Financial donations can be made online at www.greenealliance.org or checks can be sent to GRACE, P.O. Box 513, Stanardsville VA 22973. People can also support GRACE by selecting it as a charity of choice on Amazon Smile—a portion of all sales will be donated to the charity selected if you shop through smile.amazon.com Another Time Around is located at 8269 Spotswood Trail, Stanardsville.