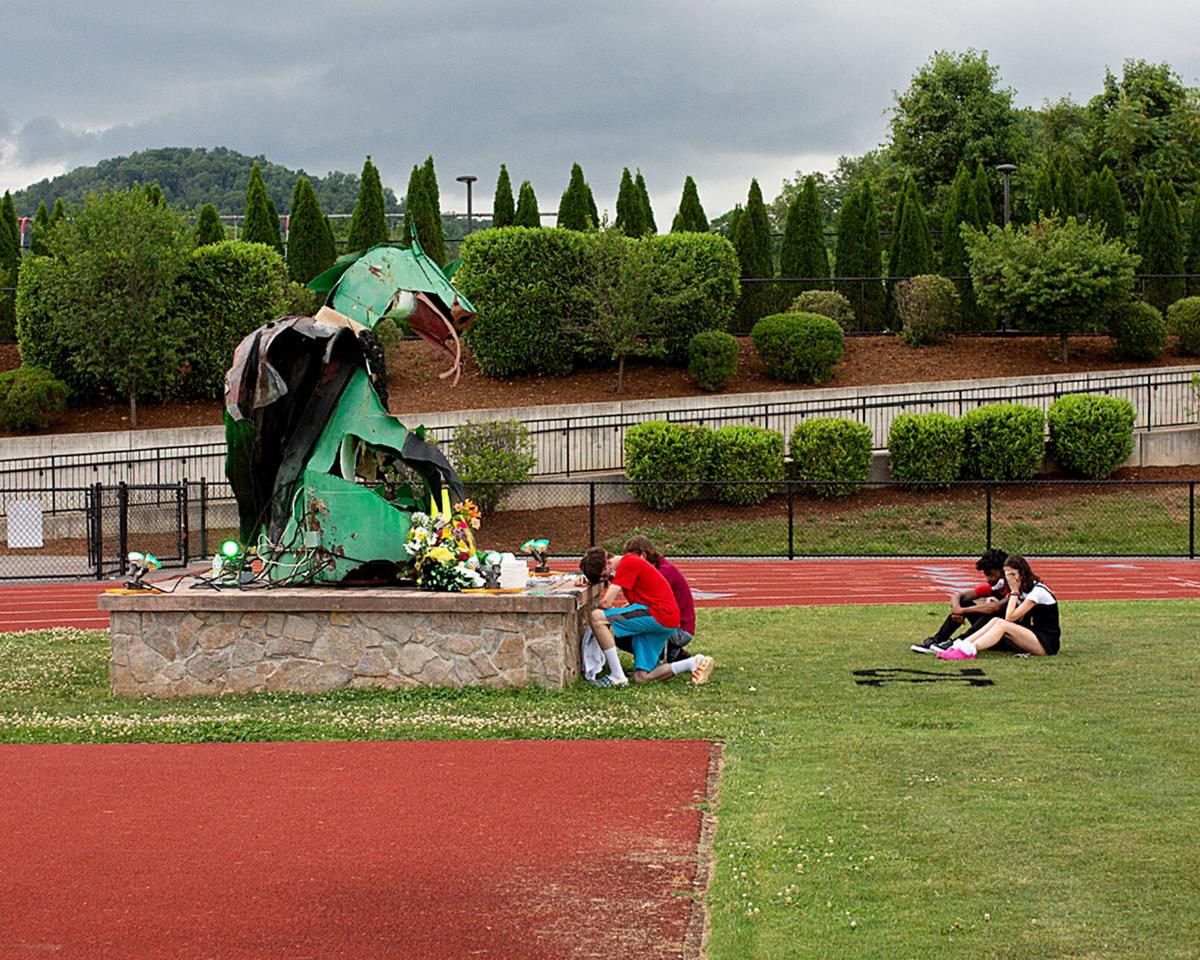 Community lights up William Monroe dragon to remember Joshua Johnson
Greene County lost a son, a brother, a nephew, a grandson, a student, an athlete and an all-around good kid on Monday when Joshua Johnson, 16, died suddenly while on a fishing trip with his family in North Carolina. On Thursday, June 10, hundreds gathered at the dragon on William Monroe's Martin Mooney Field to remember the guy who always had them laughing, who always had a smile on his face and who loved others.
"Friends have said to me, 'I don't know what to say,' and I just say hug your babies because you never know," said Sabrina Johnson, Joshua's stepmom. "I think he would want everyone to come together and be happy. If you had a bad day, he made you laugh, he did."
Johnson's sense of humor and easy-going attitude were noted by many who knew him.
"He was always happy and made everyone around him smile, no matter how he felt," said Daelan Powell-Jackson, who was with him the night before. "Josh was my best friend, the best thing to ever happen to me. No matter what, he was always by my side, my right-hand man. He had the sweetest soul ever. He deserved the world and this is the most painful thing I've ever had to go through. My brother, no matter what, he will live on with me through anything. I loved him with everything in me and it pains me just to have to write this. I'm so sorry that everyone has to go through this; he was a legend and will be remembered by us all."
"He was always very upbeat, funny, he knew how to make people laugh and always put a smile on others' faces—he definitely put a smile on my face all the time," said Kenzie Eubanks. "He gave me the best memories of my life. He liked almost every single person in the world. He would always be there for you, no matter what, through thick and thin and he knew how to make life better. He always knew what to say at the exact right times."
"He was such a good kid and always wore a smile; it didn't matter what was going on," said Nathan Johnson, Joshua's uncle. "I am still in shock. I mean he was just 16 years old. He had his whole life ahead of him."
Johnson had just finished his sophomore year at WMHS before heading to the annual beach trip with his family. He woke early on June 7 to go on a fishing trip with his father and three others. Hours into that trip—which Sabrina Johnson said they'd done for several years—he collapsed and couldn't be revived. She said they don't yet know what caused Joshua's collapse, though an autopsy has been completed and they're waiting for the results, which could take up to a month due to backlogs in North Carolina. The family remained in North Carolina until Joshua could come home to Virginia, so they missed the memorial, but expressed gratitude for how the community has supported them.
"I think everything everyone is doing is more than we had ever expected," she said. "The community has helped us with us not being at home. Michael Preddy (at Preddy's Funeral Home) has been phenomenal and has done a lot of the legwork for us. The captain of the fishing boat, which we've used the last five years, came last night to offer condolences."
Johnson played football (#32) and basketball (#15) for the Dragons since middle school. Brett Maynard, head boys basketball coach, recalled a special memory of Johnson during Thursday's memorial.
"One of the things I wanted to tell of Josh is not necessarily how much better a basketball player he became—which he did—or how much he matured in the last year—which he really did, as well," Maynard said. "Last year—and I didn't know this at the time—there was a freshman on our team that was new to the area and we had a road game and stopped at McDonald's or wherever it was. Joshua paid for the young man's meal. He went back to his mom and she gave money to pay Joshua back. Joshua said, 'No, I don't want your money. That was a gift.' The young man told his mom and she told him he needed to do the same thing. It started a chain reaction on our team, when we saw that people had forgotten money, somebody would cover them. It was awesome, truly awesome."
Maynard had known Johnson since he was in fifth grade and said he's watched him grow into a fine young man. He said he would like the family to know that not only the community, but Joshua's teammates, are pulling behind them.
"We always have to have each other's backs," Maynard said.
Mitchell Morris, recently named Dragon head football coach, said his team is feeling the loss tremendously.
"Josh was a kid that definitely had an energy about him, an aura," Morris said. "A lot of kids looked up to him in the building. I honestly believe Josh reached the point where he was going to be the standard at William Monroe; he was going to be the guy to look to. I told the team this is something they'll remember forever when June 7 comes up. Josh was going to be a big part of the program and he still is. We will find ways to honor him."
"He was like a big brother to me," said Webb, who is in fact two years older than Johnson. "He was a smart kid and he was about friends, family, school—and especially football. In my opinion he was the king of the field and I know he's up in heaven making big plays up there."
Powell-Jackson noted Johnson's athletic ability, too.
"He was the best athlete I have ever seen in my whole life," Powell-Jackson said. "He would always tell me he was the G.O.A.T. and I would always deny it, but really he was the greatest of all time."
Sabrina Johnson agreed, saying that Joshua would make it look effortless.
"I mean he was 220-225 and everyone was surprised he was a running back, but he was just very fast," she said. "It's not like he trained all the time, it was just natural. I would often ask him, 'Do you know how amazing you could be if you did?' He could pick up any sport and was just very natural."
Sabrina also added that Joshua was a great big brother to his 5-year-old sister, Dallas, and brother, Camden.
"He always made sure the kids were taken care of," she said. "Kids flocked to him. He helped Dallas with her T-ball games. He helped coach Camden's soccer team one year with his dad and my dad. I remember the second day we were (at the beach) in the water and he took the kids out and when I got there he asked if it meant he didn't have to watch (Dallas) anymore, but when waves came he still made sure she was there."
Dallas said she remembers that "Bubba," her name for Joshua, was a "junk-food junkie and she loves him." Someone left Pop Tarts by the Dragon at the memorial service, too.
Sabrina Johnson said she knew Joshua was well-liked, but she's heard stories from people in the past few days she never knew.
"He had like an old soul," she said. "I knew he was a great kid, but the things people are telling us, it makes me feel really good. Recently a lady messaged that when her son was in sixth grade and Josh was in eighth, Josh always picked her son first for his pickup (basketball) teams and it made him feel really, really good.
"So many people and people you wouldn't think, he touched them and affected their lives," she continued. "Yeah, he was so, so young, but I think he did a lot of work in his time here."
"He definitely touched a lot of people's hearts and lives and these kids love him and he loved them and these kids will forever remember, no matter what—he will always be in our minds," she said.
William Monroe High School Principal Katie Brunelle said looking around at the roughly 600-700 people Thursday night that it's obvious that Joshua impacted many people.
"The Greene Community will greatly miss him and we were fortunate to be part of his life while he was here," Brunelle said.
Johnson said the family is planning an outdoor funeral at the high school's football stadium that will allow everyone who wants to speak about the impact Joshua had on their lives to be able to. We will update the story when the date/time is definite.