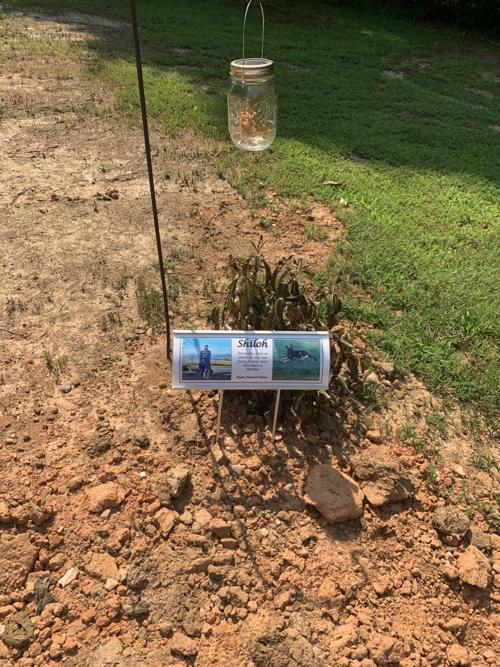 Last month a family's beloved German Shepherd, Shiloh, was shot while the family was playing ball with her in their Stanardsville yard. Now, they're hoping for justice after swearing out warrants with the magistrate against a neighbor who allegedly shot the dog while young children were within feet of her.
Jeff Leake has been charged with two counts of reckless handling of a firearm, which is a Class 1 misdemeanor. The dog's owner, Hannah Faris, has been charged with dog running at large, sworn out to the magistrate by Leake, which is a Class 4 misdemeanor. The cases are scheduled to be heard in Greene County General District Court on July 21.
Lisa Shifflett, whose son is engaged to Faris, said some of the family was sitting on the front porch while her husband and son were building a deck on the home he shares with Faris to the other side of the Shiffletts' home. The kids were throwing the ball for Shiloh and at one point went to the side of the house beyond what their front door camera can see. Also over there was Shifflett's 20-year-old granddaughter Jeyda, who was holding another grandson, Axel, who is
19 months old. The other grandchildren, one of them 7 years old, were within view, as well. Within seconds, two gunshots were heard, Shifflett said.
"In the video you can see I keep looking and then all of a sudden (about 30 seconds in) I hear two shots—bang, bang—and I got up and ran to the side of the porch," Shifflett said. "My sister was here and she also took off running and she had to grab Jeyda and make her come inside because she was in shock. When Shiloh met me she had a bullet in her nose and she ran to the porch and I saw the neighbor's wife pushing him into the side door of their basement."
Shifflett said when her husband Tommy heard the gunshots he came running back to their home.
"A bullet could have hit the kids," Shifflett said. "A bullet could have ricocheted and hit one of the kids."
Shifflett said they took Shiloh to the emergency vets and after spending about $1,600 they still had to put her down.
Leake told the officers he was being attacked by the dog on his property after it attempted to attack his daughter's dog, according to the police report. Shiloh had attacked the dog a few months prior, Shifflett said, and Faris was charged with running at large and paid the vet bills.
The police report notes there were two .380 casings collected at the scene by the deputies—one near the back door to Leake's home and one near the property line.
Jeyda told the officers she saw Shiloh go toward the tree line, according to the report. No blood was located on the neighbor's property, Shifflett noted.
"Shiloh goes from playing with the kids to attacking in so many seconds?" Shifflett asked. "We have an invisible fence that goes around both houses and she had her shock collar on that day and (I) didn't hear a yelp."
Shifflett said everyone is given gun rights and she and her husband are both gun owners, as well.
"It's a privilege that is given to you because you will be responsible and not misuse it," Shifflett said. "I think he's misused it. I know he said the dog was attacking him, but that's his word. There are no medical bills, no marks. There was no growling and he didn't yell either."
Shifflett said Jeyda is so shaken up she doesn't want to talk about it.
"I feel like I probably won't get justice for Shiloh, but I want justice for my two grandbabies," Shifflett said.