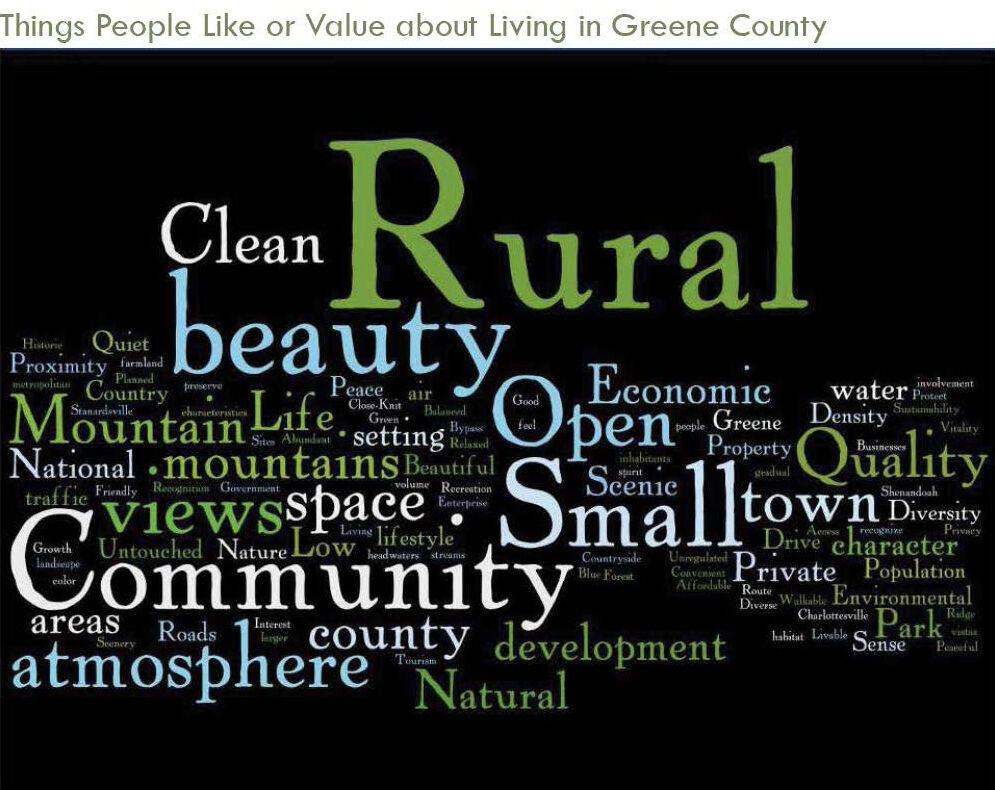 When residents were asked 10 years ago to describe what they love about Greene County, rural was the most-used word, according to a word cloud presented to the Greene County Planning Commission at its comprehensive plan public workshop on Feb. 17.
Other aspects of Greene County that many residents value include: community; beauty; open; the atmosphere; the views; mountains; and quality of life.
The comprehensive plan is required to be reviewed every five years.
"When you look at our land use map, you'll note that the majority of it is designated as green, which is rural areas," said Jim Frydl, director of planning and zoning administrator. "Ruckersville was identified as an area that, as it developed, it developed in kind of piecemeal, and people would like that to have a real sense of place and community."
The comprehensive plan's vision statement—added in 2015—says "Greene County will enhance the quality of life enjoyed by its residents by preserving the county's real character and natural beauty and by guiding growth and development."
"Greene will achieve this vision by: conserving farmland; planning for diverse housing needs; planning for various modes of travel; supporting existing businesses; attracting low-impact, environmentally friendly industry; encouraging tourism; creating employment opportunities for its citizens within the county; providing quality schools and recreational areas; and conserving the county's natural resources and cultural and historical heritage," the statement continues.
Frydl said the 2020 census numbers should be out in April and utilizing those numbers, as well as information from the building department, the Weldon Cooper Center at the University of Virginia and the Virginia Employment Commission, will help predict population growth and development plans. Staff is recommending a new chapter for housing utilizing the Thomas Jefferson Planning District Commission's Housing Regional Study, Greene Chapter. Additionally, a new chapter regarding broadband will be added as required by state code.
Other chapters in the plan include: future land use; transportation; agriculture and forestry; housing and community services; economic development; education; law enforcement and emergency services; natural resources and environment; parks and recreation; tourism; water and wastewater; and solid waste.
To update based on the projected population growth and development trends, Frydl laid out a schedule that will get a draft plan finished by the end of summer and sent to the Greene County Board of Supervisors by October.
"The comprehensive plan is designed to be a 20-year long-term planning document," Frydl said. "And it's mandated for each community to have one. Every five years you're required by the Code of Virginia to review that and sometimes that means that we've learned a lot of things have changed and we need to do a major review."
Frydl said with the completion of the Ruckersville Area Plan in 2018, it's not as major of a review now. In 2010 the county went through a massive rewrite of the plan with a lot of public comment, similar to how the Ruckersville Area Plan was completed.
Frydl noted there are three different months that the planning commission will break down or talk about the updated material received—from agency comments to updated census data to drafting the document.
"Throughout this at each of the meetings we will have opportunities for the public to speak," Frydl said. "The comprehensive plan itself is really the driving factor which should inform all the other decisions that we make—financial investments; zoning and subdivision regulatory updates; strategic planning; and really day-to-day operations."
There is a website the county has created with a lot of information specific to the comprehensive plan, including a webinar of why this review is important.
"The whole goal of a comprehensive plan and why it's required by the code is they want communities to think about what the community wants to be and how to get there," Frydl said. "If you don't at least have that minimum point, all the other functions of government are isolated and don't support achieving the goals."
ment/depts/planning-zoning/comprehensive-plan-review-2021to learn more.
The planning commission will include reviewing agency comments from each department at its March 17 meeting, starting at 6:30 p.m.