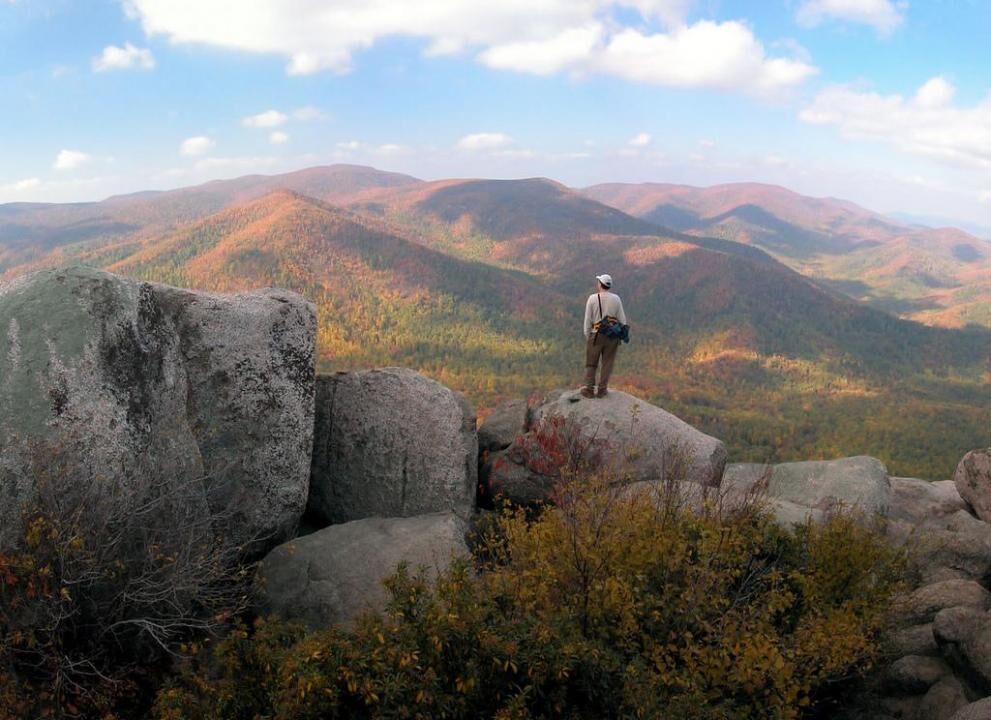 Hikers on Old Rag may need tickets to control overcrowding on beloved trails
Shenandoah National Park has proposed an increase in the rate for its three campgrounds, creating a back country camping fee and a pilot program to regulate hiking times at Old Rag Mountain in Nethers, according to the park superintendent. And the park service is looking for your comments.
The proposal is to raise the campground fees to $30 for individuals and $75 for group sites, beginning in 2022. The park is also proposing a back country camp permit fee in 2023 of between $20-$30 for up to 10 people per trip. Finally, the park is piloting a program for reservations to hike Old Rag Mountain.
"A lot of people want to know why we need to collect fees," Superintendent Patrick Kenney said during an online presentation last week. "Congress gave us the authority to collect fees through the Federal Land Recreational Enhancement Act. It authorizes land management agents to collect fees—including the National Park Service, the U.S. Fish and Wildlife Service, the Forest Service and the Bureau of Land Management. It creates a revenue stream for land managers to offset costs related to visitor services."
Kenney said 80% of the fees at Shenandoah remain in the park while 20% goes to the national office.
"I want to be very clear today, the entrance fees that are currently in place will not be changed through this process," Kenney said.
The revenue collected by the park pays the salaries of those who work in the campgrounds, among other seasonal workers, such as those who clean the restrooms and collect the trash, he said. Improvements throughout the park, such as the purchase of new picnic tables and food storage boxes, have been funded through the fees. Also the emergency services ambulance and personnel is funded through such fees.
"Many of you would say that we're not keeping up; I get comment cards from visitors talking about our facilities and the condition of them," Kenney said. "We recognize that you know in some of the campgrounds things like picnic tables are not in the best shape and we're working to replace them. Another area that we spend the money on in Shenandoah is in our interpretation education programs—so our seasonal rangers that you encounter at our visitor centers ... many folks, especially with children or grandchildren, participate in our Junior Ranger program and the cost of managing that ... is paid for by our fee program. We've installed trailhead signs, the amphitheaters were upgraded. ... Another big project where we utilized fees was for the Old Rag parking lot."
Seasonal back country workers are also paid from fees, Kenney said, and there's a lot of work that needs to be done for that.
The proposal for the park's campgrounds—Loft, Matthews Arm, Lewis and Big Meadows—is to increase the individual rate to $30 and for group sites to $75 in 2022. The current rates are $20 for Big Meadows and $15 for the other three. Kenney said those rates have been in place for the past 15 years.
"I think (this is where) we really want to put the money—and I think you see this is where our facilities need attention," Kenney said of the campgrounds. "We need new picnic tables, we need new fire rings and we need additional food storage boxes—my goal would be for every site to have their own box. And we need to rehab camp sties as there are many that are just worn out."
In the back country, Kenney said, there is a lot of work needed to maintain trails and rehabilitate camp sites, especially where people have chosen poor sites for camping.
"We are in the top 10 for the National Park Service as far as the number of back country nights," Kenney said. "We exceed 60,000 back country nights annually. We are aware of about 500 sites that are actively chosen and show the signs of public use. We have rehabbed some of those sites because they were poorly selected so we need to work on that. Additionally, there are 49 constructed sites along the AT (Appalachian Trail)."
Kenney said the current permitting system for back country camping is antiquated and there is no cost to the camper, but a high cost to the park to collect the data. Additionally, it's not available in real time.
"People say that there's no work for us to manage the back country," Kenney said. "We see trash at back country sites. Fires are not allowed in Shenandoah in the back country and we see rings constantly.
Kenney noted that national parks throughout the system handle back country camping permitting differently and with different fees that range from $10 to $45. For Shenandoah, the proposal is to begin a back country camping permit fee between $20-$30 per trip for up to 10 people at a time. It would begin in 2023 and people would utilize recreation.gov to make reservations.
"We'd have another year of free back country permitting," Kenney said.
Old Rag is one of the most popular sites in the park.
"Somebody told me this when I got here: Old Rag's being loved to death," Kenney said. "We're seeing a lot of use on Old Rag; we see 80,000 people annually approximately. And it's continuing to increase."
To help offset the congestion sometimes found on Old Rag—especially in the fall—is to limit the number of hiking tickets daily.
"Old Rag is one of the locations in the park that we see a high number of incidents—search and rescue types of incidents—people getting hurt, so there's a safety concern," Kenney said. "The more people you have out there, the more chances there is for an injury and it's a great education opportunity when issuing tickets because we can be sure they get the right information on what to bring—we can educate them before they come."
The pilot program would run March-November 2022 and would start with 800 tickets per day and it's one ticket per hiker. There would be a small initial fee of $1 or $2 per ticket to pay for the recreation.gov site.
"During piloting of concepts like this, we can only collect the fees related to using recreation.gov," Kenney said. "We do envision that if this is successful, there may be additional fees to help support the park."
The public comment period closes on Sept. 16 and Kenney said he would read each comment personally.
"I believe very strongly in civic engagement and every planning effort I've worked on in my career as a superintendent, I read those comments," he said. "I think it's important. I think you all will have ideas, suggestions, ways we could improve things. This is an opportunity to share that with me and the rest of the staff."
Once the plan is tweaked, Kenney said it will move up the process, eventually to Washington, D.C., as approval of new fees sits with the director of the park service.