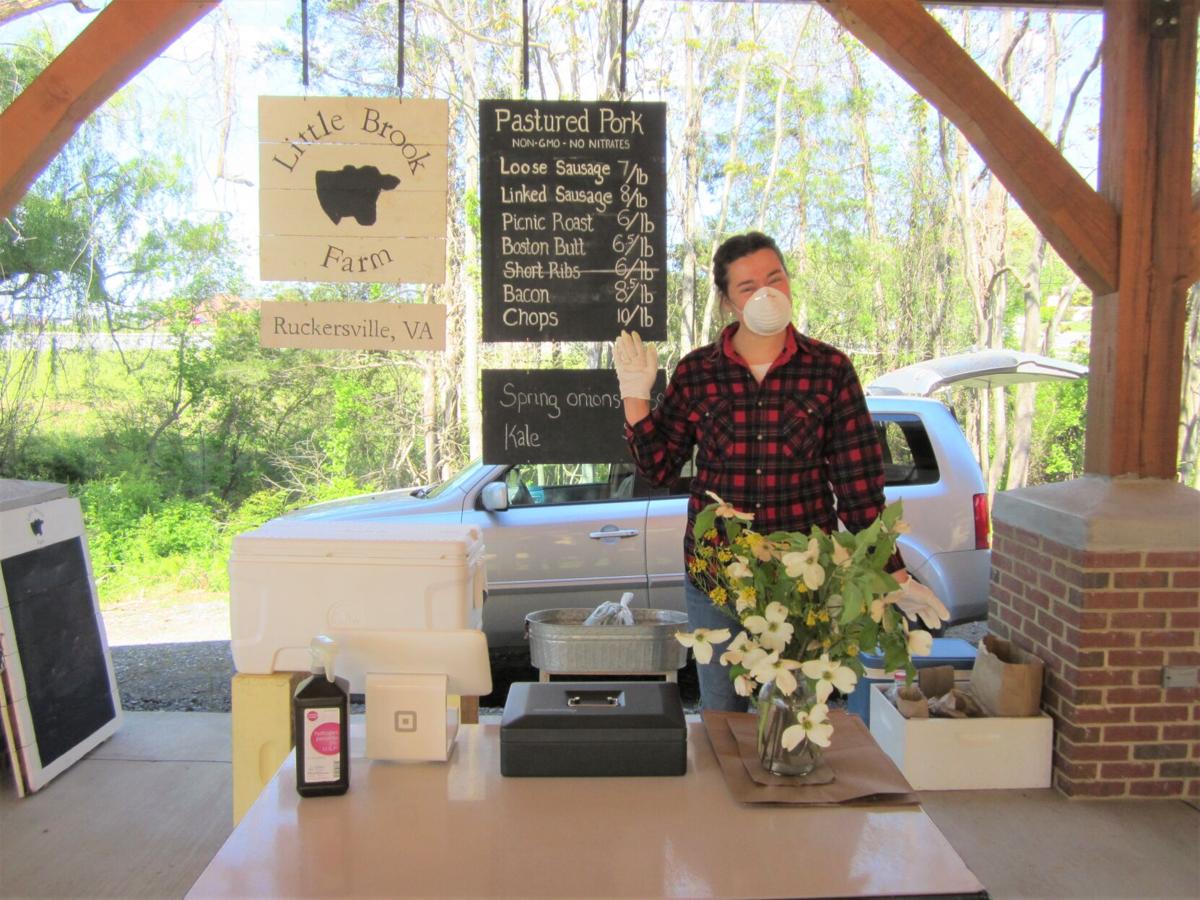 Holiday market will be held Saturday, Nov. 21
Just one year ago, Greene Commons pavilion and stage in Stanardsville held its grand opening celebration. As the cornerstone of a multi-phase initiative to stimulate business growth and economic vitality in the town, festivities included local bands playing live music, kids' games, food and craft vendors and more. Hopes were high for 2020 to be a year of free public events such as concerts, weddings, birthday parties and of course, the weekly farmers market.
"2020 looked as if our little farmers market was going to bust open at the seams of its flannel shirt," said market manager Judy Berger. "We had more vendors booked than ever, local music planned every Saturday, themed events, educational demonstrations … even a kids' area. The opportunities at the new Greene Commons location were endless."
Like everything else in 2020, the COVID-19 pandemic took its toll on these plans, but all hope was not lost.
"COVID came to visit… like a bad houseguest, it completely disrupted our farmers market household," Berger said. "The result? A determined, more adaptable, resourceful family of farmers and vendors."
Scheduled to open on April 4, the market was postponed because most businesses were shut down at that point by mandate of Virginia Gov. Ralph Northam.
"While the governor deemed grocery stores as essential businesses that could remain open, farmers markets were not," Berger explained. "In response to this exclusion, farmers markets throughout the state began participating in Zoom meetings and conference calls with officials from the Virginia Department of Agriculture and Consumer Services, Virginia Farmers Market Association and Virginia Fresh Match to form our case to the governor."
Berger and others argued that food availability on all levels was essential, including markets; that open-air shopping was fairly safe when compared to indoor grocery shopping; that supporting local farmers and vendors was vital to surviving the pandemic economically; and that she was confident of the Greene market's ability to create a safe shopping experience for its customers.
On April 18 the market was finally able to open, with new procedures and protocols in place to protect vendors and shoppers.
"While we were pleased to open, we appreciated the expenses we would incur to launch the market under the new guidelines," Berger said. "Handwashing stations, PPE (Personal Protective Equipment), extra staff, signage, lost vendor dues, development of an online ordering system for curbside pickup, different SNAP protocols and fewer customers venturing out. The vendors and the community were assured we could overcome these challenges."
The six months that the market was in operation provided a mixed bag of results. Early on, online ordering for curbside pickup saw 60 orders per week. As more customers began to slowly shop at the market in person and grocery stores began to remedy some of their supply chain problems throughout the summer, this decreased to around a dozen, according to Berger.
Attendance at the market averaged around 170 to 200 patrons per week in the late summer and early autumn. By comparison, the 2019 market saw as many as 300 visitors on a regular basis. Some vendors reported increased sales this year and a few even sold out of their stock completely.
"This year we marketed on Facebook, emailed newsletters, sent flyers to SNAP recipients through local organizations and ran ads on the radio," Berger said. "It's difficult to reach people when they're not gathering; word of mouth is hidden by a mask, and this had an impact on the social rewards we crave when we shop at farmers markets."
In October, Berger received the good news that the market had been approved to allow more than just food vendors at the pavilion. In the last two weeks of the season, craft and holiday vendors joined in with cheer and enthusiasm, giving the end of the season a boost in sales and the vendors and shoppers a boost in spirit. Additionally, the market received a small amount of grant assistance to help offset some of their COVID-related expenses.
"I'm quite sure next year will hold surprises as well, but we're equipped," Berger said. "Spirits are high among vendors, shoppers and community supporters, and this farmers market manager couldn't be happier. We really can adapt to challenges."
The Greene Farmers Market will be sending out customer and vendor surveys in the coming week in hopes of receiving helpful feedback to begin planning for next year. In the meantime, a festive holiday market will be held on Saturday, Nov. 21 from 9 a.m. to 1 p.m. at the Greene Commons pavilion. Vendors interested in participating can sign up by emailing greenefarmersmarket@gmail.com. The holiday market gives local residents a chance to support local craftsmen and artisans by picking up gift and food items for the holidays. More details on the setup of the event will be in the community calendar as they become available, but hand washing, masks and social distancing will continue to be enforced at this event.
Greene Commons is located at 40 Celt Road in Stanardsville, behind the county administration building.
Be the first to know
Get local news delivered to your inbox!