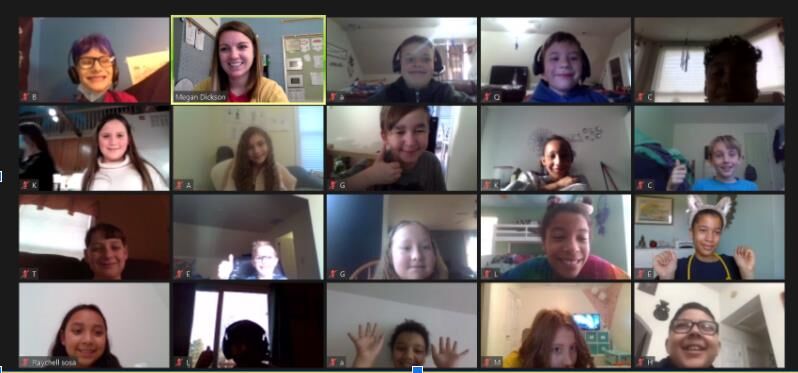 Editor's note: this is part four in an ongoing series about meeting the needs of students during the pandemic.
Since the nationwide shuttering of schools in March 2020 and the return to hybrid in-person and virtual learning in Greene County last September, many students have struggled with issues ranging from learning loss to social and emotional turmoil or even food and housing insecurity. Luckily, for some, virtual learning has been a story of success in a time of strife.
"Our family engagement efforts continue to improve and many staff cites a closer connection to parents and students than ever before," said Greene County Public Schools (GCPS) Assistant Superintendent Dr. Bryan Huber to the school board March 10. "Our collaboration has also improved across the school division as our staff has come together to improve and innovate in areas such as assessment, data collection and intervention services for students."
As the school district prepares for additional learning and social-emotional supports for a return to in-person learning for many students in the fall, it is also working to identify performance gaps and those who may benefit from additional summer school classes.
"In our data collection of student performance, we are noticing that upper elementary students have not experienced a significant decline in their academic performance as maybe traditionally (originally) expected," Huber said. "Particularly in reading and math, we're pleasantly surprised to see that those students in fourth and fifth grades, for the most part, are trending in the same direction for progress and achievement that they would have in prior years."
Although students will likely need additional time to readjust when they do return to the school buildings, the efforts of many teachers, administrators and staff members have helped to keep kids engaged and learning, according to Huber.
This was not a foregone conclusion when the plans for virtual learning first began last summer, according to school social worker Sarah Baran.
"Especially early on, what we found was that people just needed support getting organized and figuring out how to be a virtual student, how to be a virtual family, how to navigate the platforms—how to use what we gave them," she said earlier this year. "Sometimes they just needed the supplies, sometimes they needed to be walked through how to use Canvas or SeeSaw or when to log in, but the other things are sprinkled in there—the support with food or family trauma that they needed outreach for or referrals."
Nathanael Greene Elementary School Assistant Principal Regina Hissong also spoke to the hard work of school staff in rectifying issues that could have prevented virtual students from engaging with their lessons.
"We've delivered things like desks to families that (didn't) have a good learning space for children … we've delivered virtual learning kit supplies that have run out and needed replenished; we also quickly distribute components of the Chromebooks like chargers that get chewed by a dog—anything that would be a barrier to a student joining their class, we try to in a timely manner rectify that so that they can continue," she said.
For Ruckersville Elementary School's one and only virtual fourth-grade teacher, having returned from maternity leave just prior to the pandemic shutdown means she has not been inside a classroom full of students in more than a full year.
"I was definitely going through all the emotions of shocked and disappointed and missing familiarity in getting back to my students," said Megan Dickson of her initial reaction to the shutdown last March. "I think by the time summer came around and we were making the decision for fall, I personally was really happy that there was a virtual option and I was pushing for that because that's how I felt safest returning at that point … I wanted to support any families that had any anxiety about returning, too, and to give them an equal education, even if we're doing it in a totally new, possibly challenging way."
Dickson, who is in her eighth year of teaching (fifth in Greene County), is the sole fourth-grade teacher at RES in the virtual model with a class of 24 students. She says it's been a challenge to reimagine every teaching tool she used in the past to be technology-based as well as giving up her classroom to in-person teachers and moving to a smaller office space within the school building.
"Student engagement was something I was really worried about; we've had to be really creative in getting everybody to participate and just stay fully involved in the lessons each and every day," she said. "I didn't think it would be vastly different than a normal school year where you're adjusting your instruction to kids' personalities and to kids' learning abilities—there's always some level of uncertainty at the beginning of a school year, period."
Although she has had to adjust—as every teacher and student has done this year—to new technology and with it, technical challenges—Dickson says she has honestly loved the experience thus far.
"It has blown me away in terms of the connections I've been able to make with my students outside of learning situations, because it just seems like even though there might be other Zoom screens up, we have so many options to be in a one-on-one setting as well," she said. "There's so much comfort in them showing off who they are as a person outside of school—I get to visit pet goats outside and go on tours of their yard, and things like that have just really, I think, made strong connections with the student and helped us see each other as not just a student and a teacher, but as people who are going through something—and learning how to do it together. The kids have been so resilient and they've shown so much perseverance in terms of problem-solving and working out tech issues on their own—and all of that for fourth grade, which I think is really impressive."
In addition to getting to know her students on a more personal level due to having a "window" into their home lives, Dickson said shy students are able to blossom because they can use Zoom's chat function rather than having to raise their hand in class to ask a question. Breakout rooms allow students to work in small groups without distractions from other groups meeting in the same crowded classroom, and individual students are not comparing their work to other classmates because while virtual, a student can only see his or her own work.
"Even in elementary, we have office hours," she said. "I've had a surprising number of fourth-graders advocate for themselves and come to office hours to say, 'I still need more practice with long division—can we work on this at this time,' or, 'I couldn't turn my work in today because I didn't understand these directions.' So they know that there's time built into their day for them to access help and for them to feel comfortable enough to ask for it, which I think is a really huge skill."
The schedule for virtual learners is built in such a way that there is dedicated office hour time for students, makeup time for anyone who has been absent and parent office hours weekly in case a parent needs more time than can be addressed through phone or email.
"We've asked that every virtual learner who was signing up have a designated learning coach—basically someone who was there to help with tech issues and to oversee what was going on, and I think a really strong learning coach has been a huge key to the success of this program," Dickson said. "We have lots of ways to communicate with each other—I get parents' emails; we schedule Zooms; I text them; we have full, open communication because I don't want anything to go unnoticed or be confusing for too long."
According to Dickson, her students' parents have been incredibly kind and understanding and willing to learn throughout the process.
"I think there's a huge 'we're all in this together' mentality between the parents that I get to work with and we can just tell that we're all on the same page and I'm so grateful for that," she said. "I made sure the first thing I told them when this started was, 'I 100% respect your decision and I'm going to try to make this the best virtual experience and make it positive and successful not just for your kid but for you, too, because this is a huge partnership that we're going to do school from your house.'"
While planning out all of her virtual lessons in advance and holding office hours, Dickson also finds time to connect with her peers who are teaching the same grade in-person, to make sure they are all on the same track academically as well as providing opportunities for the students to connect.
"We've done several things to make sure that our virtual students and our in-person students still have shared experiences," she said. "Our team planned a virtual field trip to Jamestown … all of the in-person kids got on Zoom and all of the virtual kids got on, so as a grade level they were still able to connect with their peers and have a similar experience. We also did a whole grade-level-wide holiday celebration and that included the principal and the assistant principal and our counselor, so they get to still feel like they're part of this community at RES even though they might not get to see these people in person."
It hasn't always been smooth sailing, of course.
"Technology issues happen sporadically, but I think when it comes to internet access, communication is key," Dickson said. "Parents know that if their child's gotten kicked off of Zoom and they can't get back on or they couldn't finish an assignment because the bandwidth wasn't strong enough, it's all about us talking to each other and finding solutions."
Hissong agreed that communication with families has been the most important factor in success for virtual families this year, and urges all parents who have concerns to contact the school so that their questions can be addressed.
"Some parents are more comfortable with texting and … others rely on their email and that's how they want to communicate," she said. "And others just want you to pick up the phone and call them. But knowing each family's best mode of communication has been the lifeline to every bit of the work that we've been doing because there's not one answer that fits all families."
While many school days do take place at home, Dickson says some kids have had better luck logging in from their parent's office where the parent is able to get work done while supervising their child's school day. One student logged in from another country while on a family trip and while quarantining after their return trip so they didn't have to miss several weeks of school in order to go.
Looking ahead to the future, teachers and staff are hopeful that the lessons learned during the pandemic will translate to better communication once students are back in the school buildings, whether that is this fall or a year from now.
"I think the parents who have been virtual have had a real window into a school day, which is something a lot of parents don't get to see from start to finish," Dickson said. "What is the workload like? How detailed is the lesson? What types of resources are we using? What ways can kids show their knowledge? They're getting to see how their kids use time management skills and how their kids tackle different tasks. I think that hopefully going forward in future years, there's definitely going to be more of a connection and understanding between parents and teachers in terms of what a day looks like and all that it entails."
"We have gotten to know our families on a completely different level than we've ever experienced in the past, and it is really heartwarming and eye-opening and I feel so much more of a connection with so many of our families," said Baran, who spends much of her time as the new School Community Liaison making home visits to virtual families in need of assistance this year.
"I think the most powerful thing through all of this has been the partnerships that we've been able to form with our families—true non-judgmental supportive in two direction partnerships," he said. "When we are working with families, it's very much a collaborative effort to make decisions and to navigate tough situations with nothing but the success of their child of the forefront of the conversation, and if we can transfer that type of strong partnership into the future and build on those, that's how we will all be successful—it doesn't matter if it's a pandemic or we're back into some sort of normalcy."
In addition to parental support, Dickson thinks the advances in school technology can be a benefit in the future as well.
"I think that we just need to keep allowing kids—when we get fully back in person—to keep their discovery sense with the technology and the problem-solving skills, because it's been so clear to me how capable they are of this and how this is the future," she said. "Most likely their job's going to involve some sort of technology like this … for teachers to redefine how we use technology so that it's a lesson in itself for kids, I think it's going to be really important."
While planning for the fall 2021 semester is still underway, school administrators do anticipate a virtual option being available to anyone who wishes to continue at this time.