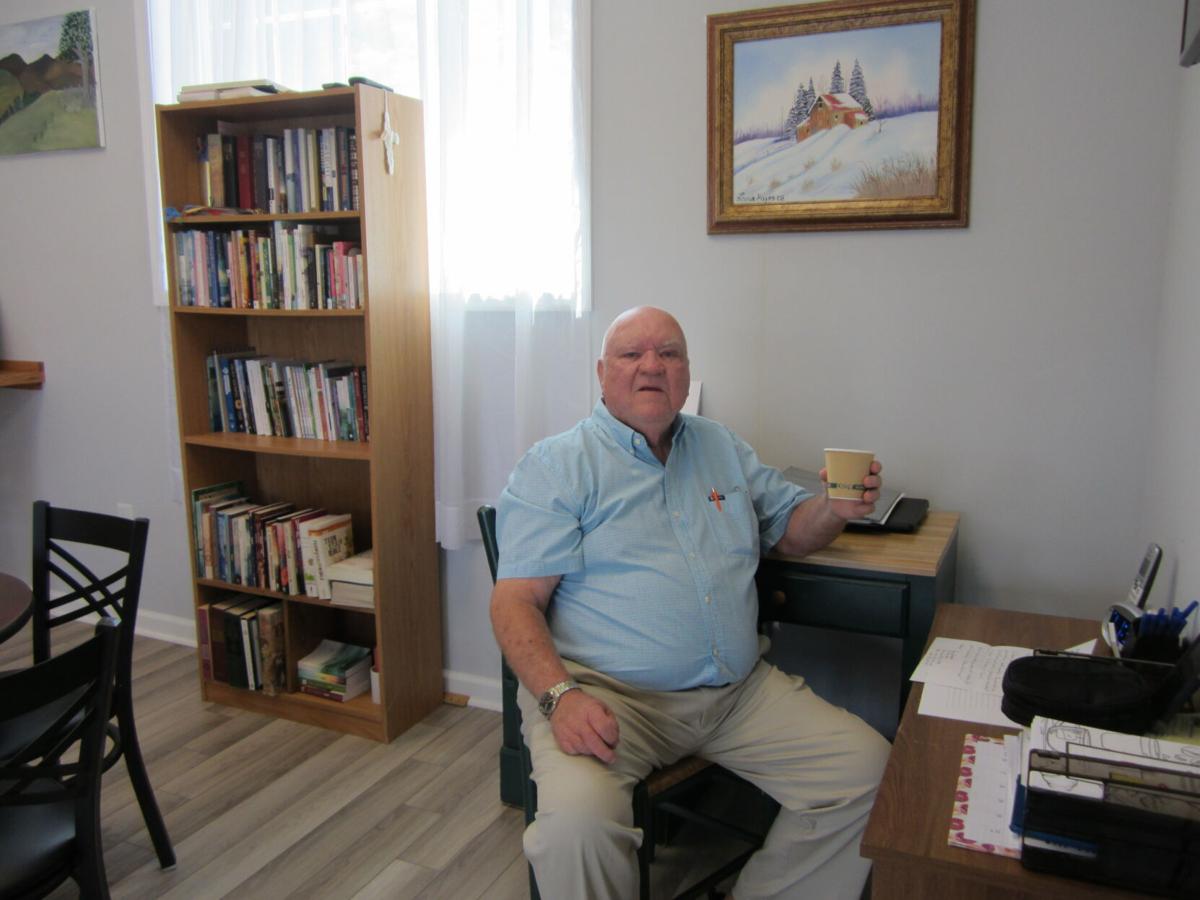 Whether it's the story about his trip to the Grand Canyon or an update on his family (he has 16 grandkids and nine great-grandkids, so far), Stanardsville's Joel Warren will strike up a conversation with just about anybody. Next week, the Stanardsville Station will celebrate its grand opening with Warren at the helm—and daily opportunities for coffee and conversation will come to downtown Stanardsville, courtesy of Stanardsville United Methodist Church (SUMC).
"Right now with COVID going away, people are just hungering for a community to be able to get together, to be able to just sit and chat and do things like we normally would be doing," Warren said last week. "I'm not a Starbucks, but if somebody's coming through going to work and they want to grab a quick cup it only takes them a minute."
The building is at 126 Main St., in between SUMC and the Greene County Record office and across Blakey Avenue from the Lafayette Inn. It was originally built as a service station in 1932 by C.G. Miller, according to the Greene County Historical Society. Most recently, it housed Stanardsville Auto Repair. In 2018, the owner decided to retire and approached SUMC about purchasing the space.
Warren, who worked for the telephone company in southern Virginia for many years before relocating to Stanardsville in 2005, said his greatest joy in life is in the serendipitous connections he has made through his philosophy of striking up conversations with strangers.
"The world is a lot smaller than you think, and you can make it even smaller than that if you just reach out and talk to different folks," he said. "When I'm sitting in a restaurant and see somebody at a table, if I'm drawn to them in any way, I'll speak to them. When I'm going in and out of Miranda's (Grill), I speak to everybody that's at a table between me and the door, and I've met a lot of different people that come in there on a regular basis. … It's just part of who I am and it's part of what we're called to do as Christians."
Warren has been volunteering with SUMC for many years, serving as a trustee chair, lay speaker and substitute pastor and now as director of Stanardsville Station. He will be on hand during operating hours to keep the coffee pods stocked, the Keurig full of water and to just chat with anyone who might happen to be stopping by or calling to book the meeting room.
"I've been around since Moby Dick was a minnow, so I've dealt with just about every issue you can either in regular life or out with the American Legion Post," said Warren, who is a Vietnam veteran. "(The Station) is another way for me to meet the people in the community to establish relationships, meet them where they are and see what's going on in their lives and if some way I can assist."
In his 16 years living in Stanardsville, Warren has established connections with the county administration, Greene County Public Schools (where he worked for seven years and was also a substitute teacher), Piedmont Virginia Community College, the Veteran's Affairs office, Habitat for Humanity, GRACE and social services.
He also said he spends so much time at Lowe's working on various home projects or things for the church that other customers will often ask him where to find things and are surprised to discover he does not actually work there.
"When I talk to people in the church about reaching out, because that's what we're called to do, everybody says they don't do that—they don't talk to strangers," Warren said. "And I say well, you need to change your perspective, because my view is, there are no strangers—there are just friends I haven't met yet. … It's just amazing what kind of joy you can receive just by striking up a conversation with somebody."
In addition to having connections to local resources, Stanardsville Station will have free WiFi, with a countertop perfect for parking a laptop to hold a group meeting or catch up on some schoolwork. The kitchen is well-stocked with snacks and drinks (coffee pods as well as bottled juice and water) for only a dollar apiece and the meeting room can be booked for groups of up to 20-25 people free of charge.
"Something struck me out of the devotional that we're using in church," Warren said. "We're talking about our spiritual gifts that we're given and what joy it brings to the Lord when he sees us utilizing the gifts that he's given us. … I know a lot of times he's sitting up there laughing at me, but I get up every day looking forward to getting out and seeing who I'm going to meet and what I'm going to encounter."
The Station will be open Monday through Thursday from 7:30 a.m. to 4:30 p.m. and Fridays from 7:30 a.m. to 3 p.m. beginning Monday, July 12. It will be closed to the public on weekends but meetings can still be scheduled by calling Warren at (434) 481-3858 or emailing StanardsvilleStation@gmail.com. SUMC will also hold a commemoration during services on Sunday, July 18 and Warren hopes to add a barn quilt painting and a historical mural to the side of the building in the near future.