Twenty years ago, on Sept. 11, 2001, militants associated with the Islamic extremist group Al Qaeda hijacked four airplanes and carried out suicide attacks against targets in the United States. Two of the planes were flown into the twin towers of the World Trade Center in New York City; a third plane hit the Pentagon just outside Washington, D.C., and the fourth plane crashed in a field in Shanksville, Penn., after passengers heard of the earlier attacks and rebelled against the hijackers.
"I remember it started as a busy day of meetings that seemed important at the time. When the first plane crashed, we all thought it had been an awful aviation accident, but by the second, it was clearly an act of terrorism," 5th District Del. Rob Bell, R-Albemarle, remembered. "People stopped what they were doing and found televisions to watch, and worried what would happen next because no one seemed to know how many planes had been hijacked. Then everything just shut down—people left work to get home to their families if they could. It was a terrible day."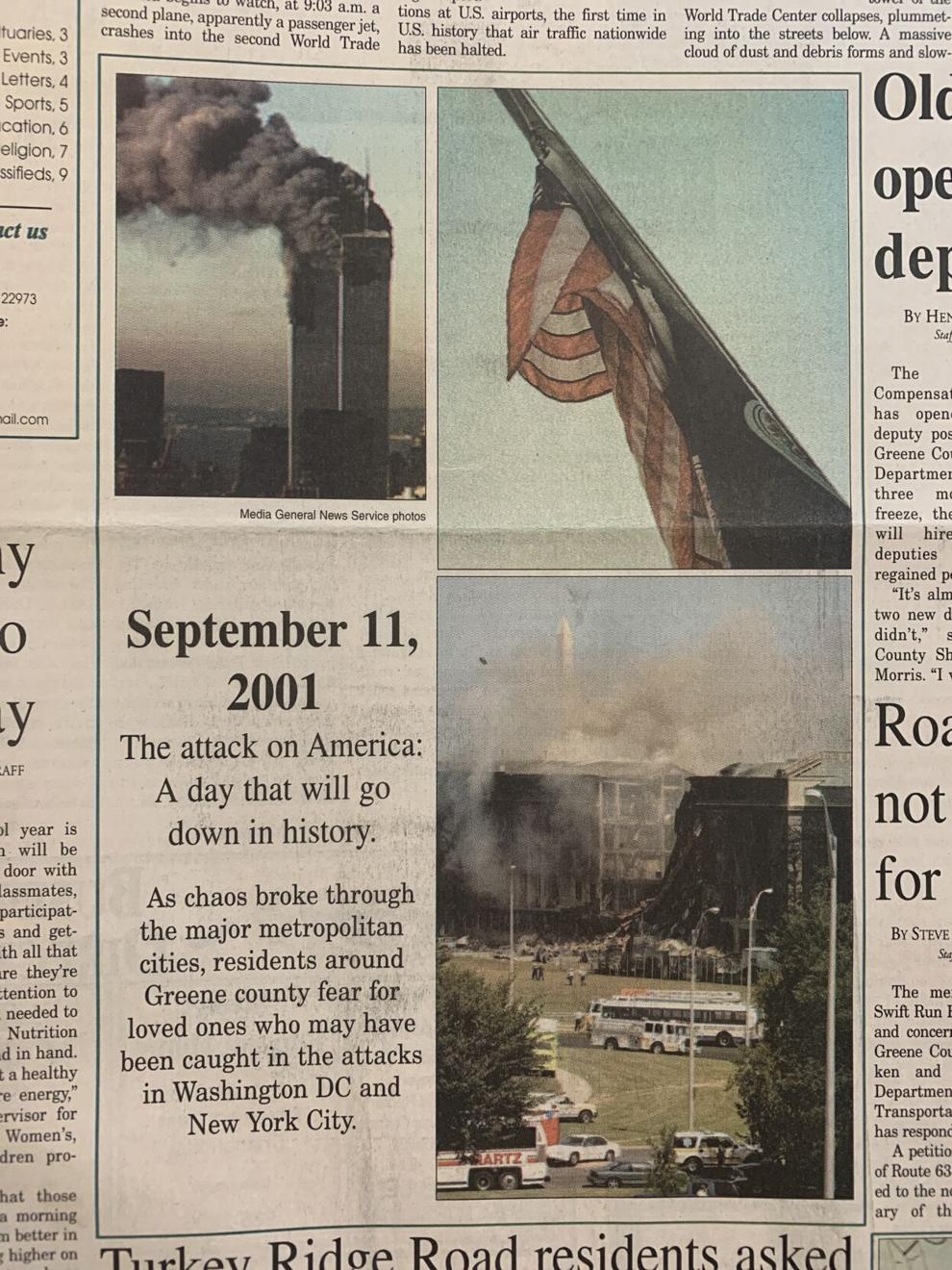 Anyone above a certain age certainly remembers where they were when they heard the news, just as older generations recall the bombing of Pearl Harbor on Dec. 7, 1941; the assassination of President John F. Kennedy on Nov. 22, 1963; the April 4, 1968, assassination of Martin Luther King Jr.; or the July 20, 1969, moon landing. These are moments that define our culture—both the good and the bad.
"Once my son was at daycare, I was sitting on my sofa watching the news and they interrupted by going to a live stream of the World Trade Center," recalled Susan Duckworth, Clerk of the Greene County Circuit Court. "I stared at the TV seeing a skyscraper burning and couldn't even process that America was being attacked. … In the days that passed, the Daily Progress printed an American flag in the newspaper and people taped them inside their windows. Everyone was focused on the bars and stripes and the horror and dismay that had become so relevant in an entire country's eyes."
"Some of us have the advantage—or the disadvantage, depending on your perspective—of truly remembering Dec. 7, 1941," United States Del. George Broman wrote in an Op-Ed Sept. 20, 2001. "The speed with which the public became aware of events and their graphic details was much slower then, but the sequence of shock, disbelief, and then intense anger was the same. … The immediate response of our citizens has been the same anger, along with an immense outpouring of support and assistance, in every way imaginable. We still have our compassion and concern for those in distress, and we still have the drive to 'do something.' What must come next is the same public resolve and willing sacrifice seen in 1941, for the next months and years—the willingness to follow a new set of rules that may not be the most convenient for us, but that will advance the general safety of our world and rid of every last vestige of those who would do public harm."
"What I remember most from 9/11 was the silence. On the day of the attack, I had been employed by the Greene County Public School system for a little over two years. Normally as you walk through the schools, at any grade level, there is always noise—students talking, laughing, yelling and interacting with their teachers," At-Large Supervisor and Greene County native Dale Herring recalled. "That morning, there were no sounds, no conversations, just silence. Later that evening I just sat on my porch and stared off into the distance trying to comprehend the events of the day. A few days later as I was on a walk with my 9-year old daughter, I heard the first airplane since the day of the attack. I stopped and looked up into the sky. I must have stopped more suddenly than I realized as she looked at me and asked 'Dad what's wrong?' As I looked at her and thought about what I was going to say, I knew that her life would never be the same."
Headlines from the Sept. 20, 2001, issue of the Record included an announcement of a benefit concert to be held at the Greene County Fairgrounds; a local resident happy to hear from his daughters, one of whom often worked in the Pentagon; and comments from three members of the Greene County Rescue Squad who were on standby to take over a 911 unit but did not get called to D.C.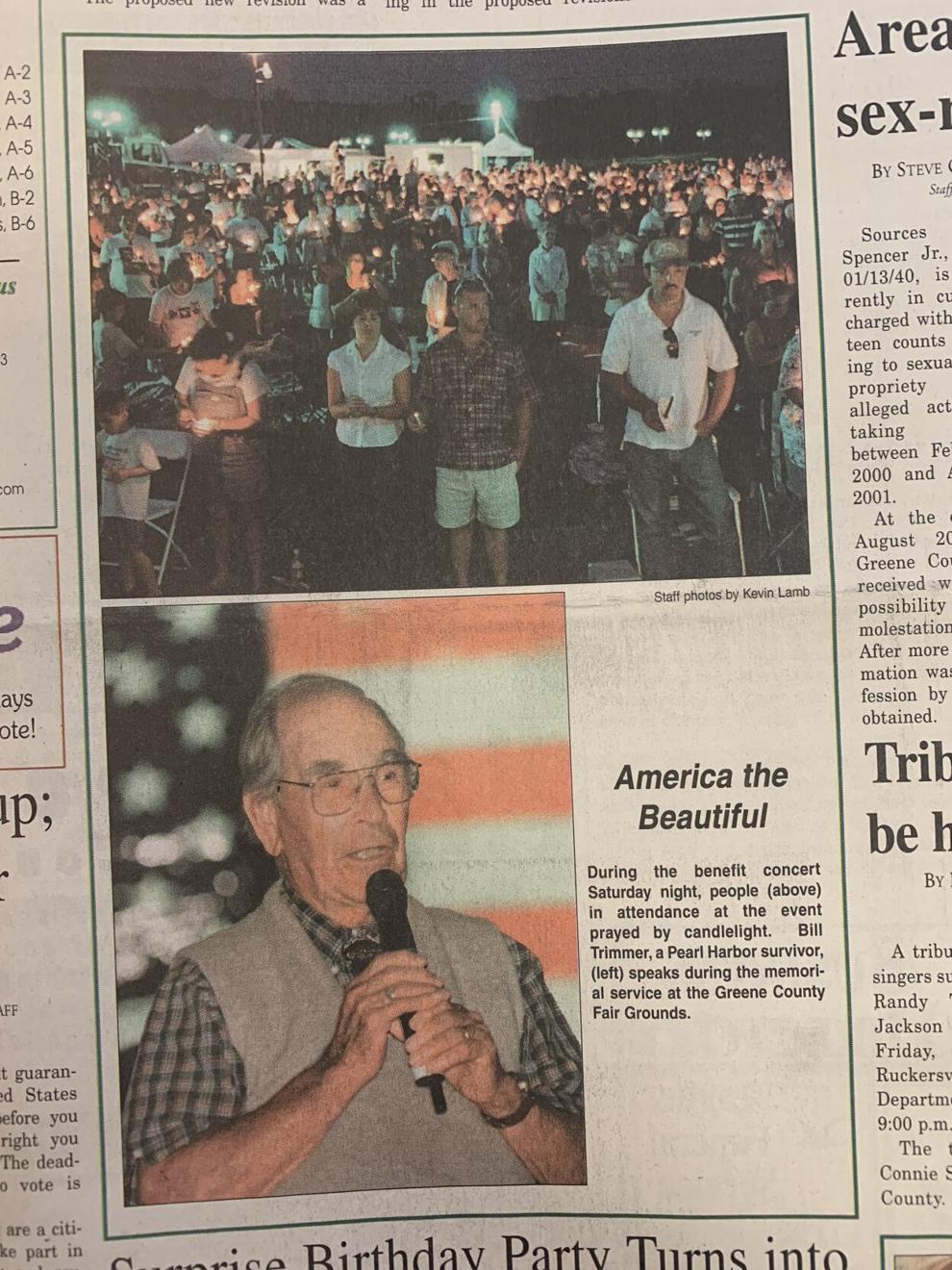 "On the morning of Sept. 11th, I was teaching a class at William Monroe Middle School. When class ended I walked into the hallway and a colleague was standing outside my door and told me about the attack on the Twin Towers. We were all in shock. We discussed what to do and say to the students," history teacher Stephanie Hammer noted recently. "The decision was made to not inform the students right away. Part of that reason was because the father of a student in my class was a pilot and we did not know whether he was flying a plane that morning or not."
The days, weeks and months following the attack were filled with a sense of patriotism—the sense that the attacks against major targets in our country were an attack against all Americans, and that we must all band together to support those involved in the tragedy.
"Like everyone on Sept. 11, 2001, I watched in horror as the towers fell," wrote Greene County School Board Chair Leah Paladino. "I vacillated between profound grief and intense fury at the tragic loss of life and human suffering. At some point I also realized that this terrible day would forever change the course of our lives, as I was engaged to be married to a U.S. Marine. We decided to face what was coming together, so we moved up our wedding and were married two weeks after 9/11. During the following eight years on Camp Lejeune, my husband deployed many times while I stayed behind to serve and support the spouses of deployed Marines and sailors as a Key Volunteer. We will never forget the sacrifices and bravery, then and since."
"I am very proud to be an American and to see the resolve of the American people to unite together under these tragic and devastating circumstances," wrote George B. Durrer in a letter to the editor dated Sept. 27, 2001. "We can always rebuild physical buildings; however, our hearts will take much longer to heal. We will never forget the horror and tragedy that happened Sept. 11, 2001, and the aftermath that we are currently involved in. We may bend temporarily, but our spirit will never be broken by anyone or anybody—the people of this country will continue to move forward."
"I was in my home in Fredericksburg that morning watching the NBC news. The news was interrupted with a report of a terrorist attack on the Twin Towers. I sat there in disbelief watching everything as it was happening. As I watched all the smoke and the people running in the streets, I was so shocked that something like this could happen in our America. I came to my home in Stanardsville the next day to be close to my family," said Joann Powell, president of the Greene County Historical Society.
The benefit concert at Greene County Fairgrounds attracted thousands, with fundraising generating more than $13,000 for the Greene United for America Fund. According to the Sept. 27, 2001, issue of the Record, "The day began with a benefit concert featuring The Deanes, Keith Samuels, The Hogsten Trio, M.D. Mallory and The Charlottesville Grass. As the night progressed, Marshall Dyllon, an up-and-coming country band featuring singer Todd Sansom from Greene County rejuvenated the audience with hit songs 'God bless' this town and 'Live it up.'"
The memorial service began with a presentation of the colors by the Greene County Sheriff's Department Honor Guard, followed by a moving rendition of the Star Spangled Banner by the William Monroe High School Marching Band. An invocation was given by Rev. Michael Jackson of Emmanuel Christian Center, followed by a release of red, white and blue balloons and a song from the William Monroe Middle School Choir called "Your heart will lead you home."
Board of Supervisors Chairman Kenneth Lawson and then-Sheriff William Morris gave speeches calling on citizens to band together and honoring the sacrifices of the first responders involved in the tragedy. Greene County Public Schools Superintendent Ray Dingledine spoke about how world views changed after Sept. 11, and William Monroe High School music director Keith Samuels played "Amazing Grace" on harmonica.
It was not just the adults who were deeply affected by the events of this day.
"Twenty years ago, I was in Erik Nyrop's 10th-grade English class when an announcement came over the intercom letting us know that something had happened and for everyone to remain calm," recalled Greene County Tech Center Principal Jess Peregoy. "I remember being confused as rumors started to circulate—remember, this was a time before cell phones and immediate internet news was in the palm of our hands. … It has taken years for me to truly process and come to an understanding of exactly what transpired and how it has affected and influenced our world."
Beginning in September, William Monroe Middle School students held a Red Cross fund drive to help those who suffered losses in the attacks in New York and D.C. Students at United Christian Academy observed a moment of silence following the daily Pledge of Allegiance—as did many other schools throughout the country. In October, Virginia restaurants donated a portion of proceeds for a day to help the families of food service workers killed in the collapse of the World Trade Center towers. In November, Nathanael Greene Elementary School students pulled together to raise money for the New York Firefighters Fund. Three classes of third graders at Nathanael Greene Elementary Schools painted quilt blocks to help a woman in Florida sew quilt designs to donate to every firehouse in New York City.
"I was a freshman in high school, and our band director took a call in his office before asking us all to put down our instruments. He explained what was happening, but it was difficult to process the information," remembered Kathleen Borrelli, Record reporter. "The rest of the day was a blur of watching the news in every class and swapping details with classmates in the hallways. I grew up in Fairfax County and many friends had parents working in D.C. so they were trying to get through on the phones all day to make sure their family members were safe."
"I remember the morning of Sept. 12, 2001, vividly as well," Peregoy wrote. "We held a moment of silence over the announcements in honor of the thousands of lives lost. They played 'God Bless the USA' by Lee Greenwood for us and I remember a swirl of emotions … I tried to keep my emotions in check in front of my homeroom classmates, but I remember them being complex tears—tears that were heartbroken for all of those immediately affected by what had happened, and tears for our hurting nation, but they were also tears of pride and an unwavering confidence knowing that no matter what had transpired, we were all proud to be American—a country that would respectfully put our differences aside to collectively mourn our fallen and band together to heal. It was the first time in my young life that I truly felt the intense internal tug of patriotism wash over me."
The annual "Letters to Santa" published in the Record that December had many asking Santa for an end to the war (alongside many requests for Harry Potter toys—the first movie released later that year).
"We still lived within 30 miles south of Washington, D.C., on Sept. 11, 2001, and my family was spread throughout Northern Virginia and Washington, D.C., when the attacks began. My daughter was 4 years old and my son just over 1," recalled Terry Beigie, Record editor. "I was a journalist in Northern Virginia, working from home, and glued to the television set for most of the day—so long as the children weren't in the room. One thing I remember clearly was my daughter noticing no airplanes were flying above our house, which was in the Dulles Airport flight path, as we played in the back yard and she asked why. Just as I was about to answer her, two military jets flew over with engines blaring, so I was spared from having to explain the unexplainable."
It was an event that would shape the lives of citizens across the country for the rest of our lives.
"Ten years later, we continue to honor those victims who are no longer with us," wrote U.S. Rep. Robert Hurt (5th District) in September 2011. "We salute our veterans and our servicemen and women both at home and abroad, including the Virginia Navy Seals who helped bring Osama bin Laden to justice. We salute the thousands of brave American soldiers who have answered the call of duty and have gone to the defense of our nation in Iraq, Afghanistan, and across the world, courageously fighting to keep our country safe. … The tragic terror attacks on Sept. 11, 2001 forever changed the course of our nation. We were all affected by the horror, shock and devastation of that day perpetrated by those who sought to destroy our American way of life. But even in those dark hours, in the aftermath of the destruction, and in this post-9/11 world, we are constantly reminded of the resilience of our American spirit and the strength of our democracy that has persevered in the face of tragedy."
American Legion Post 128 in Stanardsville will be flying ministry flags in front of the building in memory of the terrorist attacks and those who served in the years that followed.
"This is a very raw topic for many of us in the Post due to personal involvement and losses both then and now," said Post Commander Peter DeForth. "In the past few days, I have seen flags flying on homes and vehicles driven all across the country like I have not seen since 2001. Please pray for the mental health and well-being of our many veterans and their families, who have sacrificed and personally suffered so much since then."
According to Legion Chaplain Doug Fargo, a 9/11 tribute will be conducted beginning at 2 p.m. on Saturday, Sept. 11, at Greene Commons in Stanardsville.