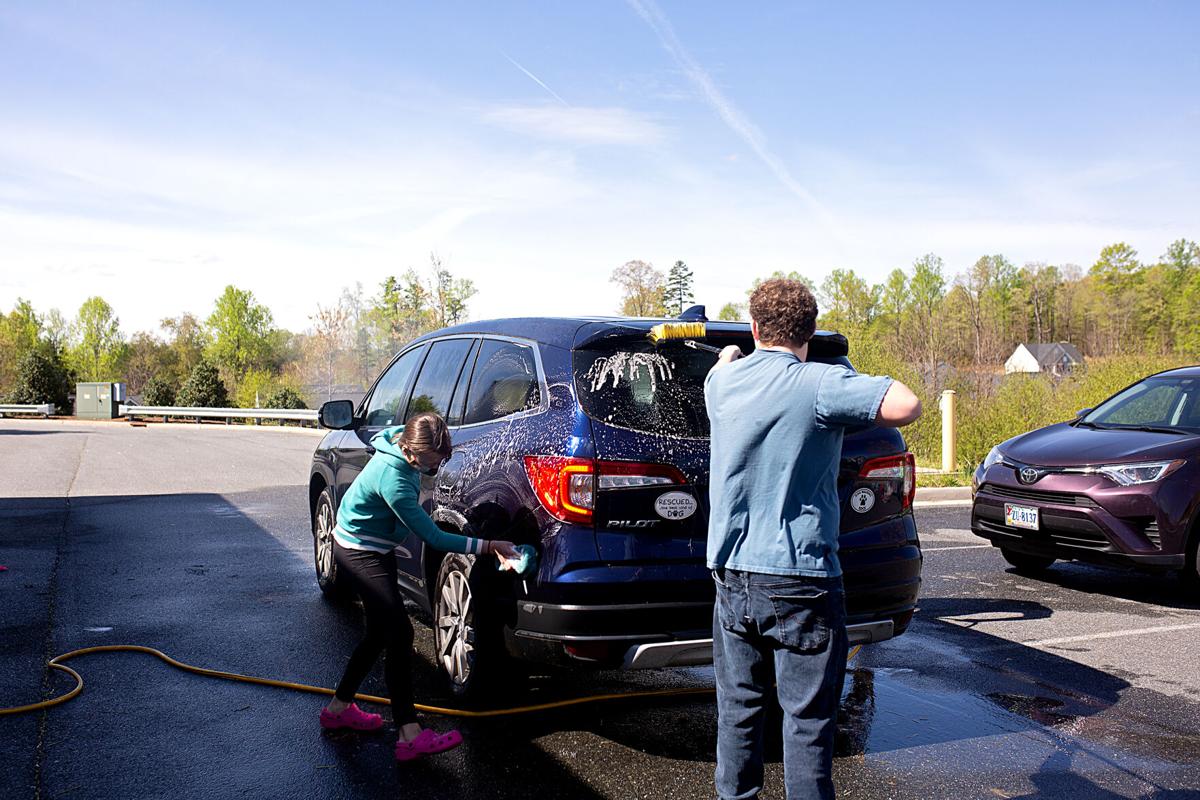 Summer is just around the corner, and the Greene/Fluvanna 4-H summer camp is back after its 2020 COVID-19 hiatus. The pandemic may have canceled many things in 2020, but this June 21-25, campers will be back at Holiday Lake 4-H Center in Appomattox for a fun yet socially distant camp experience.
"We're adapting our plans and doing the best we can to make sure that the kids have the most positive experience," said Greene County's senior 4-H Agent Kathryn Alstat. "We're just trying to do everything we can to make it as safe as we can for the kids at camp and the volunteers."
Registration is now open at shorturl.at/rtDE6 through April 30 and spaces are limited to half-capacity in order to allow for social distancing within the cabins.
"This year, they're going to be assigned to the same pack or cohort the whole time they're at camp and they'll go to all their clubs and activities with that one small group," Alstat said. "Right now, they're requiring that the kids wear masks inside and when they're closer than six feet outside … you know those rules could change as the general guidelines for COVID change, but this is what we're preparing for."
Instead of having kids sign up for any classes they wish and intermixing groups, the courses have been divided into five distinct "Camp Tracks" and lodging will be based on what track campers choose. In the Art Track, campers will take leathercraft, performing arts and a nature course; in the Nature Track, campers will learn fishing, low ropes and the nature course; Outdoor Adventure includes canoeing, low ropes and archery; Shooting Education includes riflery, archery and low ropes; and 'A Taste of Camp' includes riflery, canoeing and leathercraft.
"Normally, they would just choose from about 20 classes at camp and they would get three or four of them, but this year we have to do it in the tracks because of COVID," Alstat said. "They're going to be in that track with the same kids the whole time at camp." Applicants are encouraged to talk to their friends and choose the same track if they want to be lodged together, but all campers will have the opportunity to go to the pool once a day and will attend evening campfires.
When the announcement was made that 4-H camp would be canceled for summer 2020, Alstat said training was already well underway for the camp's teen leaders.
"Last year was devastating to our campers and especially our teens, who continued to train for camp virtually while we were under lockdown," she said. "They were told first that camp would be delayed … and then were finally told that 4-H camp was canceled for the summer. Teens from Greene and Fluvanna worked on submitting videos and we even had one of our 4-H families act out camp skits and record them—they did their best to keep the spirit of camp alive with virtual activities and even had participants from other states."
High school junior Solomon Anderson has been going to camp since he was 9 years old, and can't wait to meet up with friends he has not seen in more than a year.
"I have a lot of friends in this county and Fluvanna County that I only see them maybe once or twice a year if we do the teen training and at camp," Anderson said. "I made some friends that I still have to this day, and some of them helped me get through some tough times … it's definitely about the friends and community when you go to camp."
Solomon has participated in 4-H international club, Y.E.S. club, teen club and did robotics for three years—through which he met one of his closest friends. He says his favorite course at camp is anything in the high ropes section.
"The high ropes course, the climbing tower, zip line and some of the low challenge stuff is pretty fun too," he said. "If I had to pick a second (favorite) it'd probably have to be swimming… when I'm at camp, I'm a generally excited person and I like to keep it moving."
According to Anderson, becoming a teen leader has been challenging as he sometimes has to deal with campers who don't want to follow the rules or who are homesick their first time away from home.
"It's mainly just the atmosphere—getting away from everything that kids usually deal with when they're at home or at school," he said. "It's certainly a lot of fun and something that kids really should try out even if it's their first time… if I had the chance to do everything over again, I definitely would."
For Matthew Horne, 2021 will be his fifth year as a teen leader and his seventh year attending 4-H camp.
"I've always liked the riflery and the archery—it is really fun, especially when you get to teach it to the kids," Horne said. "Every single day of the week they come and follow that schedule and they have their little breaks and activities, and for teens it's almost the same but as you go from class to class helping the instructors with their things, sometimes you get to be assigned to a specific class to teach. I've (taught) cooking, drama and archery."
Horne really missed camp last year and is looking forward to the opportunity to attend as this will likely be his last year as a teen leader.
"The training (for teen leaders) was very interesting; there's different sessions where you go through an interview and training with the Fluvanna and Greene 4-H members where everyone's trained to be the teen counselors and we're kind of drilled on the games and what to do with campers if they have any sort of issues or … an emergency," Horne said.
Each teen leader is generally assigned seven or eight campers and will assist them in their classes throughout the day and make sure they get to bed after the evening campfire and up in time for the flag-raising each morning. Horne says one of his favorite classes is drama.
"There's many acting games and then they organize a skit for the end (of camp) that has to do with the theme," he said. "(The teen groups) have their own games and special events and team-building activities and at the end they usually have their own poem or song or something that they recite at the evening campfire the last day. I've never been bored any year—it's always made me want to go back."
Devin Karnes began going to camp in third grade, and also became a teen leader as soon as he was eligible. He says one of the main reasons he applied to become a teen leader was because his older sister had done it.
"It was interesting to see sort of the power dynamic," Karnes said. "You gain a lot of responsibility as soon as you're a teen leader, and I always kind of looked up to them when I was younger. You get to hang out with the other teens and you're basically like an elementary school teacher at that point … I was a pretty expansive teen leader when I was there, working with everybody—counselors, adult leaders—I was put on multiple different levels and … organizing events and everything."
Throughout his years of going to camp, Karnes says one of his favorite activities was the high ropes course.
"You're basically 50 feet in the air with a zip line and (walking on) another thin rope, kind of like a tightrope-walking situation, and you've got a harness and stuff all strapped in," he said. "I would always want to go to that class."
In the months leading up to the summer camp, the teen clubs at each county's 4-H will hold overnight training sessions to work on the year's camp theme and design activities.
"(Training) would basically be a sleepover; you'd go there and do some team-building exercises and that's kind of how you'd meet the other teens," Karnes said. "In these clubs, we're designing the events that are going to happen, designing the club banners, designing the entire theme … you do a lot as a teen leader and then when you get (to camp) you can be put on to lots of responsibilities such as helping set up for events, being kind of like a shop owner … there's all sorts of things you can do as a teen leader."
Karnes said he made a lot of friends through 4-H over the years.
"When you go to this camp, you're there for a whole week—you have to make friends with somebody," he laughed. "So you make all these friends and then you realize you're not going to see them for a year … you would get to the end of camp, they would sing Taps and it would be really sad—always a sobfest at the end of the year."
Alstat said going to camp teaches young kids independence.
"They have to take care of their own things and they are responsible for themselves—they're supervised, and it's a very positive environment, but it's also about the kids learning to function without their parents and it's a good experience for them … it's quite the adjustment for that 9-year-old going to camp for the first time," she said.
Holiday Lake 4-H Center's cabins were built by the Civilian Conservation Corps in the 1930s and have remained largely unchanged over the decades. Serving the youth of central and southern Virginia since 1940, the facility was designated a Virginia Historic Landmark in 2011. It is estimated that more than 100,000 lives have been enriched through programs at the 4-H center in the past 80 years.
"It's about a two hour drive to this beautiful lake and they're in the middle of the woods," Alstat said. "There have been years at camp the deer have just walked across the camp in front of the kids. One year, the nature instructor found a huge snapping turtle—which we kept away from the campers—but they kids got to see this huge snapping turtle and we've had foxes run through, so they're in the middle of nature the whole time they're there, which is really neat."
Campers must be 4-H members or residents of Greene or Fluvanna counties and must be nine years old by September 30; teens can apply to be teen leaders if they were 14 by Jan. 1, 2021. For the most up-to-date COVID guidelines and registration information, visit https://sites.google.com/vt.edu/20214-hcamp or contact Alstat at kalstat@vt.edu or (434) 985-5236. The cost of camp is $240 and includes classes and activities, food, lodging, transportation and a camp T-shirt. Need-based financial aid is also available and information is on the application site.