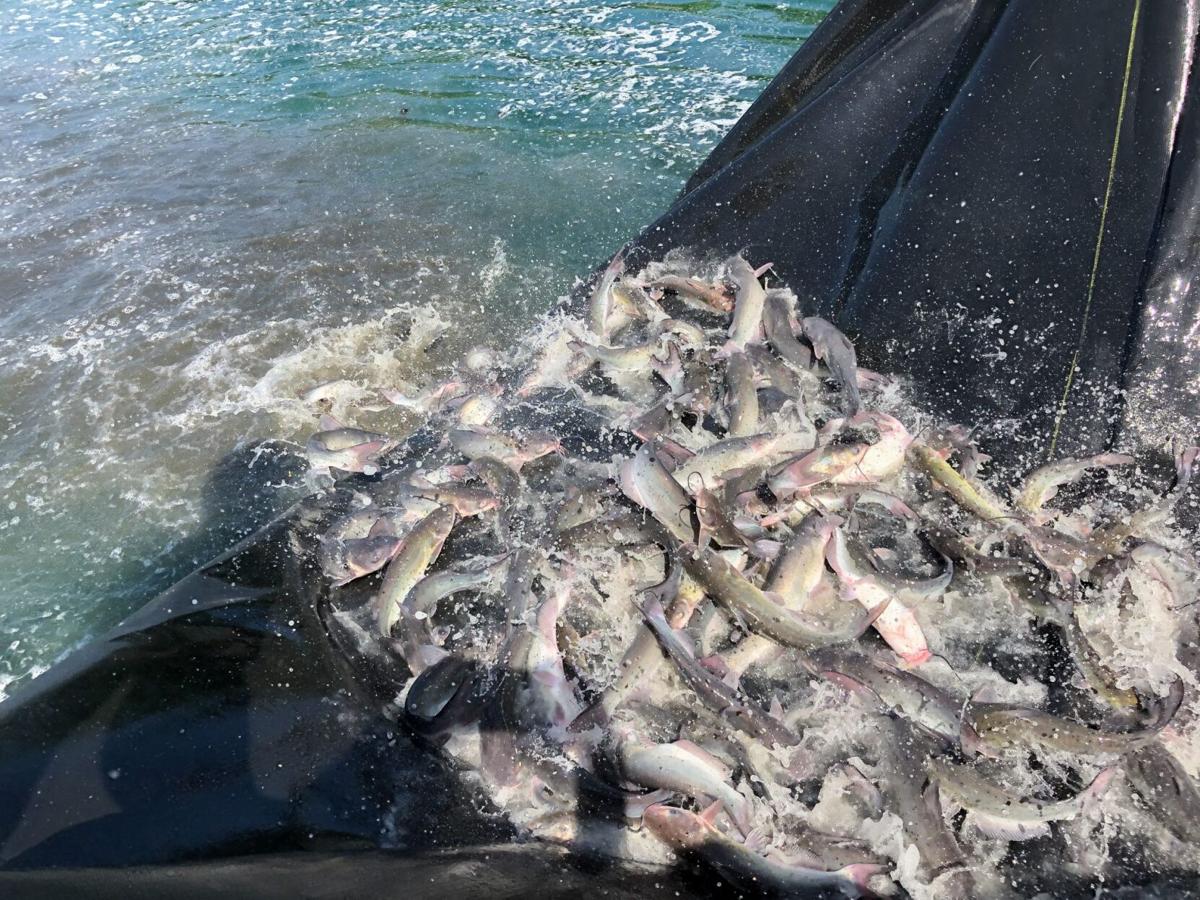 Most everyone is aware of Virginia's trout stocking program. With numerous cold water hatcheries, Virginia's Division of Wildlife Resources stocks about 1,200,000 catchable size trout each year. What many aren't aware of is the prolific catfish stocking that also takes place in our state. Last fall, more than 60,000 catchable-size catfish were introduced to a number of lakes and a similar number is stocked in the spring.
A good bit of the spring stocking is directed at urban areas. The motto at DWR is that if you can't get to the fish, we'll bring them to you. Numerous park lakes and impoundments in or near the cities receive catfish—and nice catfish, ready for the frying pan.
Alex McCrickard, DWR Angling Education Coordinator, says this effort is part of his agency's FishLocalVA initiative and is aimed at creating exceptional angling opportunities in urban metropolitan areas. "It's an effort that has a lot of moving parts, from acquiring the channel catfish to distribution across the state including transportation and stocking efforts," he said.
DWR's hatchery staff work with fisheries biologists, outreach staff, agency complementary workforce volunteers and other regional entities to get the job completed. It takes a lot of coordination, and behind it all is Chris Dahlem, Hatchery Manager at King & Queen Fish Hatchery.
"We used to raise channel catfish, but they need a longer and warmer growing season than Virginia provides," Dahlem said. "Now DWR purchases the catfish from vendors in the south, where they are much more efficiently grown, opening up more DWR hatchery ponds for producing a multitude of other fish types. My station acts as the urban catfish program distribution and coordination center.
"Coordination is the key," continued Dahlem. "Once my supervisor does the legwork to determine the need and procure the fish, it's my task to receive the five tons of catfish and distribute them using seven trucks from five hatcheries, all within two days."
Recently, channel catfish were stocked at urban impoundments including Dorey Park Pond, Northwest River Park, Oak Grove Lake, Shields Lake, Cook Lake, Locust Shade, Old Cossey Pond, Armistead Pointe Pond and Wilkins Lake.
In our area, Lake Orange, Lake Albemarle, Beaver Creek, Chris Greene Lake, Braley Pond and the Sherando Lakes (upper and lower) all receive annual stockings of channel catfish, and they quickly grow from a foot to as many as 5 and 6 pounds in just a few years.
The DWR notes that channel catfish are great fun on rod and reel and an excellent species to target for those just starting out. A 6' or 6'6" medium action spinning rod is a perfect size for smaller catfish—though a heavier outfit is suggested for the big blue cats and flatheads which can reach and surpass 100 pounds. Anglers can find success fishing on the bottom with a Carolina rig set with a small circle hook and a ¼ or ½ ounce sinker. Night crawlers, chicken livers or fresh-cut bait work well.
One of my favorite baits for channel catfish is a small bluegill head. Simply save a few heads after cleaning a catch of these sunfish, put a circle hook through the top of the head, cast it out and wait. If there's a catfish around, he'll find it.
Channel catfish are easy and fun to catch. Kudos to DWR for keeping Virginia waters supplied with one of the best-eating freshwater fish of all.