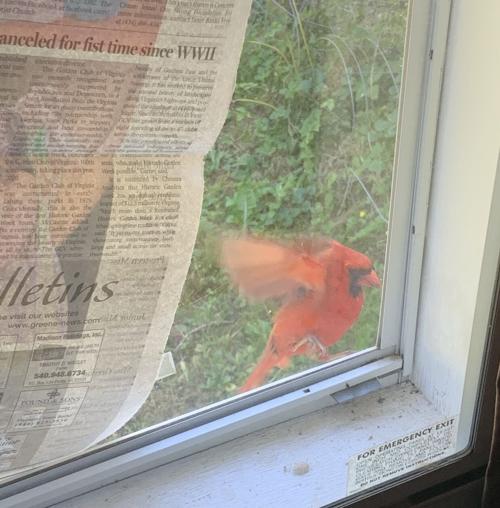 Many in the avian community are concerned about the recent spread of a condition known as BBB—"Bad Bird Behavior," and it seems to be spreading.
My daughter, Laura, recently moved from Durham, N.C., into a house near downtown Charlottesville. Soon after she had settled in, she heard a "thump" at the back window. She went to investigate and discovered that it was a robin who continued to throw himself against the glass pane. She thought the bird would finally figure it out and move on, but he continued to thump away for an entire week, after which Laura was ready to pull up roots and move back to North Carolina.
Here in Greene County, Kathleen Borrelli was having a similar problem, only with a different bird—a cardinal. Kathleen, Reporter for the Greene County Record, said the male cardinal has been driving her and her husband crazy.
"It started with him beating his wings against the dining room window, flapping about and making a surprising amount of noise intermittently over the span of a few hours," Kathleen said. "I thought it was funny at first, but my husband kept running outside to shoo him away from the house (to no effect). Throughout the day and Sunday he kept showing up, mostly at that big window but also at the kitchen sink window and then at the front of the house, chirping and banging and flapping away."
"By Monday," she said, "the nuisance bird had started taking out his aggression on both of our vehicles, scratching up all four side-view mirrors and the windows on the sides facing the sun and pooping all over both of our cars during the course of the day."
This was truly a case of Bad Bird Behavior, but it often happens this time of year.
Birds see their reflections in windows and assume it is a rival. Birds like robins, cardinals, mockingbirds, jays and others are notably aggressive during mating season and are constantly in attack mode. Wild turkeys can also be in a fighting mood during the spring season. A friend in Waynesboro said that a wild turkey kept picking a fight with a garden tiller in his back yard. These birds are willing to go at it in order to defend their turf.
Birds not only attack their reflections in windows but also, as Kathleen noted, car mirrors, bumpers, reflective grills or any shiny surface where they can see themselves. Sometimes they fly in and peck at the image or rake their talons over it or beat at the supposed threat with their wings. They sometimes strike aggressive poses and puff out their feathers to intimidate the reflection. Usually, these antics do not cause severe injuries to the birds—maybe just a mild headache—but continued aggression can cause exhaustion and may make the bird weaker and more vulnerable to predators.
There are a number of ways to prevent or at least deter this aggression. If it's a window, simply attach a decal to break up the reflection. Most pet and bird stores stock these decals or small statues of owls or other predators. Attach them to the window(s) where the bird is attacking and that often solves the problem.
Other remedies for window treatment are blinds, awnings, duct tape, or a flower basket or hanging plant to block the view. Some even suggest allowing the windows to remain dirty to reduce the reflection.
When birds attack cars, it's a little more difficult. Try moving the car to a different parking space or putting plastic bag over the mirrors. For a few weeks, it may even be necessary to drape a covering across the car.
Bird Bad Behavior—what can I say? It's going around.