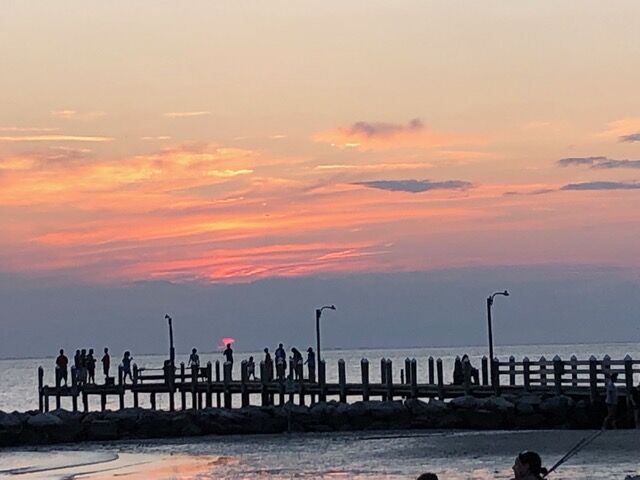 We first came to the Eastern Shore of Virginia in 1968. To save what was then a $5 toll fee across the Chesapeake Bay Bridge Tunnel, we drove to all the way to Annapolis and came down U.S. Route 13. Five bucks was a lot of money back then, but it was about an eight-hour drive. We'll never do that again. During our stay, we camped in a tent at Tom's Cove on Chincoteague Island. We slept on the ground in sleeping bags and were served up as mosquito food for two days. It's a wonder we ever came back, but we did.
In 1975, I bought a small pop-up camper, which meant that if we camped, we wouldn't have to sleep on the ground. If it rained, we wouldn't get flooded, and if we zipped up the canopy securely, the mosquitoes would have to seek protein somewhere else.
The first weekend of June that year, we went to a place called Cherrystone Campground, then a KOA Resort. We caught flounder, pulled in bushels of hard crabs, scooped up soft shell crabs in the eel grass on low tide and the kids had a ball.
The 500-plus-site campground is wooded, clean and has tons of things to do for old and young alike. They have several swimming pools, four fishing and crabbing piers, a rec hall with video games, ice cream, snacks and food. They offer numerous activities to keep kids busy. They have a huge trampoline, a paddleboard pond, softball fields, basketball courts, mini-golf, a boat ramp and boat rentals.
For those without a camper, Cherrystone rents furnished cottages and trailers that sleep up to five or six. We have enjoyed staying at both the cottages and the trailers, but I like the cottages best.
If camping is not your thing, there is a very nice motel, Sunset Beach Resort, near Cape Charles. The location is unbeatable, just a mile north of the Bridge Tunnel. The Resort has an inviting sandy beach on the shore of the bay with a great little restaurant and bar.
Once on the Eastern Shore, the best thing to do is—nothing. Simply kick back and relax. The number two activity is best accomplished with a fishing rod and reel. There are lots and lots of great fishing opportunities.
If you have a boat, you're in luck. Great, great spots are at the Bridge Tunnel itself, just a couple miles from the Cape Charles ramp. There is also a boat ramp behind the Wildlife Refuge just north of the Tunnel that is just a hop, skip and a jump to the High Rise at the tunnel. Other hotspots include the Concrete Ships at Kiptopeke and The Cell to the north.
Those without boats have two great places to cast a rod: Kiptopeke and Cape Charles. Kiptopeke State Park has a massive pier with deep-water access. There is very good flounder fishing toward the shore, near the grass beds and some excellent opportunities for whiting, croaker and trout on the deep-water side in the current. The town of Cape Charles also has a nice pier with all the normal species in range.
Crabbing is also a popular activity on the Eastern Shore. Not much to it, really. Get a string and a chicken neck, a crab net and a bucket and give it a try on a moving tide and odds are you'll scoop up a few nice blue crabs.
Our favorite activity comes each evening around 8:30: sunset on the Eastern Shore. There is none finer and it doesn't cost a dime.