For more than four decades, Greene County Republicans have gathered yearly to hear politicians speak, listen to music and enjoy great food and each other's company at October Hill in Stanardsville.
The Greene County Republican Committee (GCRC) is gearing up to host its 42nd Annual Pig Roast on Saturday, Oct. 9, beginning at noon, with one slight change. Due to COVID-19, there will not be pig roasting at the site again this year, but there will be food trucks there for participants to enjoy a good meal.
The GOP Pig Roast was started by Frances Haney 42 years ago as a way to spotlight Greene County and to introduce George Allen Jr. as the candidate for the Virginia House of Delegates. About 350 people showed up for the first pig roast and last year there were more than 400 people.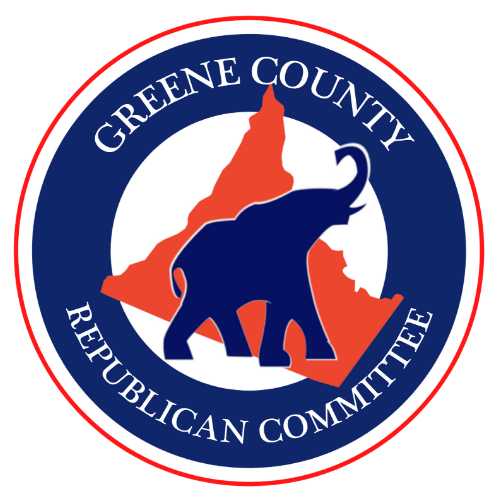 Speakers for the event include: Glenn Youngkin, who is running for governor; Winsome Sears, who is running for lieutenant governor; Jason Miyares, who is running for attorney general; Jessi Blakely, the Young Republicans of Virginia chairman; Daniel Gade, who will also sign books as his new one comes out this month: "Wounding Warriors: How Bad Policy is Making Veterans Sicker and Poorer;" 5th District Representative Bob Good; and 58th District incumbent Rob Bell. Other local speakers have been invited, including Greene County Sheriff Steve Smith and Greene County Commonwealth's Attorney Edwin Consolvo.
Bennie Dodd and Friends is the band who will perform throughout the day. There will also be a pumpkin painting contest for the kids.
"I'm excited that Glenn Youngkin is coming to this area," said Kimmy Kruskamp, second vice chair of the GCRC.
Kruskamp said early voting in Virginia has made things a little more challenging.
"We have to focus on getting people out to vote," she said. "The elections are happening now. I think people are starting to realize how important it is. People are still afraid to (send ballots in early) in case they don't count. Our Registrar's Office has made it so easy to vote early in person. You see your ballot go into the machine and it's done."
Kruskamp said the pig roast gets people energized to vote—even with early voting under way.
"I think the people of Greene are energized regardless," she said. "Our meetings have been really productive every month. We meet the third Thursday of the month at Blue Ridge Café; we break bread with one another and people are really energized. It's a really positive gathering and it's really cool to see it."
Due to COVID-19 health restrictions, and in an effort to keep up with the tradition of a free event for the community, the GCRC will offer a $5 voucher for the first 50 guests for the food. There will be no cover charge to enter, either.