Insights into Grassroots Racing, 1948–54
Editor's Note: There are not many (if any) photos of the Douglas Speedway in Ruckersville, or the names of local drivers. If you have any photos or family stories you'd like to share with us, please email tbeigie@greene-news.com and we'll gladly get the information to the Greene County Historical Society as well.
Greene County once had a one-third-mile oval dirt track for stock car racing. It was located east of U.S. Route 29 in the area currently occupied by the Lake Saponi subdivision. The Douglas track was one of many similar dirt tracks in Virginia and North Carolina. The owner of the track was Jesse Douglas and many of the cars and drivers came from our area. Albemarle had the Cavalier track near the Fairgrounds in Charlottesville; the closest track in Rockingham was at Keezletown; Unionville was the site of the track in Orange; and the Hilltop Speedway at Zion's Crossroads served Louisa and Fluvanna counties. Perhaps the most intriguing aspect of these tracks is that they all began operation around 1948, and most ceased to exist by 1954. Why they started, evolved and disappeared is a multi-faceted story.
Unemployment reached a post-war high in 1949. The minimum wage in 1948 was 40 cents an hour and didn't rise to 75 cents until 1950. Even at that latter rate, a 40-hour week would net only $30. For those so inclined, racing was one way that drivers, car owners, track owners and promoters could all earn extra money. Track admission was typically a dollar, and even the smaller tracks could draw a crowd of 1,200 to 1,500 on a good evening. Often the "purse," or prize money, would be about half that collected for admittance, with the remainder going to the track owner and promoter. Each evening of racing would have several heats and would end with a feature race; the prize money was distributed between the races (the largest being the feature) and then between the top finishers in each race. Tracks coordinated schedules both to allow drivers to compete at multiple tracks and to not interfere with drawing optimal crowds. A good driver could earn $200 in a week by competing at three to four tracks. It was remarked that in those days, "you could actually make money racing."
Drivers and car owners—normally a garage—would split the prize money. During this period a good many garages would field a race car, as having the winning car in your "stable" was deemed good advertising. The most prominent garage in Greene County sponsoring cars was owned by Stark and Alton Powell and was located on U.S. 29 just two miles north of the track. Stark Powell was the primary mechanic and he fielded several cars during this period which were identified as "0," "00," and "OK." According to Powell's sons, Lionel Johnson from Unionville and John Strickland from Orange were Stark Powell's primary drivers. Other drivers who they remembered competing at the Douglas track were Bob "Tilly" Dobyns, Cal Johnson, "Gip" Gibson, "Cotton" Shifflett and Wendell Scott.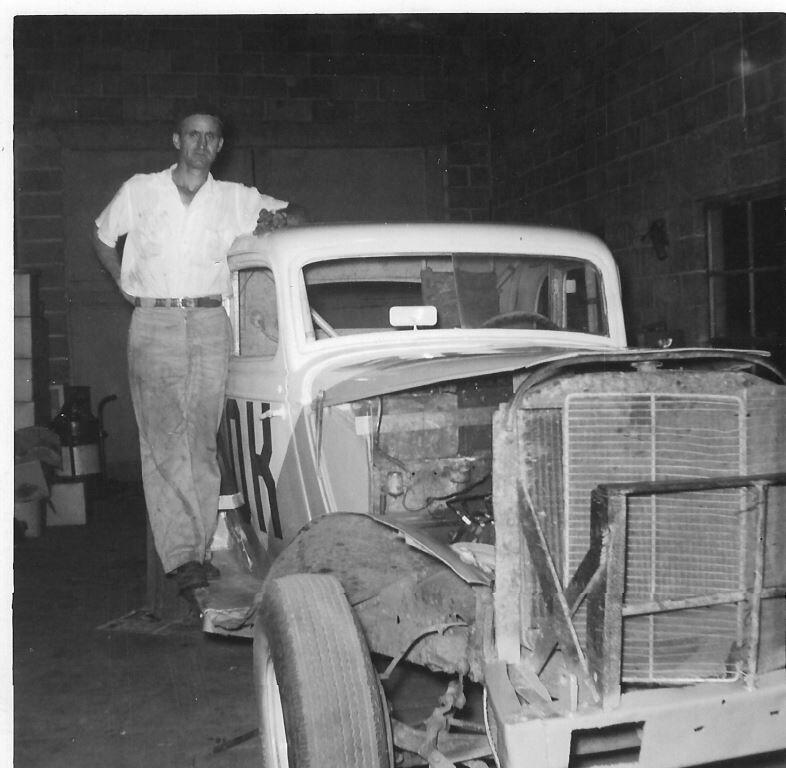 Several of the drivers—most notably Lionel Johnson, Wendell Scott and Cal Johnson—had relatively long careers in racing, eventually transitioning from dirt tracks to asphalt. Lionel Johnson was active until 1966 and successfully competed in 400- and 500-mile races in NASCAR's Grand National Series in Daytona and in the Southern 500 at Darlington. Johnson was profiled in "The Mayor of Unionville," an article in the March 29, 2007, edition of the Orange County Review. In 1963, Scott became the first Black driver to win a race in NASCAR's Grand National series. Cal Johnson raced for four decades, often on "outlaw" tracks (non-NASCAR sanctioned), but also in NASCAR's Nextel Series. He competed at the Manassas Speedway when he was in his 70s. "Tilly" Dobyns, John Strickland and "Cotton" Shifflett were successful at area tracks, but little is known of their racing careers beyond the 1950s.
During this period, racing stock cars on dirt tracks was almost exclusively dominated by white males. Wendell Scott, along with his crew and family, were frequently the only Black residents to attend these events. He began racing in Danville in 1952 and was the first Black driver to come through the local tracks to be a successful competitor in NASCAR. Though NASCAR did permit women to compete against men as early as 1949, women drivers were very rare for a very long time. Many local tracks sponsored "Powder Puff Derbies" where women could compete against each other. It was frequently the case that women would drive a car that their husband or boyfriend would drive in the main event. One such intrepid lady was Annie Lawson Powell, wife of Alton Powell, co-owner of Powell's garage and sponsor of several cars.
As to the social aspects of racing: first, it is a contact sport; and second, it also embodies many aspects of community and family. As to the physical nature of the sport, one tactic was known as "banking," where an inside car on a turn would slide up the banking into a car on the outside—making the other driver slow down or hit the outside fence. Another practice was called "blocking the track." If a driver was knocked off the track, it would occasionally happen that the aggrieved driver would wait on the side of the course until his "target" came around again and then would pull directly in front of him. This would take both drivers out of contention. Thus, there were times when actions on the track would result in later friction between the competitors.
Though many of the drivers, crews and families were friends and part of a racing community, fist fights would erupt not only in the pits but also in the stands where the wives might "get into it." Even spectators rooting for their favorite driver would get involved. The situation resulted in one track posting the notice that, "Anyone creating a disturbance on the track, hereafter, will be promptly taken care of; the question of right or wrong will be discussed in court on Monday morning." Nonetheless, many from that time remember the racing community as a family. Competitors can appreciate another worthy adversary. Fist fights might erupt after a race, but by the next weekend everyone would be friends again.
The on-track dangers were not limited to the drivers. The starter, who was also the only flagman, would begin the race while standing between the rows of cars. Earlier in this period, judges' stands didn't have a perch built for the flagman. He had to run out on the track, wave the flag, and run back to the stand; it was rather dangerous, especially on a dusty track. There were few safety rules and no yellow (i.e., caution) flags. The red flag was only used if the track was completely blocked. One well known flagman, Ezra Apple, was known to have four of his friends take out $1,000 insurance policies on him naming themselves as beneficiaries.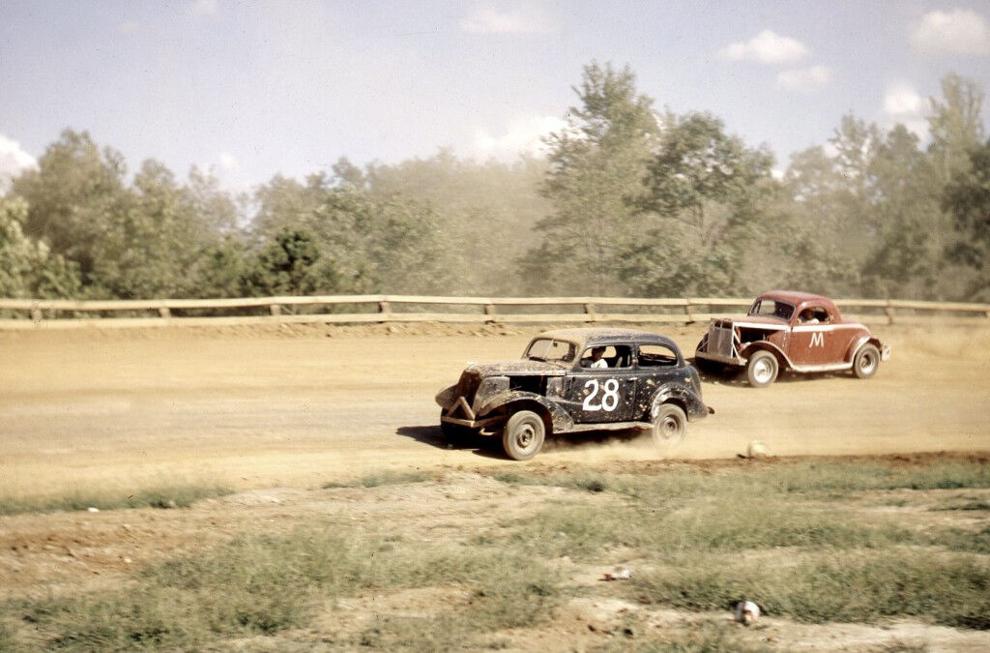 Though to the uninitiated the cars running on these dirt tracks might seem to be "jalopies," from an automotive standpoint they were much more sophisticated than the family car of the time. Popular legend has it that many of the dirt-track racers were in the business of hauling moonshine. Some did, but the real cross-over between moonshine hauling and racing was in their common interest in fast cars and that centered on garages that could do performance enhancements. Virtually all the cars running on these dirt tracks were pre-war Ford coupes with flathead V-8 engines. Not only was the Ford V-8 one of the more powerful stock engines of that era, but the Ford coupe was also lighter in weight. A key performance enhancement to the engines was increasing the compression ratio; that frequently required better fuel than standard pump gasoline. It wasn't unheard-of that the fuel used was a blend of alcohol and "nitro" (specifically nitromethane, which many top dragsters use today). Horsepower could be raised from 100 hp stock to well over 200 hp. Further modifications to the suspension and considerable structural reinforcement were needed to withstand the rigors of racing. Features such as roll bars, seat belts (unheard of at the time) and bucket seats were added for driver safety. Being modified for the track, race cars were towed to it; this required taking the back axles out, changing all four tires and wiring the car for a brake light. Only later did transporting race cars on trailers become commonplace.
By their very nature, cars racing on dirt tracks created a lot of dust. Most spectators would come home covered in it, although the tracks often touted "No Dust" in their ads. Track owners resorted to watering the tracks, using used motor oil and even calcium chloride in an attempt to keep the dust under control. Adjacent landowners might complain and at least one track, the Devil's Bowl near Staunton, was shut down because oil-laden dust polluted neighbors' cisterns. One driver, Cal Johnson, said that many of the early tracks where he raced were ill-designed or built on a limited budget. He described the Douglas track as "dug out of the side of a hill." Between 1953 and 1956, many of the better-established tracks were abandoning their dirt tracks in favor of asphalt. Racing on asphalt was more expensive for the owners and drivers, thus raising the bar for those on a tight budget to become serious competitors.
As popular as these races were in the early years, there were some strong headwinds developing. For family entertainment, the drive-in theater was becoming quite popular. M.F. Weaver, the owner of an indoor theater in Stanardsville, opened a drive-in theater in Ruckersville in August 1952; it was scarcely two and a half miles north of the Douglas track. Similar drive-in theaters in Charlottesville were already in operation. Some tracks even advertised parking so that the races could be viewed as if the spectators were at a drive-in theater.
Another much more pernicious foe was also competing for a family's evening entertainment. In 1950, there were only one million TV sets in the United States; a year later that number was 15 million. WTVR in Richmond, "The South's First Television Station," went on air in 1948 and WSVA in Harrisonburg was operational in 1953. One racetrack moved its racing schedule to Thursdays in order to not compete with the televised boxing on Wednesdays. Another planned to have a motion picture photographer ride along with a named driver so that the video could be shown on television.
Simultaneously, the better drivers from the smaller tracks were being enticed by better-funded competitors to race at their tracks. The larger tracks in Virginia were initially affiliated with the Dixie Circuit, based in Lynchburg and organized in the early 1950s. NASCAR was an older organization and didn't appreciate competition. Eddie Allgood, the president of the Dixie Circuit, attempted to engage Bill France Sr., president of NASCAR, in a joint venture pitting the best drivers from both circuits against each other. Not only was NASCAR not interested, but they suspended fifteen of their drivers for racing with Dixie. Slowly, NASCAR began taking over many of the tracks that had been aligned with the Dixie Circuit. For a time, the Eastside Speedway in Waynesboro was known as the "fastest outlaw track in the East." "Outlaw" meant that the speedway was not affiliated with NASCAR and thus made its own rules.
In addition to NASCAR and Dixie competing for drivers, NASCAR began scheduling races with late-model stock cars on asphalt tracks. This supplanted the Sportsman program dedicated to the earlier model vehicles. Racing was becoming a much more commercial enterprise, and gradually the major automakers were sponsoring factory teams. By 1954 the situation was such that one enthusiast newspaper remarked, "the sentiment was that NASCAR's Grand Nationals were Detroit's million-dollar proving ground and that the demolition and amateur races were the elimination of all pre-war cars." Ads by the major automakers touted their latest engines and horsepower ratings. In 1957, a "gentleman's agreement" between the automakers to no longer engage in racing preempted a government mandate. Nonetheless, "independent" shops were able to provide manuals for performance improvements and the automakers complied by making suitable after-market parts.
It was thus a combination of factors that caused the Douglas track and so many others to fade into oblivion. Most, if not all, the drivers cited in this article have passed away. Though several did suffer severe injuries during their careers, only one, "Gip" Gibson, died in a racing accident. He perished in 1974 in a multi-car crash at the Virginia Raceway in Saluda. Jesse Douglas, the owner of the track in Greene, died in a tragic automobile accident in 1960. George Durham, the owner of the Cavalier track in Charlottesville, passed away in 2006. He closed the track in 1956 after only three years of operation and lamented that he never made any money on it.