Some neighbors in western Greene County are concerned about a proposed "glamping" site off Mutton Hollow Road in Stanardsville.
Glamping is short for glamorous camping and is a style of camping with amenities.
Sojourner Glamping Inc. is seeking a special use permit (SUP) for a glamping campground resort on 116 acres off Mutton Hollow Road just west of the intersection with Dyke Road. Current owners had planned to use the site for 29 homes in a development called Stone Brook, though none have been built.
Andy Murphy, co-founder of Sojourner Glamping and Zaina Lodge in Ghana, said the plan is to build 144 sites from one to three bedrooms each, a full-service restaurant, a camp store, an adults-only pool, a family pool and a kids' club building and playground.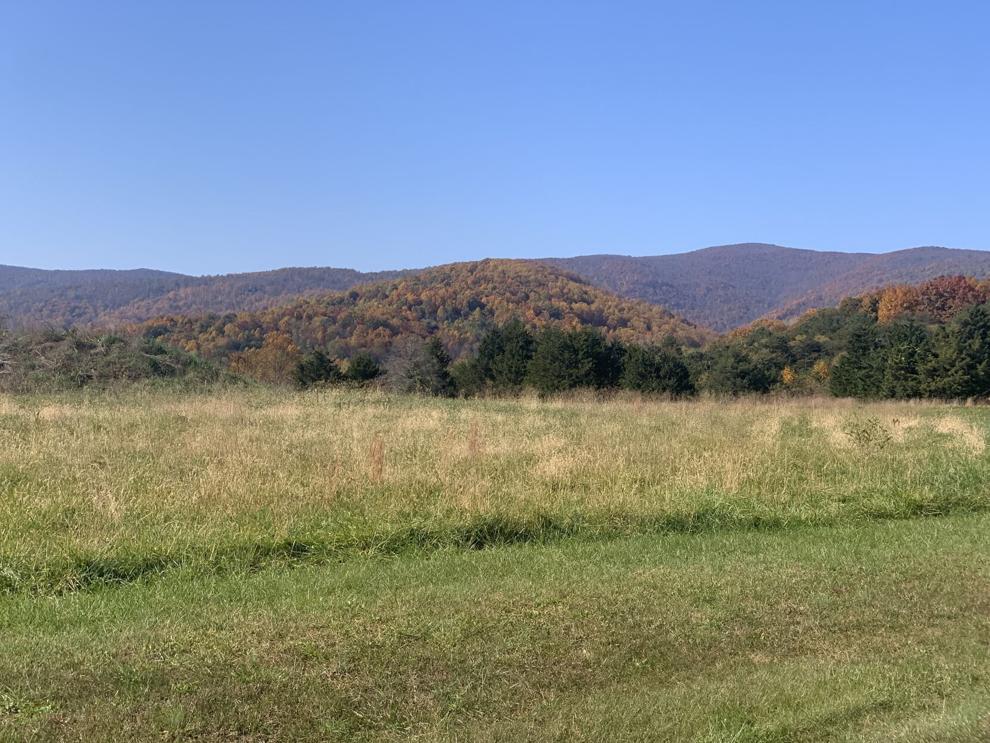 Barbara Haney, who co-owns the property where the Greene County Republican Committee's Pig Roast is held annually, is concerned about people trespassing as her property adjoins the proposed site.
"That's my number one concern," Haney said. "I rent out land to a cattle farmer. We've already had problems with people trespassing and leaving the gate open and the cattle getting into the other lot and when they get in there, there is nothing to keep them from getting onto the highway."
Murphy said he intends to put up fencing with signs to tell visitors not to trespass.
Ellen Deane, who lives across Dyke Road from the Haney property, said she's concerned about lighting from the project as well as additional trash along Dyke and Mutton Hollow roads.
"The lights will be right in our face," Deane said.
Murphy said the lighting will be facing down and as unobtrusive to neighbors as possible.
"The people who stay here want to see the stars," he said. "The idea is to have as minimal lighting as we need for people to get around."
Greg Lawson, whose land adjoins the site, is most concerned about the extra traffic, especially at the stop sign at Mutton Hollow and Dyke roads.
"I'm concerned too about the traffic," said Angela Shifflett. "When you go up Mutton Hollow Road it's a narrow dirt road. If you look at it there is not a lot of room to expand that road. The river runs right beside some of it."
Deane said she can't even cross Dyke Road to get her mail because there are so many cars on there now.
"People just fly by," said Greene County Sheriff Steve Smith, who also lives near the site of the proposed project.
Suzanne Lawson said recently someone just stopped in the middle of Dyke Road and when she passed them they had a map out to figure out where to go. The driver didn't pull over, just stopped in the traffic lane.
"More calls for us and we still need more deputies; trash on the road that we try to keep 810 picked up and we can't keep it clean," Smith said. "We have bicycles on this road every day. I sit in my living room and watch the bicycles go up and down the road."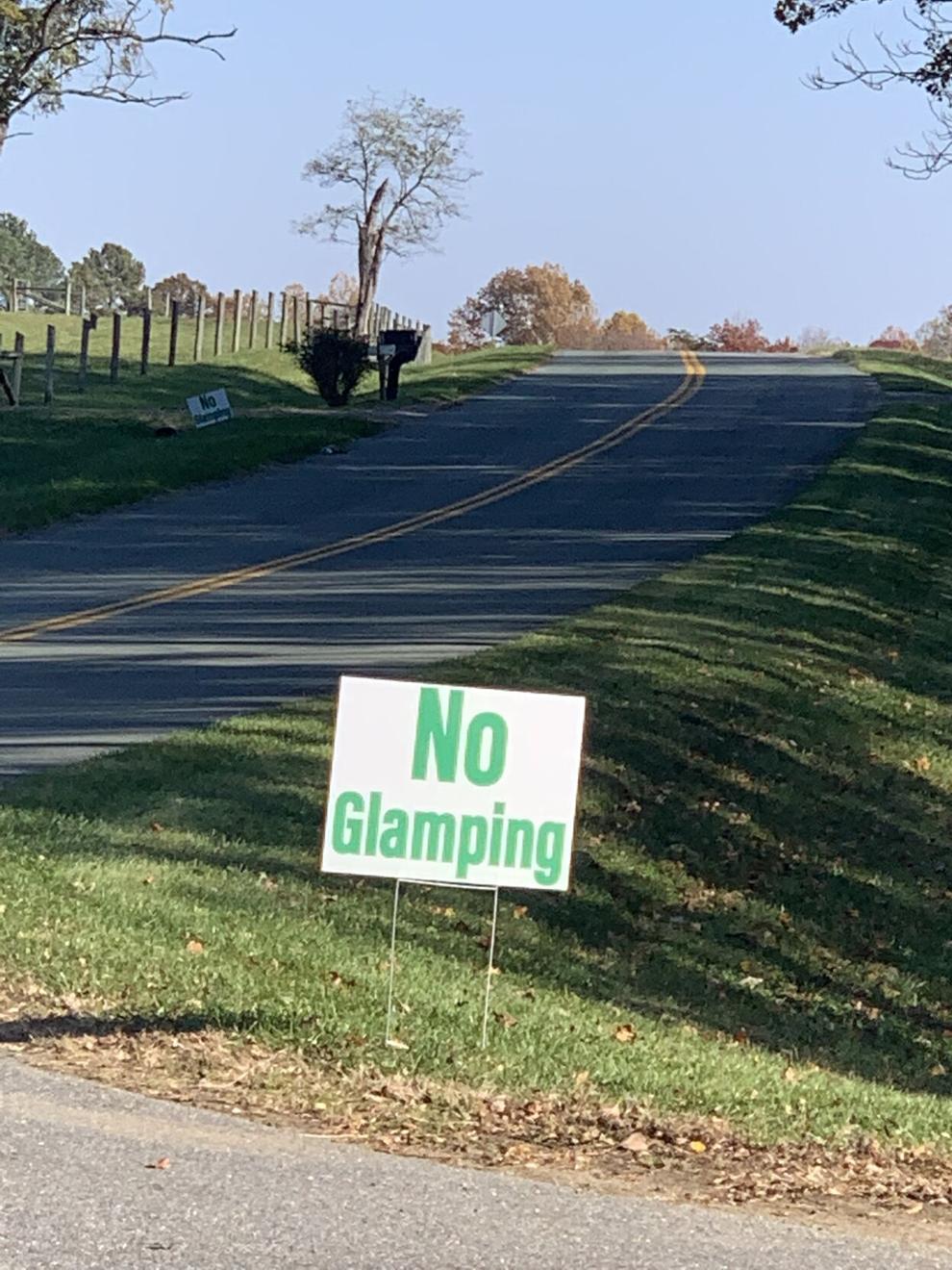 Murphy said even though the county didn't require a traffic analysis for the project, Sojourners contracted with a company to do one and they will be there during the public hearing at the December Planning Commission meeting to present their findings. He said he expects the campground to be about 80% occupied in the spring, summer and fall and about 25% occupied in the winter, but the analysis will be done at 100% occupancy. A soil test showed the site could have supported about twice the number of units, but the goal is for the visitors to feel in nature and not on top of one another.
Shifflett also said the site will be very visible as you drive up Mutton Hollow Road, but Murphy said the goal is for it to blend as much as possible into the natural landscape that is there.
"Any actual building will look like a barn—like it's supposed to be there," Murphy said. "The idea is not to open up view sheds. The orientation (of the plot) and the plateaus make it so you can't see."
Shifflett added that more than 50% of the property owners on Mutton Hollow have land that has been passed down from generation to generation. And many in the county have put their land into conservation.
"I didn't sign up for this," said Victor Rosenberg, who lives off Haneytown Road and has put his property into conservation. "There are over 10,000 acres of land in the A-1 and C-1 zone that have been donated for conservation and it's restricted all of our development rights. Most of the property (nearby) is in conservation."
In fact, at the end of Mattie's Run (off Mutton Hollow) there is more than 200 acres owned by the Potomac Appalachian Trail Club (PATC) for hiking and renting cabins.
Putting your land into conservation easements restricts the types of development uses permitted on it.
"It's a smack in the face to those who (put) their land in conservation," Greg Lawson said. "I haven't put mine in, but I don't want to put anything on it either; I think I should. But like they say, the ones who have done that sacrificed a lot and now this will be right on top of them."
The goal is to feel like they're in nature so clear cutting trees is not in the plan, Murphy said.
While some trees will be removed for tent sites, he expects to add trees for screening around the buildings. The original 29-home plan would have cleared more trees from the property and some higher up on the ridge would have been seen from U.S. Route 33.
"We anticipate there will be more trees on this property when we're done than there are now," he said.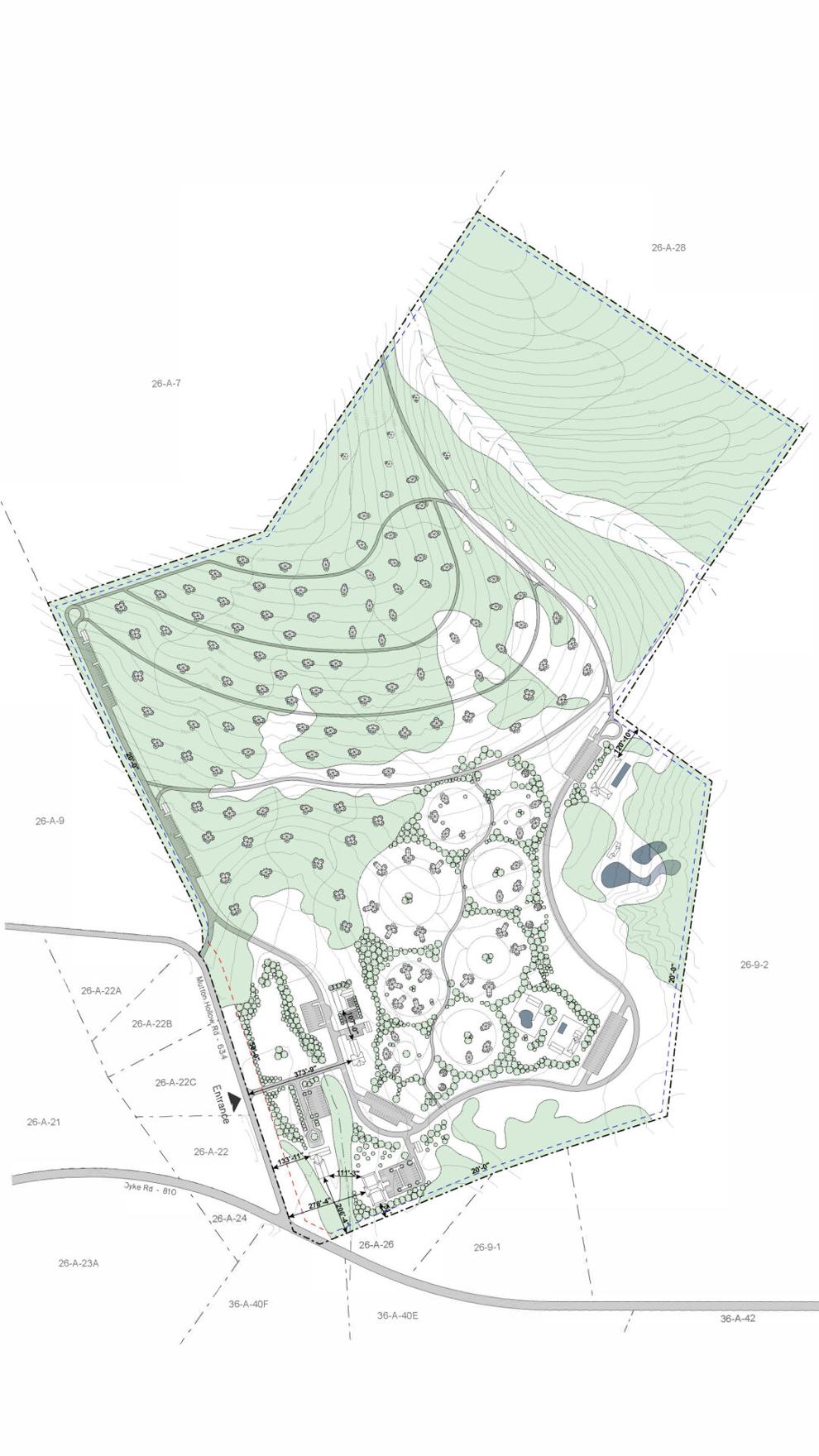 A majority of the ridge will remain treed for recreation with trails and a few glamping sites spread further apart, Murphy said. People will park their cars in two lots outside the resort and the roads—while wide enough for emergency vehicles—will be used by electric golf carts; dirt bikes and ATVs will not be allowed.
Also there is a small Morris family cemetery on the site that will be preserved, likely with a fence around it and maintained by Sojourners, he said. Currently it's overrun with poke weed.
Murphy said he's met with many concerned neighbors because he wanted to hear their concerns. A SUP stays with the land even if the current owner leaves and some neighbors were concerned someone else could come in and expand or put something different in entirely, but that couldn't happen without additional public hearings. The SUP will have a limit on the number of units allowed and the types of use—in this case the glamping shelters.
Shifflett said she's concerned about the disruption of the peace and quiet she experiences now on Mutton Hollow Road.
"We like the rural," she said. "We did not sign up to be a tourist attraction."
"We do not want to be disturbed," she said. "We can hear conversations from the GOP Pig Roast, but that's once a year. In the spring and summer we can hear some music very faintly from the weddings and events (at Lydia Barn off Dyke Road), but this will be right on top of us."
Greg Lawson was also concerned about whether residents would need to change their lifestyles to accommodate visitors, such as: no early-morning wood chopping; target practice; hunting with permission on nearby properties; and the noises and smells from farms and livestock. One homeowner nearby keeps rabbit hunting dogs in pens outdoors, meaning you can hear their barking sometimes, Greg Lawson said.
"This community has people who hunt and shoot and that's one of the issues Sheriff Smith is going to hear about—people shooting up here," Greg Lawson said. "Bottom line, we don't want it."
Murphy said the neighbors will not be asked to change their lives.
"We wouldn't have chosen an area where we needed or wanted that to happen in the first place," Murphy said. "I mean some people don't get to see cows on a regular basis in urban areas. At the site in Ghana there are no fences in the middle of a national park and you walk out of your room at night and there's an elephant right there. So, we sit down with guests and give a pretty serious orientation when they check in. That's where we're more like a campground in terms of rules than a hotel with strict rules around quiet hours. We're here as guests of the county and the neighbors around us."
Alan Yost, director of tourism and economic development, said the other campground in Greene—Getaway off Madison Road—has not had any complaints to the county.
"It's the same type of clientele (for glamping)," Yost said. "They come here for a quiet getaway."
Murphy has worked in conservation throughout his career—from the Peace Corps to the World Wildlife Fund—and intends the site to be as sustainable as it possibly can: utilizing renewable materials, having as few non-permeable surfaces as possible like gravel roads and minimizing energy, water and runoff. The tents are up off the ground so only the buildings will have permanent foundations. The tents all will have bathrooms and kitchenettes, too, so there will be plumbing, he noted.
"We also want to be as connected to the community as possible," he said.
Murphy hopes to find local sources for food in the restaurant, as well as sell items from the nearby stores in the camp store. He estimates about 65 full-time jobs at the property.
The property is going to have 24-hour security as well, and local neighbors will be given his phone number and the manager's phone number to address any issues that arise.
"The idea is that (the manager) becomes part of the community," Murphy said.
Murphy said some have asked why put this in Greene County. He said when COVID-19 hit it was the drivable destinations that thrived. Shenandoah National Park saw more visitors while the Great Smoky Mountains saw visitation drop and the Grand Canyon—usually the most visited park—lost about half of its normal visitors.
Yost said Greene County is up on its estimated Tourist Occupancy Tax revenue by about 23%, which is why he doesn't want to see western Greene County developed.
"I want to keep it quiet and rural," Yost said. "This just fits in well because of the orientation and the plateau hides it. It's just the right project."
However, some neighbors are not convinced.
"You tell me in (the county) comprehensive plan that you're going to preserve the ruralness of the western end of the county—tell me what that means," Shifflett said. "To me, it doesn't mean we start putting these kinds of footprints all through the county. They say the growth is in Ruckersville. What good are zoning laws if you're changing (them) every time somebody gets a wild hair?"
Shifflett said she knows all her neighbors on Mutton Hollow Road right now.
"We have some who bring us vegetables," she said. "We know our neighbors and community and it's going to be forever changed by this development."
For more information about Sojourners Glamping and to see examples of the tents, visit sojournerglamping.com.
The public hearing is expected to take place at the Dec. 15 Planning Commission meeting, which begins at 6:30 p.m. and is held at the county administration building, 40 Celt Road in Stanardsville, and online at www.greenecountyva.gov.