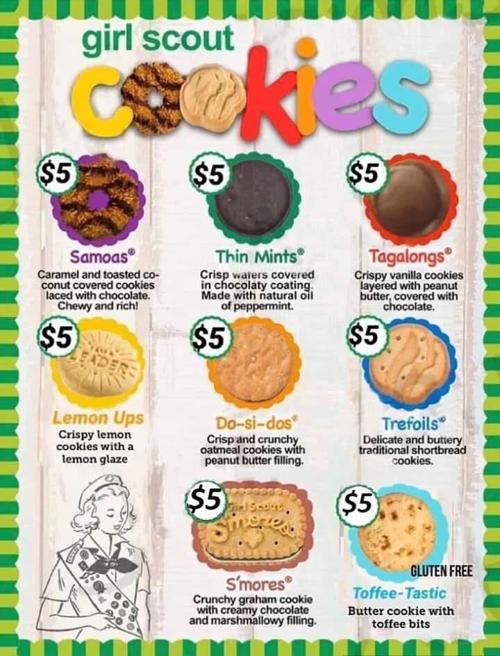 The Girl Scouts of Virginia Skyline Council launched its 2021 cookie season a bit early this year, with order-taking starting Dec. 14. Orders will continue through January, with cookies expected to be delivered from mid-January through March.
"Figuring out new and creative ways to manage and sell cookies to consumers in a safe, limited-contact way is the latest entrepreneurship survival skill," said Jennifer Pfister, marketing and communications director for the council. "Girl Scout cookies have been around for more than 100 years and our scouts are continuing this tradition, just in new ways ... the troops have been quite clever in developing fun and hopefully successful ways to sell cookies."
Beginning mid-January, scouts will be delivering cookies through masked drop-offs at homes, at drive-thru cookie booths, via online ordering and shipping with the Digital Cookie ordering service or through voice-activated Echo home systems.
With nine active Girl Scout troops in Greene County, each group has the option of participating in cookie sales, booths and meetings virtually. Some have been meeting using Zoom and others have met in person, following council guidelines to protect the safety of all involved.
"Girls learn about inventory, customer service and money management—everything from order totals, counting back change, and budgeting their after-cookie sale activities—through cookie sales," said Beth Mellott, service unit manager for Greene County and leader of troop 573. Her daughters are both in the troop; Sophie is a Cadette in seventh grade at William Monroe Middle School and Grace is a Senior in scouts and in ninth grade at William Monroe High School.
Also new this year are cookie gift certificates, which can be purchased by emailing info@gsvsc.org or calling (540) 777-5100. Certificates will be mailed to the gift giver or the receiver and are redeemable Jan. 14 through March 31, 2021, and cookies purchased in this manner will be shipped or picked up from the Skyline central office in Roanoke.
For the purposes of cookie sale goals and individual prizes, gift certificates will benefit the troop rather than the individual scout. Online cookie sales can be made through an individual scout's sales page to receive credit per girl.
"The Girl Scout Cookie Program teaches girls about entrepreneurship as they have fun learning essential skills like money management, public speaking and decision making, which set them up for a lifetime of success," Pfister said. "Nine in 10 Girl Scouts say the cookie program has built their entrepreneurship skills and their interest in pursuing entrepreneurship as a career path—so every cookie purchase is an investment in the world-changing business leaders of tomorrow. What's more, each and every purchase stays local to power amazing experiences and leadership opportunities for girls in communities across the United States."
Greene County has 48 active girls in kindergarten through 10th grade in Girl Scouts and 39 volunteers. Mellott's troop is working on setting up drive-thru cookie booth options for Greene County. When available, the details will be posted in our In & Around Greene segment. Cookies are $5 per box and the same varieties will be sold as last year.