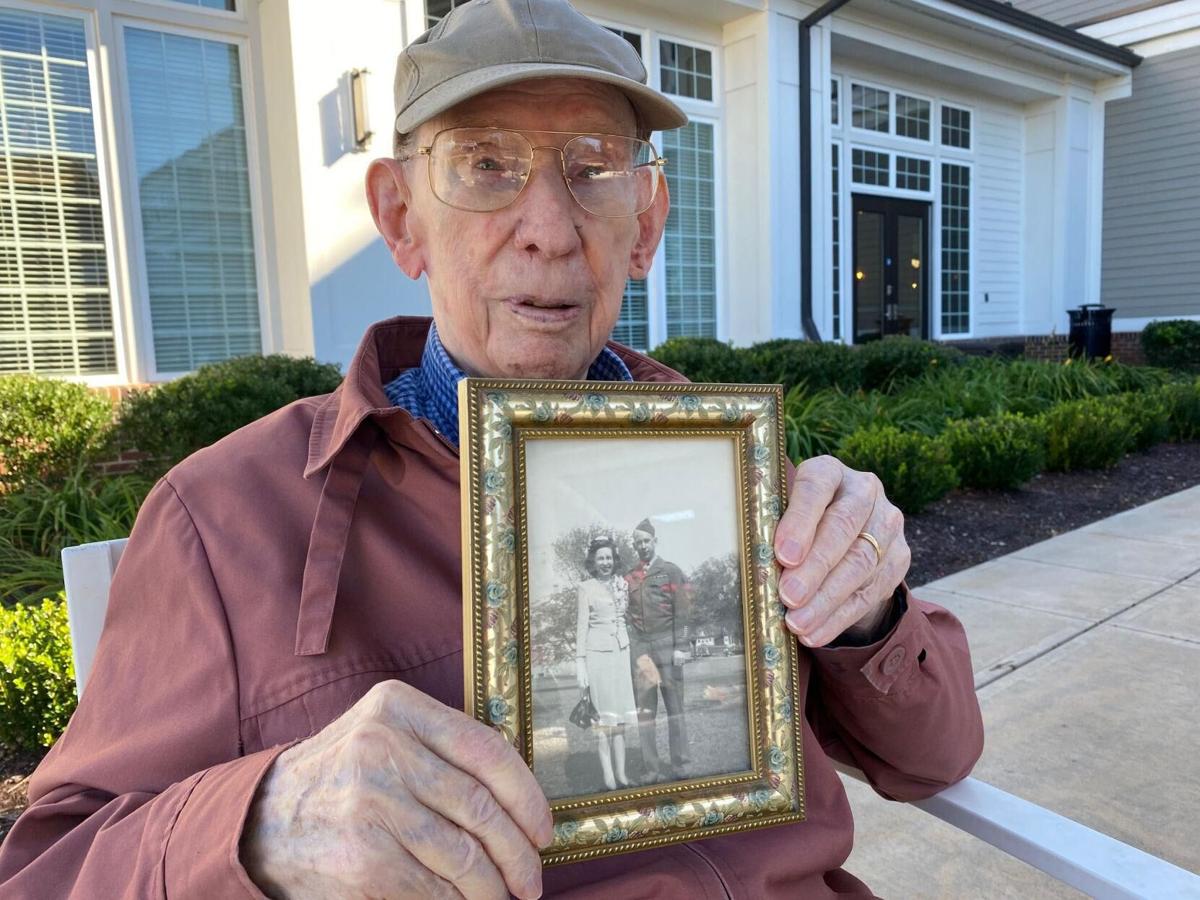 102-year-old World War II veteran Jim Mallory spent nearly three years overseas while in service with the Greatest Generation, and in that time he witnessed wonders of the world.
An Army medic, he treated the wounded on battlefields in North Africa and Europe, where the scenery would have been impressive if not for a young man trying to survive war. Mallory was not injured during his military tenure—for that he thanks God.
"I was one of the lucky ones to come home. God was watching over me every step I took," said the centenarian during a recent visit in his apartment at The Culpeper retirement village.
Mallory got emotional thinking about it.
"If it hadn't been for His help I wouldn't have made it. His plan for me was that I would go through that and come home," he said.
Mallory came home intact and with experiences far beyond his upbringing on a farm in Stanardsville, Virginia, where he was born in the autumn of 1919.
"Foothills of the Blue Ridge Mountains. My father had a carpenter shop and planing mill and also farmed for our own use—horses, pigs, chickens, a big old yellow duck," he said.
Mallory had a brother, five years older, and his mother, who died when he was 9.
"Was kind of a hard go for me, but my father had two sisters that were never married, lived at my grandparents' home place close-by, and I lived with them," he said.
His brother went to boarding school and later was stationed with the Marines in Washington, D.C., where Mallory went to join him as a teen, leaving the farm behind. He was 21 and working as an auto mechanic in the Nation's Capital when he got drafted in early 1941.
"Sent me a notice, I had to report to Fort Meade, Maryland," Mallory said.
The young soldier, assigned to the first armored division, received training in basic battlefield trauma care, how to use splints, tourniquets, ace bandages and the like.
"We learned stuff we could do to get the soldiers prepared to send them back to the hospital," Mallory said. The Army, learning of his mechanical abilities, also assigned him to drive an ambulance and maintenance truck. Mallory had just completed months of maneuvers through Florida and Texas and was scheduled for a Christmas furlough when the Japanese attacked Pearl Harbor.
"It was the first time we were able to have a bath in a while so Sunday morning we all got dressed up in our dress uniforms and went to breakfast in the dining room for the first time in about four months. Got back to the barracks and our first sergeant was standing there…he said, gentlemen your furloughs have been cancelled, Japanese just bombed Pearl Harbor," Mallory recalled.
In early summer of 1942, he was on the move, boarding a Liberty Ship in Boston with a company of engineers and a company of medics bound for Ireland. Here they stayed in Quonset huts outside of a castle. From England, they got on another ship headed for North Africa, where the Africa Campaign included fighting in the deserts of Egypt and Libya.
The journey through the North Sea, "was pretty rough at that time," the veteran said, and the quarters were crowded. Mallory never did get seasick though he did get an eyeful.
"When we went through the Rock of Gibraltar, I thought we must be going to Africa," he said. "It looked like two big huge rocks sticking up out of the ocean and the ship went between it. I knew then we were probably going to get into something."
Known as The Rock, in ancient times the geographical feature formed the northern-most of the twin Pillars of Hercules guarding the passage between the Mediterranean and the Atlantic, according to historynet.com. Mallory remembered landing in Africa at nighttime.
"We spread out, took our bedrolls, laid them on ground, went to sleep in the wide-open desert," he said.
"We had to go up in the (fighting) area to catch the wounded sometimes; we had 12 ambulances and we did what we could for those people. Some of them we couldn't do anything for depending on their injuries," he said.
When the campaign ended in 1943, Mallory's division had a few months of R&R in Morocco before traveling to Naples, Italy.
"We were just outside where Vesuvius was—we could see the lights, glow from the top of it at night, big mountain sticking up with smoke coming out of it," he recalled.
In January of 1944, he went on to Anzio, Italy. They pushed back on the Germans for months before meeting up with Allied forces in Rome. "A lot of wounded, take it as they come, didn't dwell on it, knew you had a job to do," Mallory said.
There were times he was fearful.
"Yes, ma'am absolutely, you didn't know what was going to happen, get immune to it... artillery raids, bombing raids, I just took whatever come, didn't think what was going to happen next, you knew you were going to be there until it was over," he said.
Mallory had a furlough back in the states in the spring of 1945, during which he married his wife, Evelyn, a girl from Fauquier he met through his brother and who wrote letters to him while at war. "Things got warmed up a little bit," he said, so they decided to tie the knot.
A few weeks later, the war ended and Mallory was relieved of his duty on May 12, 1945. He stayed married to Evelyn for 75 years, until her recent passing.
In their early years as a couple, Mallory worked in a street car supply stockroom, then as a motor vehicle inspector and later as a purchasing agent for the federal government. He ended his career at the Army Security Agency in Vint Hill, where he worked for 26 years and lived with his wife in Warrenton.
Asked the secret to his longevity, Mallory chuckled, harkening back to his Greene upbringing.
"Moonshine. When we grew up in the mountains, people didn't have any way to make a living so they made moonshine," he said. "My mother had a little bottle of moonshine she kept in the cabinet and every time we got a cold or a flu or sore throat, she'd put some sugar in a glass, put a little of that moonshine, said put it in your mouth, let it dissolve, run down your throat for the cure. It works."
As for his military service, he said he'd do it all over again.
"Oh yes, ma'am. I was proud I served my country."
Allison Brophy Champion is a news reporter for The Culpeper Star-Exponent. You can contact her at 540-825-0771 ext. 101 or abrophy@starexponent.com.​