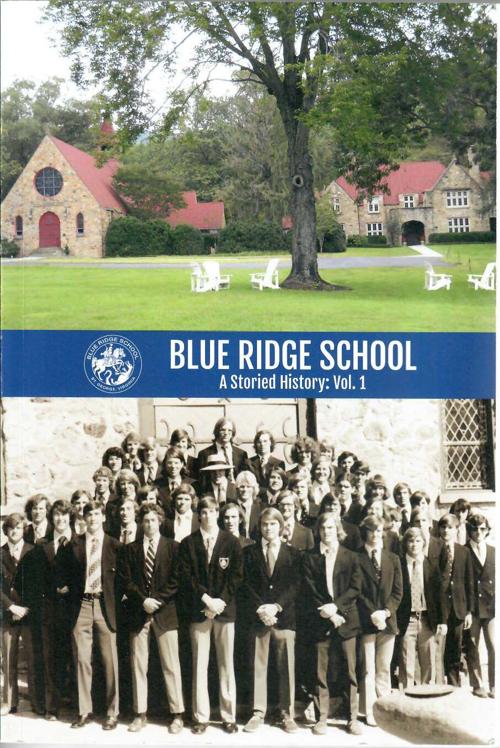 How much do you know about the world-class private boarding school tucked into the Blue Ridge Mountains in Dyke? 
Peter Holland, Blue Ridge School alumnus (class of 1966), alumni director and board of trustees member, has written a new book sharing stories from the school's colorful history. From its beginnings as a co-ed religious school to the tornado that wrecked much of the campus in 1959 to its re-founding as an all-boys private college preparatory school, "Blue Ridge School: A Storied History" shares a vision of life inside this remote school over the decades of Holland's close affiliation with its students and staff.
When Holland first arrived on Blue Ridge's campus, the school was only in its third year of operation as an all-boys boarding school. Little did he know the two years he spent as a student on the rural campus would have such an everlasting impact on the rest of his life.
According to the biography on the Blue Ridge alumni website, Holland was floundering academically before coming to Blue Ridge. However, thanks to the unique environment and encouraging teachers such as Mr. Churchill, Holland would serve as prefect, vice president of the senior class, student council president and on the honor council before he graduated.
"During my two years at Blue Ridge, I developed what they now call grit," he is quoted as saying in the biography. "In my day, we called it working our butts off, getting back up when you were knocked down, but grit seems to be the buzz word in character education these days. The teachers at Blue Ridge gave me responsibilities and had the expectations that I would fulfill those responsibilities. This was true in and out of the classroom."
Later in his life, Holland would serve on the board of trustees, live on campus as the alumni association director for eight years and is still a member of the board of trustees today although he considers himself to be retired.
"When I retired from work I thought, someone needs to write this book, and it might as well be me, because I know everybody, and all these good stories," he laughingly said. "I know who was here that's lost and forgotten but I still remember them … and so I went to the headmaster and said, 'I've got this crazy idea of writing a book'; I've never written one in my life … so I don't know what I'm doing writing a book."
Rather than a historical accounting of time, the book is a collection of funny stories, heartwarming remembrances and inspirational achievements throughout the past fifty years and will greatly appeal to alumni and families of alumni.
"In my opinion, I am in favor of single-sex education," Holland said of the school. "Especially for a young guy, when you go to a public high school and have all these pretty girls around, it's distracting; at least it was for me. When you're away at school with a bunch of guys, you don't have that distraction, and I have heard the same comments made from females who went to an all-girls school."
Life at the remote boarding school is very different from a typical high school experience, but those differences can help to shape who you grow up to be, according to Holland.
"Most boarding schools are remote – they're not in big areas," he said. "We're far away from Charlottesville but close enough by bus. Every Saturday there's a bus that takes the boys into town; it gives them a chance to shop or just hang out and watch girls or do whatever. Back when I was there in the 60s we used to have to wear a coat and tie even when we went to town. You may not know this, but the boys nowadays still wear coats and ties, which I don't mind; I actually like it myself. But we used to have to wear a coat and tie into town, they used to drop us off at Barracks Road shopping center, which back then was the only shopping center in Charlottesville, and I remember the other kids in town saying, well there's those boys from Blue Ridge all dressed up … hanging out drinking Cokes at the drug store."
Holland's boarding school education helped turn him from a lost teenager into a responsible young man.
"I think one of the major things about a boarding school, it teaches a young man how to be kind of independent," he said. "Not being home with mom and dad, not having lifetime friends I could call on or go out with every Friday night, you're sort of you have to think quickly and you have to think on your own."
For many young men, going away to college may be the first time they have been away from home for an extended period of time. "That's why I think a lot of freshmen have such a hard time," said Holland, "because they're tempted to do other things. They don't study when they should, they go out at night… they don't know how to handle their time."
Living at Blue Ridge, students look to their teachers and 'hall parents' for much more than academic advice.
"There were some teachers there who were mentors to me," Holland continued. "Most students usually have a teacher or two that you really like, but at Blue Ridge, there's a lot of opportunity for that because the vast majority of the teachers live on the campus. They're always there. You see them interact with their families and with their own kids, and you get a good idea of how to act as a responsible adult."
Blue Ridge School has a diverse student population, their 180 students hailing from 23 states and 17 countries, according to the school's website. Since the closure of all public and private schools on March 23 due to the COVID-19 pandemic, the school has been actively working to engage all students in distance learning while helping by shipping items home to students who may have left things in their dorms before what was believed to be a temporary closure. Like so many other educators in these times, the Blue Ridge School staff are coming up with unique and creative ways to encourage communication and connectivity while supporting the health and security of its students.
While you cannot currently visit the campus and no students were available for comment, take a trip back through history by ordering a copy of Holland's book, available online through the school's alumni website blueridgeschool.com/alumni.
"The reason I wrote the book is because I was there in the early days when the school began and have sort of continually been involved and I know all the players," Holland said. "I was there when the first headmaster was there and I've known some of the conflicts that they've had and some of the good things and I just felt like, I knew a lot of alums."
For alumni of the schools, parents or friends of former students or anyone looking to get a taste of what life was like at Blue Ridge School over the years, "Blue Ridge School: A Storied History" is available through the school's alumni website or for direct purchase at squareup.com/store/blue-ridge-school.