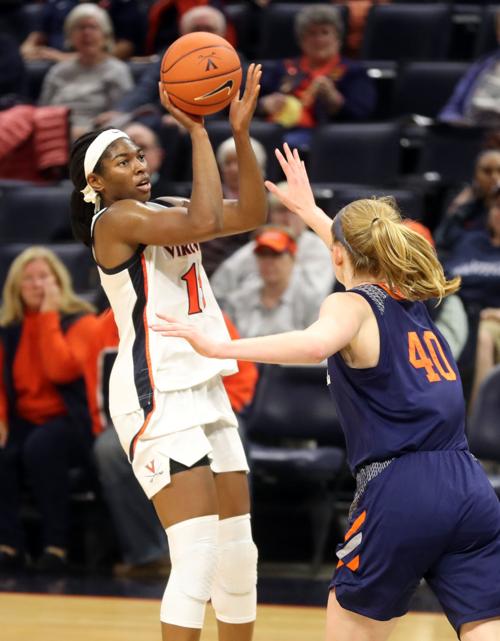 Jocelyn Willoughby knows the clock is ticking.
The Virginia senior guard began her final season in a Cavalier uniform on Tuesday night and played with a purpose, pouring in a career-high 31 points to lead UVa to a dominating 84-60 victory over Bucknell at John Paul Jones Arena.
Willoughby's 31 points were the most points scored in a game by a Virginia women's basketball player since Monica Wright tallied 34 against Green Bay on March 21, 2010.
"I think that my mentality is different this year," Willoughby said. "I am a fourth year, so I'm just making sure that I'm leaving it all out there on the court."
Willoughby was aggressive from the start and attacked the Bucknell defense in a variety of ways. She was able to get in the lane for high-percentage shots and drew multiple shooting fouls. Willoughby finished 9-for-15 from the field and 10-for-11 at the free throw line.
The senior also was effective from the outside, going 3-for-3 from 3-point range. Willoughby also made a big impact on the defensive end against Bucknell, finishing with 11 rebounds (seven defensive) and three steals.
It was a welcomed sight for Virginia coach Tina Thompson, who had to rely on Willoughby to handle a variety of different roles and play lots of minutes last season as the Cavaliers battled through injuries and setbacks during a 12-19 campaign.
"She did so much and played so many positions," Thompson said of Willoughby's role last season. "At one point, she was at the point guard position, and then she played on the wing and then I had her playing in the post at times."
With the additions of five true freshmen, redshirt freshman guard Amadine Toi and Purdue transfer Dani Lawson, Thompson expects Willoughby to be freed up to do what she does best. That was evident Tuesday night as Willoughby recorded her 15th career double-double while the Cavalier first-years combined for 37 points in a 24-point victory.
"With the additions to the team, it's giving her an opportunity to be herself and do the things that she does well," Thompson said, "and it puts her in a position to be who she is in practice."
The additional help also will allow Willoughby the chance to be more aggressive on the court knowing that she can come out of the game for a rest if needed.
"I think knowing that if she gets tired, she has a substitution helps in that she doesn't have to go into the game preserving and knowing she is going to have to play 40 minutes changes her approach altogether," Thompson said.
As the Cavaliers head to California this weekend for games against USC and Cal State Northridge, Thompson is confident that Willoughby is just getting started what could be a special senior season.
"I think that throughout the season you guys will get a different look at her because she will be able to be in her zone and we will continue to put her in position to get shots that she can take and make," Thompson said. "She has grown a lot over the last year and added things to her game and gotten more aggressive."