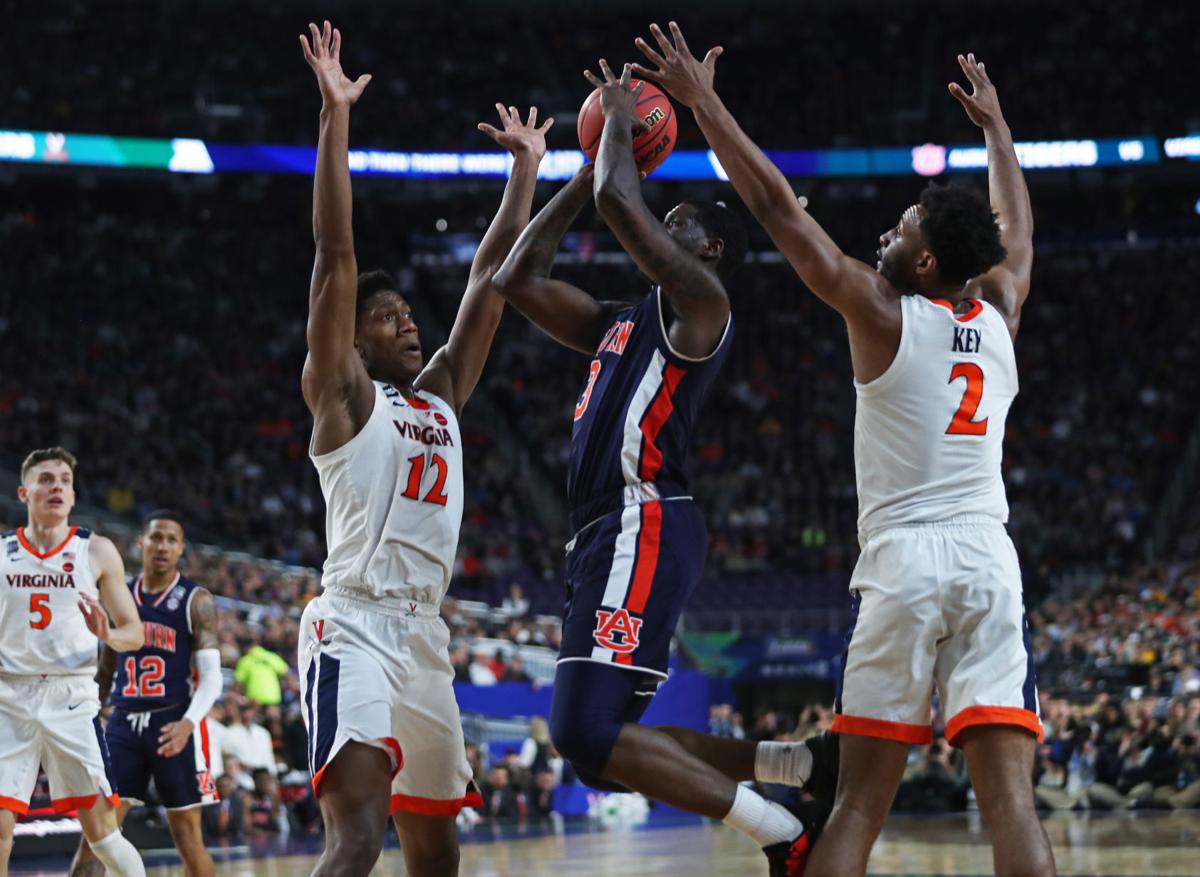 MINNEAPOLIS — One of the essential tenets of Virginia's Pack Line defense is to contest every shot. The Cavaliers did that and then some early Saturday in U.S. Bank Stadium.
Auburn hit just one of its first 11 shots from beyond the arc but went into halftime up 31-28 thanks to 18 points in the paint, which violated another tenet of UVa head coach Tony Bennett's defensive philosophy.
"I thought we had some errors defensively. One, we weren't back the way we needed to be against them. We made a little adjustment at halftime to hopefully help with that, and then we let the ball get in the lane too much," Bennett said. "[The Tigers] were getting downhill, touching the paint, and that put too much pressure on us. They're so quick. And they went by us, and we needed to collectively, we always say, build a wall or impact when we could."
Auburn chucks 3-pointer's unlike almost any team in the country, though, and the Tigers' shooters came to life late.
Jared Harper channeled Purdue's Carsen Edwards and hit a deep three to cut Virginia's lead to 50-47 with a little more than seven minutes to play. Bryce Brown, who was held in check for much of the first half, knocked down two critical treys down the stretch. His second was also Edwards-esque, as he caught a pass in motion on the left side and buried a three in stride to give the Tigers a 59-57 lead with 1:56 to play.
"I thought that we looked like we belonged. We weren't supposed to be here. We weren't supposed to have a chance to win," Auburn head coach Bruce Pearl said. "Just like we have done all year long, even when we got down, there was still time on the clock, and there were points to be scored, rebounds to be had, and I thought our kids made a lot of plays."
The Tigers totaled six 3-pointers in the second half, but the Cavaliers always had an answer. Moments after Harper's three cut UVa's lead to three, Ty Jerome knocked one down to stretch it back to 10. After Brown's late three and pair of free throws from Anfernee McLemore left Virginia down 61-57, Kyle Guy got a trey to fall to bring the Wahoos back within one.
It was in part because of that shot that Bennett and Guy were calmly laughing and joking in the huddle before the final free throw that sent the Cavaliers to the national championship game.
"Yeah, the fact that he hit that shot before it and then stepped to the line," Bennett said. "You know, we were 6-of-12 from the line, and we struggled from the line, but for him in that setting to do it, yeah, it doesn't get much better than that."
Ron Counts covers University of Virginia athletics for The Daily Progress.​ Contact him at rcounts@dailyprogress.com, (434) 978-7245, or on Twitter @Ron_CDPsports.