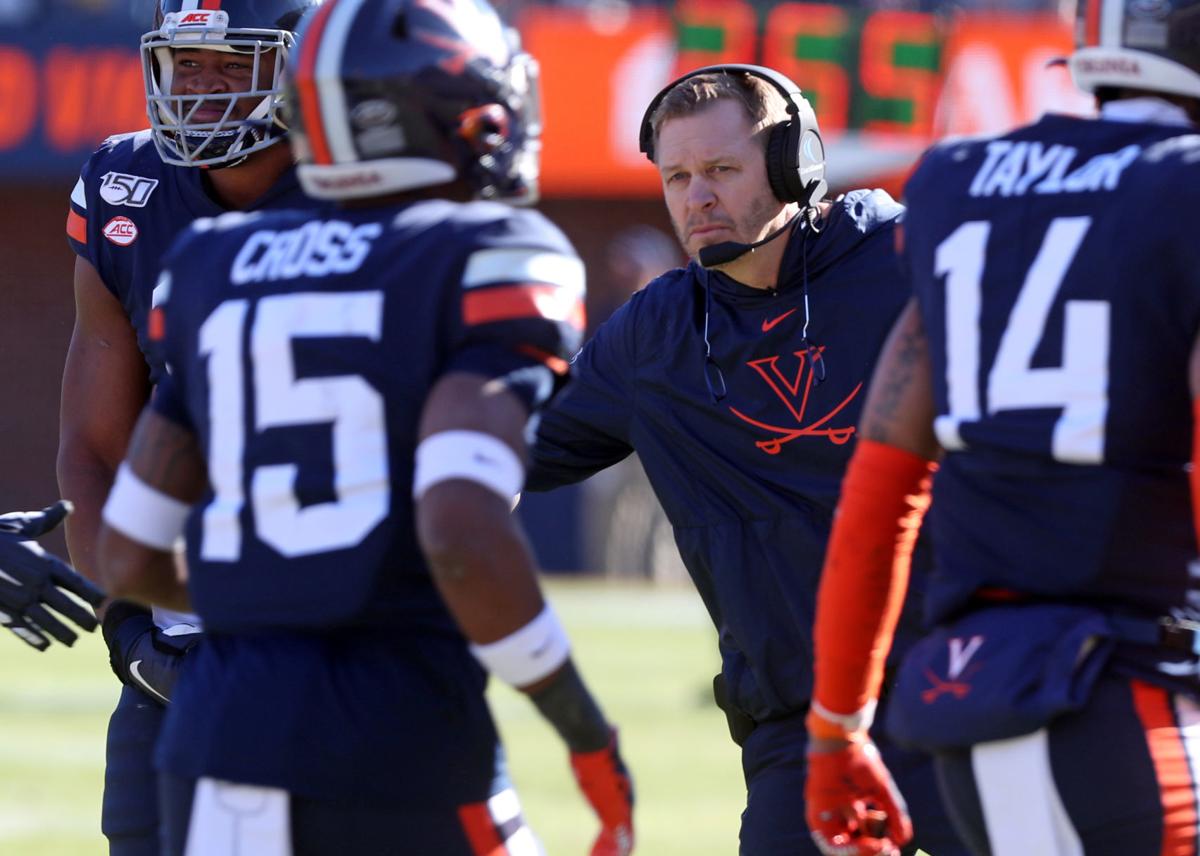 It's been a steady climb to this point.
When Bronco Mendenhall took over the head coaching job at Virginia, the Cavaliers were in need of a rebuild.
In Mendenhall's first season in 2016, the Cavaliers went 2-10, fell in the season opener to an FCS team and dropped the season finale 52-10 to Virginia Tech.
Mendenhall's second season in 2017 resulted in a bowl berth, but the Cavaliers lost 49-7 to Navy in the Military Bowl to finish 6-7. UVa fell to Virginia Tech 10-0 in the regular season finale.
Last season, Mendenhall led the Cavaliers to an 8-5 mark, including a 28-0 victory over South Carolina in the Belk Bowl. Prior to the bowl win, however, UVa dropped a pair of heartbreaking overtime games to Georgia Tech and Virginia Tech that kept the Cavaliers from winning the Coastal Division. The 34-31 overtime loss to the Hokies was particularly demoralizing.
This season, the Cavaliers (9-3, 6-2 ACC) finally beat Virginia Tech.
UVa's 39-30 win on Friday also gave the Cavaliers their first Coastal Division title. Virginia will play Clemson next weekend with an ACC championship on the line.
"It's an essential step," Mendenhall said. "You can't build a consistent conference or national contender unless you own your state. You have to win your division before you can win the conference championship. Those just have to happen to have a quality football program."
Defensive lineman Eli Hanback has been at Virginia for Mendenhall's entire tenure. The redshirt senior sat out the 2015 season before taking over a key role on Mendenhall's team. Hanback has played in every game during Mendenhall's 50-game tenure at Virginia.
The Cavaliers needed an overhaul in 2016, and the first two seasons of the Mendenhall era saw the Cavaliers go 8-17. They're 17-8 in the past two seasons, and the win over Virginia Tech moved Mendenhall's winning percentage to .500 for the first time since taking over at Virginia.
"We had to rip up the old and put in the new, and each year since then, we've gotten better," Hanback said.
It took time for Mendenhall to implement his culture, but the players have bought in to his teachings and the wins are piling up. Virginia started the Mendenhall era by losing 10 games. The Cavaliers are a win away from their first 10-win season since a 10-3 season in 1989. They've already hit nine wins for the first time since a 9-4 season in 2007.
Going from a cellar dweller to the Coastal Division champion wasn't an overnight change, but years of steady progress have the Cavaliers rising in national relevance.
"Incremental growth shows that it's working," Hanback said.
Mendenhall's team lost 10 games in 2016. The 2019 squad went 9-3 in the regular season with losses to Notre Dame, Miami and Louisville. After beginning his tenure with a disappointing season, Mendenhall's team now expects to win every time it takes the field.
"It's really no surprise," sophomore linebacker Noah Taylor said after beating Virginia Tech. "We knew what was gonna happen. Honestly, we didn't even think we were gonna lose the three games that we lost. It's honestly a surprise that we lost the three games."
Virginia no longer expects to lose. For Mendenhall and the Cavaliers, losing is a shock to the system. When they face Clemson in the ACC Championship Game, they're expecting a competitive game and a chance to beat one of the best teams in the country.
"It's not an accident that we're going," Mendenhall said. "We don't intend to just take a trip to see what it looks like. We're gonna go try to win the game."
Be the first to know
Get local news delivered to your inbox!