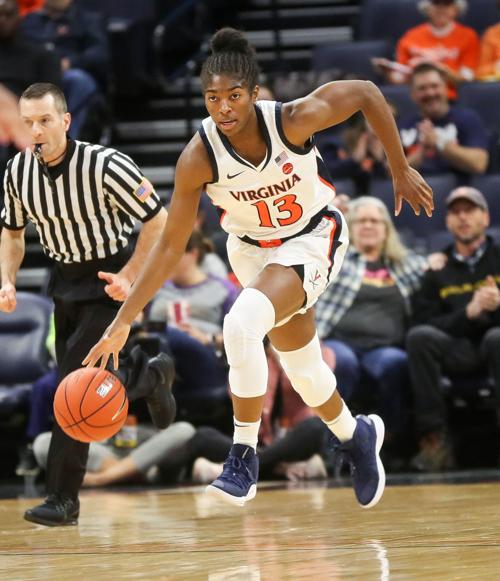 The Virginia women's basketball team wraps up the regular season on Sunday with a home matchup against No. 8 North Carolina State.
After a season of ups and downs, the Cavaliers (13-15, 8-9 ACC) have a chance to pick up a signature win over a top 10 opponent and get to .500 in conference play heading into next week's ACC Tournament in Greensboro.
Here are three things to know about Sunday's matchup at John Paul Jones Arena.
Friendly confines
The Cavaliers have been downright dominant at home over the past month.
Virginia has won its past five games at John Paul Jones Arena. Four of those victories have come by double digits. Since a 69-61 loss to Virginia Tech on Jan. 19, the Cavaliers have picked up home wins over Notre Dame (90-60), Syracuse (57-41), Clemson (70-54), Miami (69-64) and Pittsburgh (66-55).
Heading into Sunday's finale, Virginia is 9-4 in games at John Paul Jones Arena this season.
Senior Day
Prior to Sunday's game, Virginia will honor seniors Felicia Aiyetoan, Lisa Jablonowski, Dominique Toussaint and Jocelyn Willoughby, who will be playing their last regular-season home game at John Paul Jones Arena. A pregame ceremony to honor the seniors is slated to begin at approximately 1:40 p.m.
Willoughby currently leads the ACC in scoring at 19.8 points per game. If she finishes the season as the ACC's leading scorer, Willoughby would become only the second Virginia player in history to accomplish the feat, joining Monica Wright, who was the ACC's leading scorer in 2009 (20.5 ppg) and 2010 (23.7 ppg).
Toussaint is Virginia's second leading scorer at 11 points per game and has dished out a team-high 86 assists. Jablonowski (8.1 ppg, 5.2 rpg) enters her final home game playing some of her best basketball of the season. The senior forward scored 15 points in Thursday's victory over Pitt and is averaging 12 points per game in her past three games.
Aiyetoan missed the season due to medical reasons.
Top 25 struggles
Virginia has played one of the toughest schedules in the country this season. Seven of the Cavaliers' opponents were ranked in the top 25 when they faced UVa this season. The Wahoos are 0-7 in those games, including an 80-60 loss to then-No. 9 N.C. State on Jan. 5 in Raleigh. The Wolfpack (24-4, 13-3 ACC) enter Sunday's matchup ranked No. 8 in the The Associated Press poll.
N.C. State won its first 14 games of the season, but has lost two of its past four games and was nearly upset by unranked Miami (50-48) on Feb. 20. To beat the Wolfpack, the Cavaliers will have to contain standout center Elissa Cunane, who has recorded an ACC-leading 13 double-doubles this season. The 6-foot-5 sophomore ranks sixth in the ACC in scoring (16.6 ppg) and leads the conference in rebounding (9.9 rpg). N.C. State is potent both on the perimeter and in the paint. The Wolfpack average a conference-best 8.3 three-pointers per game and also have the ACC's top rebounding margin (+9.6).
Be the first to know
Get local news delivered to your inbox!