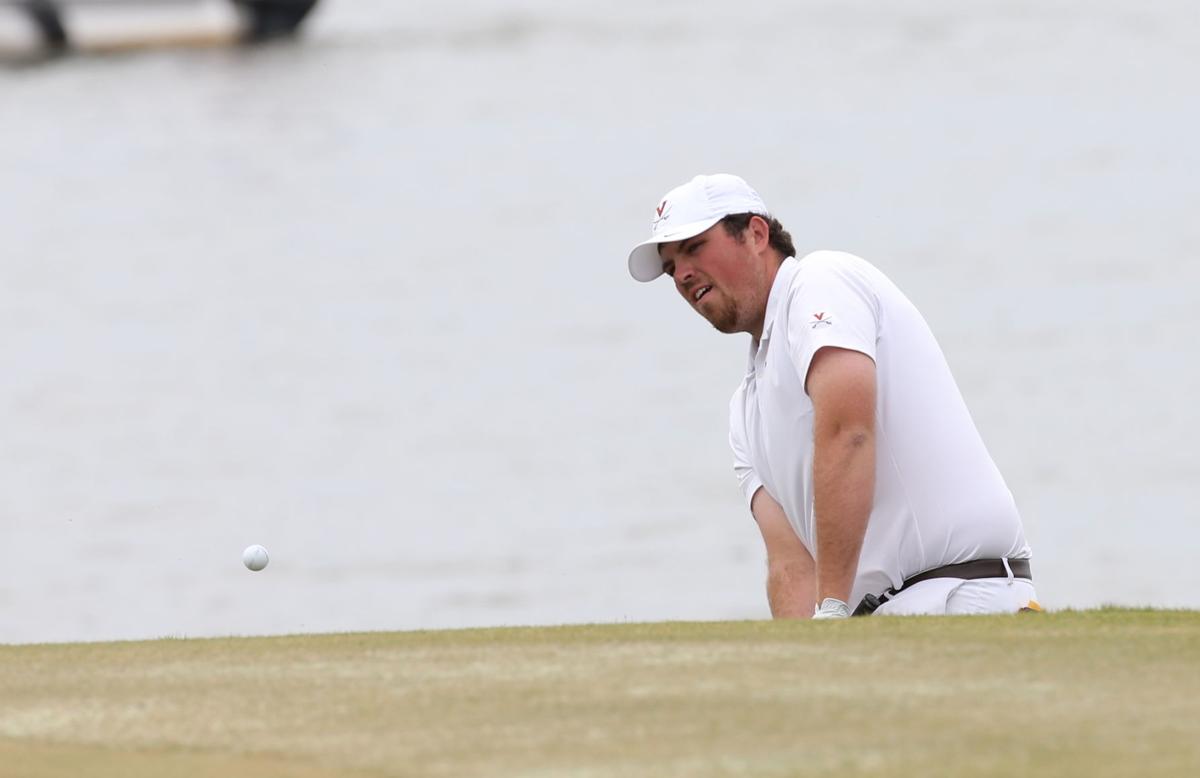 Entering the final round of the ACC Championships last Sunday, Virginia's Thomas Walsh owned a slim lead over teammate Danny Walker and Clemson's Doc Redman, the reigning U.S. Amateur champion.
As far as Walsh was concerned, he would live with the five hours of suspense until the day was done. There are two kinds of golfers: those who want to know where they stand throughout the day and those who don't want to know. Walsh chose the latter due to previous painful experience.
Even though he held the lead throughout the day, the UVa junior avoided glimpsing at the scoreboards that stood at the 17th and 18th greens at Old North State Club in New London, North Carolina.
Walsh purposely pulled his golf cap down when he walked by the scoreboards or looked the other way, striking up conversations with another golfer so not to accidentally see where he stood.
It wasn't until he holed out on 18 that he asked UVa coach Bowen Sargent what things looked like. Sargent told Walsh that he was up by three strokes but that Redman was on the 15th hole.
"The first thought that came to my mind was that [Redman] had been two down at the U.S. Am and finished eagle-birdie to force a playoff, then birdied the first playoff hole to win," Walsh said on a rainy Tuesday afternoon at Birdwood before a team meeting. "People were starting to congratulate me and I was saying, '[Redman] is as gutsy as it gets.'"
So, what did Walsh do? He headed to the practice range to stay loose in case there was a playoff. His parents were on the range, attempting to keep him loose, while Sargent texted a hole-by-hole account of Redman's finish.
Finally, the last text arrived.
"You're ACC Champion," it read.
Walsh's parents were ecstatic, celebrating the win. Walsh? Not so much.
"I was like, let's go home, we're done," he said. "I was just relieved it was over and I was able to finally breathe."
Walsh had never led a college golf tournament after two rounds, so he got little sleep the night before the final round. When he woke up Sunday morning, he was already feeling the nerves in the pit of his stomach. Those nerves never left him the entire day.
"It was the biggest mental battle I've ever had to fight," Walsh said. "I had to fight myself more than anything."
Physically, he was fine. His game had never been better. After a series of top 10 finishes throughout the spring, Walsh was solid. He came into the ACC's with a solid game plan recommended by Sargent and his swing coach down in Florida along with a little help from noted sports psychologist Dr. Bob Rotella, a volunteer assistant for UVa's golf team.
There would be plenty of pressure on the native of High Point, North Carolina. Walsh had played well but couldn't break through into the win column. He found himself within striking distance heading into the final round but couldn't close the deal.
By collegiate standards, Old North State is not intimidating at par-72 and 7,102 yards. Walsh, who bombs it off the tee, rarely used a driver, instead choosing his favorite club, a 2-iron that he regularly stripes 260 yards on the drive. With accuracy off the tee, that allowed him to hit fairways and put a wedge in his hands for many of his approach shots (he missed only two greens during the final two rounds).
All Walsh had to do was cope with the pressure of holding the lead in front of family and friends following in the gallery and 60 pursuers in the field.
That's where the firm of Sargent & Rotella came into play. Both had worked on his mental game going in, something that he relied on heavily, particularly when he made the turn on Sunday.
"I was singing [Rotella's] praise the whole way down the back nine," Walsh confessed. "I was trying to do things that he suggested."
That checklist included not scoreboard watching, not looking at his own scorecard, playing his own game, not being impacted by what his playing partner was doing. Rotella believes that verbalizing planned shots out loud will paint a picture so that the mind will visualize the shot, something that Walsh did the entire way in.
"That helped me develop a game plan that I can use under pressure from now on," Walsh said.
The strategy helped him to focus and divert pressure, to play his own game and block out everything around him, something he had struggled with in the past.
When Sargent started following Walsh at the 16th hole, he quickly picked up on his course management.
"He seemed relaxed and was thinking through shots and making good decisions, which he hadn't done that great of a job at in the past, to be honest," Sargent said. "He's worked with Dr. Rotella and that has helped. A lot of times, Thomas' mind gets racing and he tends to over complicate things coming down the stretch. But this time, he kept it really simple and I think that benefited him and helped him close the thing out."
Sargent had devoted a lot of time in helping fine tune Walsh's putting, which paid off big time in getting off to a 67-65 start. He was draining everything in the second round, vaulting him to the lead. Walsh described it as "like an outer-body experience."
He wasn't as aggressive with his putter in the final round but didn't need to be thanks to the best ball-striking 18 holes of his career.
When Walsh arrived at Virginia, his putting was the weakest part of his game. Now it's the strongest and allowed him to finish with a three-day, 16-under 200, the best 54-hole score in the ACC Championship's 65-year history.
It also allowed his name to go on the ACC Championship gold medals list with some storied winners of the past, including Arnold Palmer, Lanny Wadkins, Jay Haas, Curtis Strange, Scott Hoch, Bill Haas and Webb Simpson, to name a few.
The win also set off a celebration with teammates, who doused the champion with a water sneak attack.
"It was really cool," Walsh grinned. "It was nice of my teammates to support me. When they win, I'll be there to throw water on them. I'm proud that we finished so well as a team (fourth, but only five strokes behind champion Georgia Tech). It was a true team effort."
Moments later, Walsh got a text from none other than Rotella, who wrote: "Congrats man!"
"I texted back that I was thinking about [Rotella] the whole back nine, hoping your stuff was actually going to work," Walsh cackled.
With back-to-back ACC individual champions (Jimmy Stanger won it last year), and three over the past six years (Ben Rusch, 2012), Sargent wasn't shy about posting the good news on Instagram: "Home of Champions."
It's an accomplishment UVa golf can celebrate all the way until May 7, when the NCAA will give the Cavaliers their postseason assignment.
Until then, Walsh can get plenty of good nights' sleep.
Jerry Ratcliffe is The Daily Progress' sports reporter and columnist. Contact him at (434) 978-7251, jratcliffe@dailyprogress.com, or on Twitter @JerryRatcliffe.