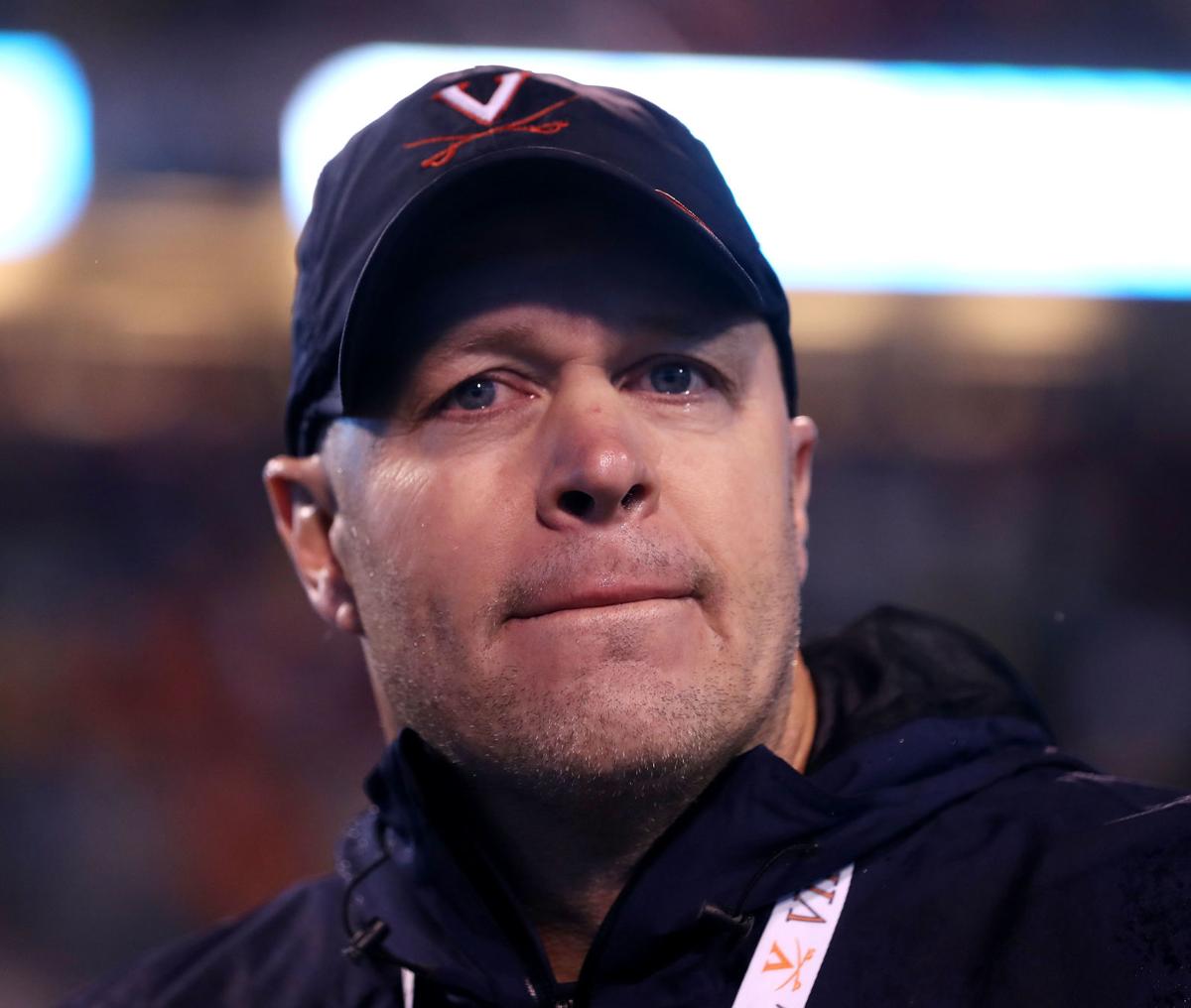 When Bronco Mendenhall walked into the interview room after watching his Virginia football team stun favored Georgia Tech on Saturday night, the coach was exhausted. Mentally, emotionally, physically, Mendenhall had nothing left.
It was as if everything he had preached, fought for, lost sleep over since discovering this football program was even worse than what he expected, had come to fruition in an instant.
In a driving rainstorm, 10-point underdog Virginia battled back twice to pull off the upset and become bowl eligible for the first time since 2011. The few remaining rain-soaked fans rushed the field in a celebration that only Wahoos would truly understand.
Virginia 40, Georgia Tech 36.
This is what Mendenhall had dreamed about. This is what this guy named Bronco from Provo, Utah, was thinking of when he transplanted his family and coaching staff clear across the country to try and rebuild Virginia football.
Not long after he had arrived, Mendenhall attempted to explain what he wanted Cavalier football to look like. Those familiar with BYU understood. Never give up. Ever. Work harder than everyone else. Be relentless. Sacrifice everything.
The culture change was great and took a season and a half, much less than even the most optimistic Wahoo fan would have guessed after watching last year's season go off the tracks with only two wins.
Saturday, when Georgia Tech struck twice for touchdowns within 15 seconds to go up 28-13, completely turning the momentum, the situation looked grim. Past Virginia teams, well those within the last decade, would have been done.
This time, Bronco's culture kicked into gear and Virginia bounced back and scored twice within a minute-and-a-half, knotting the game at 28-all.
Quarterback Kurt Benkert, who had come under criticism for shaky play the past two weeks, suddenly transformed into Peyton Manning. The defense began to dominate Tech's rolling ball of butcher knives running game. Momentum shifted as the rain became more intense.
When it was over, when Benkert hooked up with wide receiver Andre Levrone in the left corner of the end zone for the go-ahead touchdown with 82 seconds to play, and when UVa's defense thwarted Georgia Tech's desperation, last-ditch effort, it was bedlam.
Virginia improved to 6-3, the magic number being six, as in qualified to play for a bowl game, something Wahoo fans had almost surrendered any thoughts of.
This is what Bronco's BYU teams did. This is the culture he wanted to transfer to the East Coast.
It came in the form of some of those memorable, wild-scoring BYU wins.
"I think the score is one thing and if what I was hoping to show, meaning people that won't quit, that will support and believe in each other, and try as hard as they can, then yeah, I think this was pretty close [to BYU tradition]," Mendenhall said. "You have to kind of have it look like this first before it looks like something else.
"I think the bottom line is that until you just surrender the outcome of what this might look like and just throw our whole heart and soul into every play, you don't have a chance for it to look any different at the end," Mendenhall said. "I think that's about as close [to the BYU winning culture] that we have been a part of today, a group of guys just throwing their bodies around and really supporting and really wanting for each other to have success."
The drama of Saturday's scenario could have suffocated lesser teams. Most feared that after losing to Boston College and Pitt, that UVa had blown its chances of reaching a bowl after starting 5-1.
Faced with what the ESPN Index rated as the toughest remaining schedule in the nation (Georgia Tech, at Louisville, at Miami, and Virginia Tech), there was reason to be concerned.
In fact, after discarding all the bowl eligible chatter over the past few weeks as "interference," Mendenhall decided to change direction. He spoke to his team about the situation every day last week, embracing the scenario.
"Coach told us all week to not be outcome driven, because then you start to play with fear," said UVa senior linebacker Micah Kiser. "Down 15, we could have easily quit but we didn't."
The celebration in Virginia's locker room was classic. Water flying everywhere, music booming, shouts of joy, dancing, hugging, laughing.
Usually, somewhat reserved after a win, Mendenhall wasn't about to rain on this parade.
"This is important," Mendenhall said. "It's not business as usual for this program. Let's be honest, this is not business as usual for UVa. Otherwise, we'd be a bowl team every year and I wouldn't be here."
Usually, it's back to work after a win. Not this time, at least not until 5:30 a.m. on Monday.
"They ought to have today and [Sunday] at least to enjoy what they've done, and then Monday we'll assess whomever we play next," Mendenhall said with a canary-chomping-Cheshire Cat grin.
Right now, Louisville seems far away. Right now, Virginia just wants to celebrate what Mendenhall came here to do.
A man who professes to love challenges, the tougher the better, got this program back on track.
There is much more work to be done, improvements to be made. Those will come. Right now, it's time to celebrate putting this program back in the win column.
Jerry Ratcliffe is The Daily Progress' sports reporter and columnist. Contact him at (434) 978-7250, jratcliffe@dailyprogress.com, or on Twitter @JerryRatcliffe.