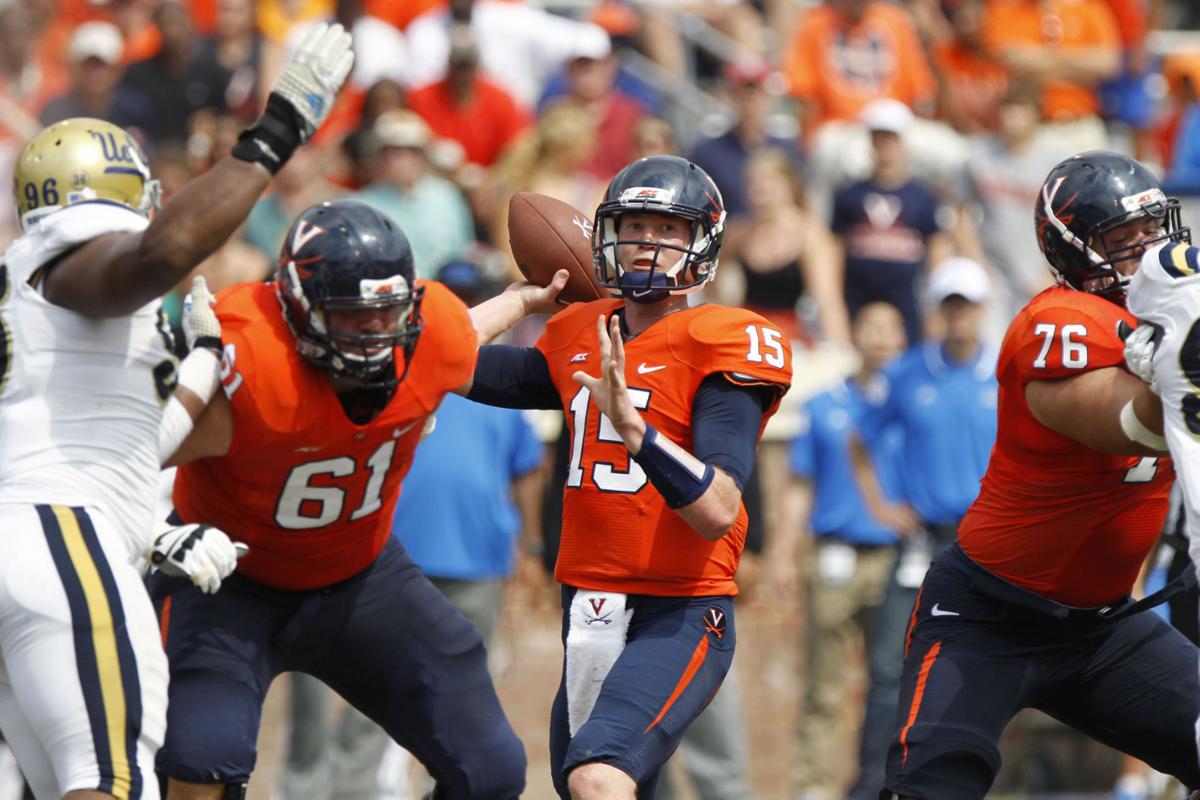 If there was any anxiety over switching quarterbacks midstream during Virginia's opener against seventh-ranked UCLA on Saturday, backup Matt Johns quickly put those fears to rest.
The visiting Bruins had just become the first opponent in recorded UVa history to convert three Cavalier turnovers into three touchdowns and the 44,000-plus in Scott Stadium sat in near stunned silence. Down 21-3, things looked grim.
Highly-touted starting quarterback Greyson Lambert had given UVa fans hope. Two errant passes, one squarely his fault, the other perhaps not, both turned into pick sixes for UCLA. Enough was enough.
Enter Johns, a somewhat obscure sophomore backup who had never attempted a pass in college, and who had received only 10 percent of snaps with the first team offense in training camp, while Lambert got the other 90.
Five plays later, Virginia is in the end zone, ala Mr. Obscurity.
While the script of the game didn't have the typical happy Hollywood ending that Wahoo fans hoped for, Johns managed to make a strong impression. A product of Central Bucks South High in Chalfont, Pa., a Philly suburb, Johns completed 13 of 22 passes for 154 yards and two touchdowns. He didn't throw an interception, didn't get sacked.
The only real flaw of his performance came at the most crucial time, when Virginia actually had a chance to score a monumental upset. Trailing by the eventual final score, 28-20, and facing third-and-10 at the UCLA 19-yard line, Virginia's final possession of the game exploded like a trick cigar.
Virginia's coaches had called for a pass play to keep the drive alive and possibly give the Cavaliers a chance to tie the game in the final four minutes.
Instead, Johns mistakenly read the wrong line on his wristband that displays all the plays in the game plan. Instead of throwing the ball downfield, he handed off to tailback Smoke Mizzell, who was stopped for a two-yard gain, causing most of the fans in the stadium to turn to the press box to express their disdain.
UVa offensive coordinator Steve Fairchild had already drawn the fan base's ire for conservative play-calling, but this one took the cake.
The coaches chose to ditch the idea of a field goal and go for it on fourth-and-eight, with Johns' pass falling incomplete with 3:20 to play. UCLA merely ran out the clock to escape the upset.
Afterward, Johns explained that it was his mistake, not Fairchild's, on the bungled play call. Anyone watching UVa's coaches freak out on the sidelines once they saw the ball was handed off, probably had a clue that something went haywire.
"They signaled in the play, I read the wrong line on my wristband," Johnson said. "That was completely my fault. Bottom line, I called the wrong play. That's it. It was a pass play."
While the mistake was unfortunate, without Johns' heroics the game could have remained out of hand.
Johns admitted he was "surprised" when coach Mike London told him he was going into the game for Lambert. But like in the old deodorant commercial, he wasn't going to let anyone see him sweat.
"I was excited for Greyson," Johns said. "It was his first college start. It's what we all dream about. I was a little surprised, but I couldn't let my teammates see that and I wasn't going to let them see that."
When he trotted out with the offense, the new QB realized he had to take command of the huddle and did just that.
"I said, 'Guys, we're going to score here and we're going to win this game,'" Johns explained to reporters afterward. "Unfortunately it didn't turn out the way we wanted, but I liked that when I said it and they believed me. There was trust, and I trusted them, all other 10 guys in the huddle. I think that was really important."
In fact, running back Kevin Parks grabbed Johns as they jogged to the huddle and told him, 'You got this. Let's do this.'
"I really appreciated that from K.P.," Johns said.
It didn't take long for the backup to make something happen. He looked comfortable getting the job done.
"The play that started our comeback was from [receiver] Canaan Severin," Johns said of a 32-yard pass play to the UCLA 38.
After a nine-yard scramble by Johns, who exhibited impressive mobility, Fairchild decided to go for pay dirt.
"We needed a spark and we needed a big play," Johns said. "I knew I was going to Andre Levrone and he went up and got me one."
Levrone (rhymes with macaroni) lined up in the slot against his Bruin defender's soft press coverage. The rangy redshirt freshman put a move on his man at the line, darted down field. He looked back and the ball was in the air.
"I watched the ball and went up [over UCLA DB Fabian Moreau] and got it," Levrone said. "I tried to get up there as high as I could. [Wide receivers] coach [Marques] Hagans teaches us that every day in practice. High point the ball."
Two possessions later, a poised Johns engineered another touchdown drive, 59 yards, ending with a 23-yard scoring dart to speedy Darius Jennings. UCLA 21, UVa 17.
While the Bruins, the preseason favorite to win the Pac-12 South and projected by some to make it to the season-ending, four-team playoff, buckled down and showed why they are highly respected in the college football world, Virginia hung in there as did Johns.
"[The quarterback switch] didn't surprise me but it certainly gave [Virginia] a spark," said UCLA coach Jim Mora. "[Johns] came in and did a really nice job. He's mobile, can run. He ran for some first downs. He got some yardage. He hit a couple really nice fade balls [for TDs] where we had some good coverage. They had big, physical receivers who went up and took them away from us."
Afterward, London talked about how he was impressed with Johns and how he rose to the occasion.
Wisely, he chose not to forecast into the future, unwilling to talk about who would start at home next Saturday against Richmond.
So, after not having a quarterback controversy all of training camp, after week one of the season, we have a quarterback controversy. Then again, it wouldn't really be Virginia football if we didn't have some quarterback drama, would it?
"Most of all, it's about players that can perform," London said. "Like any other position, you have to perform. We'll continue to evaluate players and look at the tape, and the players that can help us will play."