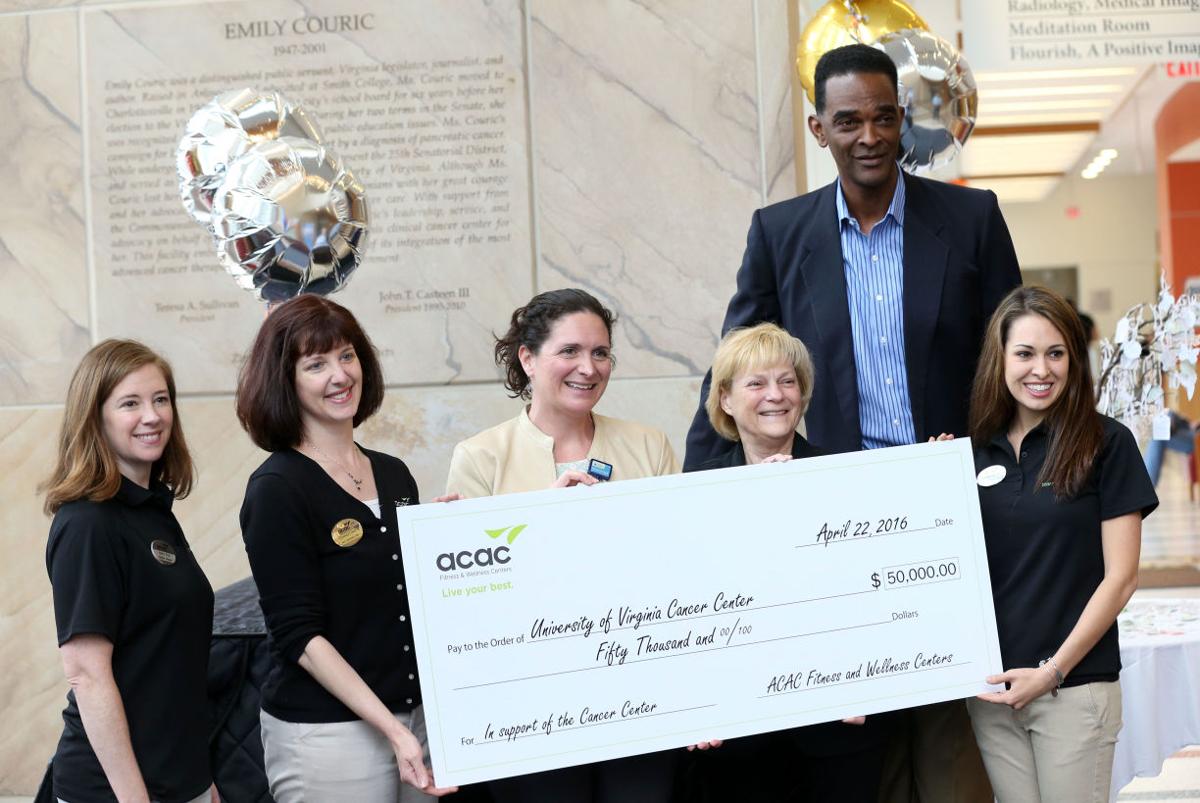 Ralph Sampson was in Charlottesville on Friday, and his visit had nothing to do with basketball. It was much more serious than that.
The Virginia hoops icon was in town to join forces with former UVa women's coach Debbie Ryan, and ACAC owner Phil Wendel to present the University of Virginia Cancer Center with a check for $50,000, and to raise awareness of the dreaded disease. It was a joyous hour of celebrating the gift, but with ghastly undertones.
Sampson, a member of the Basketball Hall of Fame, and a three-time National Player of the Year for Virginia, joined the fight against cancer to honor his father, Ralph Sr., who has survived both lung and prostate cancer thanks to the treatment at UVa's Cancer Center. Ryan, a member of the Women's Basketball Hall of Fame, is a cancer survivor and knows all too well the horrors of the disease.
They want to put an end to cancer in their lifetimes, and Wendel, one of the most giving men in our community, is behind them without question.
Wendel, the founder and CEO of ACAC, put together a recent fundraiser that offered Central Virginia residents a 30-day membership at his health clubs for $30. Proceeds from those memberships and a personal contribution, all totaling $50,000,  were presented by Sampson and Ryan to the Emily Couric  Clinical Cancer Center on Friday morning.
Of course, Wendel, a humble guy who never takes credit for all his good deeds in the community, was predictably absent.
"Well, that's who Phil is," Sampson smiled. "He works hard, has a great business, is a great person, is a great UVa supporter. With Phil, the UVa Cancer Center, and the UVa family, whatever we can do together is going to be great."
"Phil refuses to take credit for all the great things he does, and he personally does," Ryan said. "We had this promotion and Phil is a great promoter of UVa in all different facets. He helps guys like Ralph and other guys on how to become an entrepreneur, a business guy. He mentors these guys behind the scenes and helps them through tough times, and sticks with them. I'm so proud of what Phil has been able to accomplish behind the scenes because when these guys come back to Charlottesville, one of the first people they go see is Phil Wendel."
Sampson's grandmother had a bout with cancer about 30 years ago, but things became more personal when his dad fell ill.
"I moved back home to Harrisonburg when my dad came down with prostate and lung cancer," Sampson said. "I became really entrenched in his treatment. My aunt passed away two weeks ago with colon and liver cancer, and that became traumatic. Now, I'm fighting against cancer even a little bit harder."
Sampson said he has come to understand more about early detection, particularly among men who don't visit the doctor early enough in the process. He jumped into the fight along with Ryan, Wendel, and the UVa Cancer Center to raise money, something that he will continue to support.
Sampson's children are all involved with the website, the fight against cancer, and honoring their grandfather.
"We just want to raise awareness, raise money, and do the best we can," Sampson said.
Ryan's story is also a personal one that began in 2000, when she was diagnosed with pancreatic cancer, a lethal disease that rarely spares any of its victims.
To note that Aug. 14, 2000, was a dark day in Ryan's life, would be a gross understatement. That's the day Dr. Raeford Scott Jones operated on her.
"It was strange for me," Ryan said. "When they went to operate on me, I really thought I was benign because I had been feeling better, and so when I woke up and was told, still groggy, and my physician came in to tell me, I already knew what I was in for, because I had Googled it. I always felt that I was going to find a way."
In fact, Ryan was so confident that she would survive that she told her surgeon not to worry, that she was going to make him a Nobel Prize winner.
"He hasn't won [the Nobel] but he should," Ryan said. "I'm 15 years out now. I was very fortunate to have someone like [Jones] to operate on me. Lord only knows why I'm still standing here because even [doctors] don't know."
Ryan attempts to comfort and support all those patients from around the world who call her, seeking knowledge about what she did to beat her cancer. She can't give them any magical answer, but attempts to guide them with the best advice she can muster.
"It has been a great thing to help Ralph honor his father," Ryan said. "That was the purpose of having this campaign, having had his family use the cancer center. I'm proud and happy that we have this center, which is five years old now. This is an incredible place that services thousands of people from the Commonwealth and beyond."
Jody Reyes, administrator of the center, accepted the check and said that such a gift will make an impact.
"$50,000 is going to do a lot of good here at the UVa Cancer Center," Reyes said. "Whether we're talking about clinical programs that need to be supported and enhanced, or whether we're talking about research that is incredibly vital, this is extra special."
Reyes explained that what sets UVa's center apart from so many other cancer programs around the country is that UVa has researchers that work daily on what is the next therapy to stop cancer in its tracks.
"Unfortunately, national funding is getting smaller and smaller, so these types of gifts help fill in that gap," Reyes said. "We're so fortunate in a community of this size to have an institution like this that is really pushing the envelope in order to make those discoveries and do what we can to be part of stopping cancer."
Ryan said that she's proud of Sampson for working so hard on the project, signing countless autographs in promoting the cause. She also cited Mary Chapin Carpenter's help in drawing attention to the center. Ryan has not only been a patient, and a donor, but also serves as a development officer for the center, helping drive donations to the worthy cause.
Sampson said the quality of care at the UVa Cancer Center is why his family came from Harrisonburg to treat his father.
"This is the best facility around and I know lots of people come here from rural areas because it's such an amazing place," Sampson said. "I encourage everyone to donate to this cause. It is so important for all of us. I hope that Debbie, Phil, and I can leave a big footprint on stamping out this terrible disease."
Jerry Ratcliffe is the Daily Progress' sports reporter and columnist. Contact him at (434) 978-7250, jratcliffe@dailyprogress.com, or on Twitter @JerryRatcliffe.