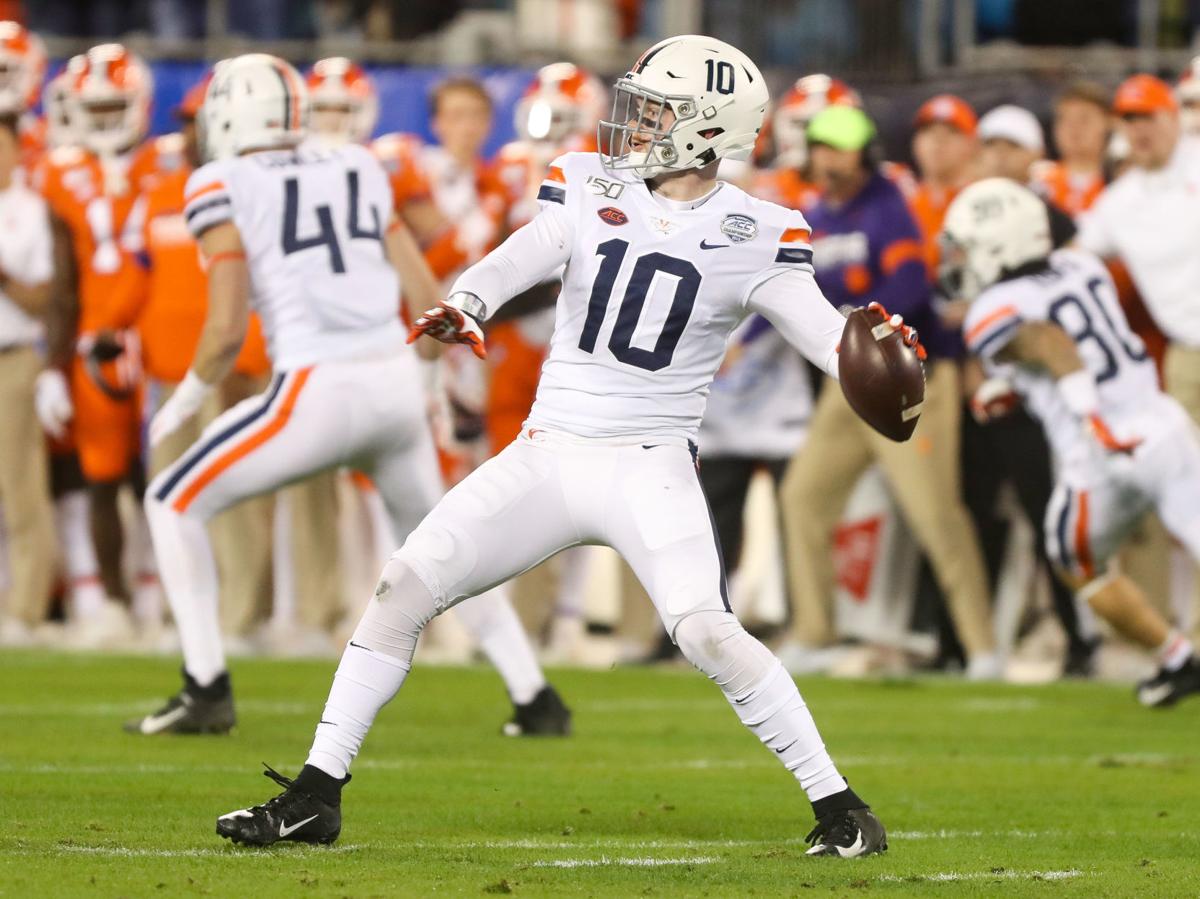 It's been over a week since the Virginia football team fell to Florida in the Orange Bowl and wrapped up one of its best seasons in recent memory.
The Cavaliers beat Virginia Tech to win the ACC Coastal Division, and then played in the Orange Bowl for the first time in program history. Bronco Mendenhall's team reached historic levels of success in 2019, and 2020 brings new challenges.
Gone are Bryce Perkins, Joe Reed, Hasise Dubois, Jordan Mack and Bryce Hall. Players will be asked to accept larger roles in 2020 in hopes of continuing the program's trajectory of unbroken growth with the second 10-win season in school history.
It won't be easy to improve upon such a solid 2019, but the Cavaliers return enough pieces to be in the thick of the Coastal Division race in 2020.
Quarterbacks
With Bryce Perkins graduated, the Cavaliers will turn to a new signal caller. The obvious answer is rising redshirt sophomore Brennan Armstrong. The left-handed quarterback checks in at 6-foot-2 and weighs 220 pounds. Mendenhall compares Armstrong to Taysom Hill, who does a little bit of everything for the New Orleans Saints and starred for Mendenhall at BYU.
RJ Harvey and Lindell Stone are other potential options at quarterback. Harvey sits at just 5-8, and saw no action in his true freshman season. He's an athletic prospect with good potential. Stone, a former Woodberry Forest standout, has seen the field occasionally. If the Cavaliers don't bring in a transfer, it's Armstrong's job to lose.
Running backs
Wayne Taulapapa, UVa's leading running back this season, returns for his junior season. PK Kier and Lamont Atkins also return, and Jamari Peacock will be back as the team's fullback. Keep an eye on rising sophomore Mike Hollins.
Coaches are high on Hollins, and he performed well in limited 2019 action. If he can improve his ball security, which was the major concern of his coaches, the Cavaliers could have a new featured back in 2020.
Receivers/tight ends
Tanner Cowley, Hasise Dubois and Joe Reed graduate, leaving gaps at tight end and wide receiver. Terrell Jana leads the returning receivers, and rising redshirt sophomore Grant Misch seems poised to take over at tight end. There's room for optimism, but the passing game is a question mark with two elite receivers, a starting tight end and the starting quarterback all changing.
Offensive line
Virginia's entire starting offensive line is slated to return. The Cavaliers' offensive line started 2019 as a weakness before developing into a formidable unit. The big guys up front enter 2020 as the strength of the offense.
Look for Ryan Nelson, Dillon Reinkensmeyer and Olu Oluwatimi to continue embracing leadership roles along the line.
Defensive line
There's plenty for Virginia fans to be excited about on defense, and that starts with the defensive line. Mandy Alonso, Jowon Briggs and Aaron Faumui all return. Briggs, a rising sophomore, was particularly impressive as a nose tackle in his freshman season. He's someone who could become an All-ACC player later in his career.
Linebackers
Jordan Mack graduates, but the Cavaliers return an abundance of talent at linebacker. Charles Snowden, Noah Taylor and Zane Zandier all return. Look for Rob Snyder and Nick Jackson to both see ample playing time. Matt Gahm should also see the field. There's tremendous talent and depth at linebacker heading into the 2020 season.
Defensive backs
A strength at the beginning of 2019, the secondary was decimated by injuries and turned into a weakness toward the end of the season. Expect better play next season, assuming the defensive backs stay healthy.
Darrius Bratton, De'Vante Cross and Nick Grant will likely see significant playing time at cornerback. Brenton Nelson, Joey Blount and Chris Moore are all options at safety. Cross also can line up at safety and he's one of the most versatile defensive backs on the team because of his size.
Special teams
Reliable placekicker Brian Delaney returns for his senior season, and he'll likely handle kickoff duties as well. Punter Nash Griffin returns for his senior year, giving the Cavaliers two of the best kickers in the ACC.
Finding a new kickoff return man in Joe Reed's absence is the biggest offseason special teams question mark. Keep an eye on Seneca Milledge, a running back from Florida with blinding speed. During the season, Reed said Milledge is faster than him. He's capable of being a force on special teams.
Be the first to know
Get local news delivered to your inbox!