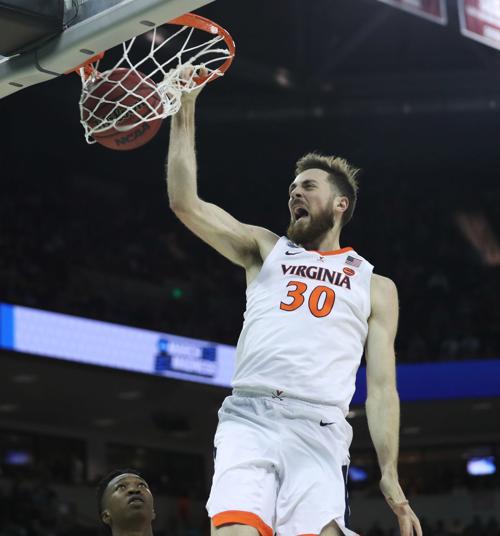 We knew what to expect from the Virginia men's basketball team's rotation last season.
Ty Jerome and Kihei Clark handled the point guard duties, Kyle Guy, De'Andre Hunter and Braxton Key played on the wings and Jack Salt, Mamadi Diakite and Jay Huff were the bigs.
Tony Bennett's squad didn't surprise many teams with its personnel use in 2018-19. This year's squad holds more uncertainty.
Clark looks entrenched as the starting point guard, while Diakite is certain to start at either power forward or center. After that, some question marks remain. Key should see time at small forward and power forward, and Huff seems likely to see time at center and power forward.
Casey Morsell appears to be the most likely player to slide into the shooting guard role. The freshman has impressed his teammates through early practices.
"Casey Morsell reminds me of Malcolm Brogdon," Diakite said. "He's the only one who can really take Kihei full court."
Morsell comes to UVa as the 2019 Gatorade and USA Today Player of the Year in Washington D.C. He's a logical choice to play critical minutes at guard given his practice performances and defensive ability.
Other options at guard include Tomas Woldetensae, a JUCO transfer, and Kody Stattmann, a lengthy sophomore from Australia who saw limited playing time last year.
Francisco Caffaro is an under-the-radar big man to watch this season. He's drawn comparisons to Salt for his hard-hitting screens and physical style. Caffaro and Huff give the Cavaliers two capable 7-footers with different playing styles. Caffaro plays more like Salt, while Huff features a polished jump shot.
Caffaro seems likely to see minutes as a redshirt freshman. Another freshman big man, Kadin Shedrick, also has drawn attention from his peers. Shedrick's length makes him someone who can play defense up to Bennett's standard.
"Kadin, he's got a big upside," Bennett said. "I think he's going to be really good in time. Right now at times, it's fast, it's new. He's growing into his body, but 7'5" or 7'4" wingspan, long, mobile. I'm excited about his future."
Shedrick is a player Bennett believes can be a "hidden gem" who develops into an elite ACC talent in the coming years. He might make sense as redshirt candidate this season, but he's worth monitoring in future seasons.
Huff and Diakite are the two tallest players expected to see the most minutes. Huff played well off the bench last season, especially offensively, but he's looking to take a bigger jump forward on the defensive end.
"He's an upperclassman and more will be required of him," Bennett said. "I think he's looking forward to that opportunity, and he gave us great spot minutes and showed flashes of his offensive ability. I think now he's worked hard, and he's ready for this opportunity. For us to be good, he's going to have to play a big part of that."
With a potential starting five of Clark, Morsell, Key, Diakite and Huff, the Cavaliers could have three players at 6-8 or taller on the court to start games. Inexperience in the backcourt jumps out as a potential concern, but Clark is viewed by his teammates as an upperclassman despite his age, and Morsell isn't a typical freshman.
"The guards are doing well, and I think they'll surprise a lot of people this year," Key said.
UVa's style this season may lean more heavily on its low-post scoring and rebounding ability, but the Cavaliers won't shy away from utilizing a more old-school approach, according to Key. With Huff and Diakite both being able to shoot jumpers, the Cavaliers can still stretch the floor with their power forwards and centers.
It's still a relatively inexperienced group, especially compared to last season, but there's no denying the team's talent and athleticism. If players like Morsell and Caffaro prove that they're ready for meaningful minutes early in their careers, the Cavaliers should find themselves in the mix for another ACC title.
Be the first to know
Get local news delivered to your inbox!