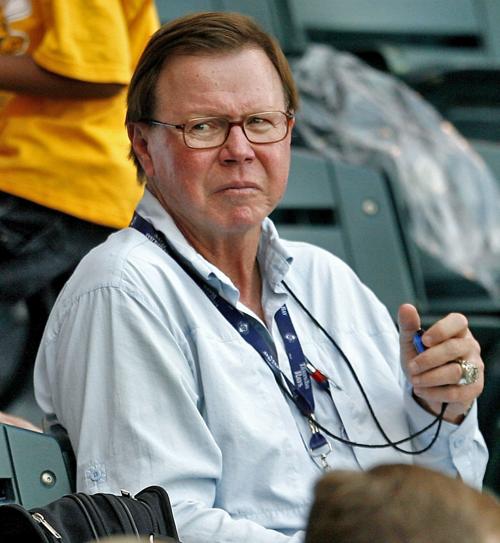 Mike Cubbage has had quite a 2019.
In October, the Charlottesville native celebrated a World Series championship as a member of the Washington Nationals organization. That came after a summer that saw Cubbage inducted into the Valley Baseball League Hall of Fame. Then on Monday, Cubbage learned that he would be part of the Virginia Sports Hall of Fame's 2020 class. Cubbage and the other members of the 2020 class will be inducted during a ceremony in Virginia Beach on April 25.
After a standout high school career at Lane High School and a pair of All-ACC seasons at the University of Virginia, Cubbage has spent almost a half-century in professional baseball. Drafted out of UVa in 1971 by the Washington Senators, Cubbage played eight seasons in Major League Baseball, finishing with 503 hits, 34 home runs and 251 RBI.
Since the end of his playing career, Cubbage has served in a variety of roles in baseball. He coached in the minor leagues from 1983 to 1989, winning regular season titles twice, then coached in the major leagues for 14 years, including a stint as the interim manager of the New York Mets in 1991. Cubbage then shifted to a scouting role, working for the Houston Astros and Tampa Bay Rays before becoming a special assistant to the General Manager for the Nationals in 2014.
Cubbage's contributions to the game of baseball have been receiving due recognition recently. Cubbage was part of the University of Virginia's inaugural baseball hall of fame class in 2018 and earlier this year, he was inducted into the VBL Hall of Fame. Cubbage played for the Charlottesville Hornets in the VBL in 1968 and 1969. He led the VBL in home runs in 1968 and batting average in 1969.
Cubbage is one of seven members of the Virginia Sports Hall of Fame's 2020 class. Here is a look at the rest of the class:
Dennis Carter, who moved to WSET in Lynchburg in 1983, has represented ABC13 Sports for 37 years. Carter has been honored numerous times by both the Virginia The Associated Press Broadcasters and Virginia Association of Broadcasters.
Lawrence Johnson, who began his track and field career at Great Bridge High School and went on to be a track and field star at the University of Tennessee. Johnson was named the 1996 NCAA Athlete of the Year and competed in two Summer Olympics, winning a silver medal in Sydney in 2000.
Bruce Rader, who assumed the role of Sports Director at WAVY-TV in Hampton Roads in 1979 and has held that position for 40 years. Rader has previously been honored by the National Academy of Television Arts and Sciences, the Virginia Association of Broadcasters, the Norfolk Sports Club, and the CIAA Hall of Fame, the Hampton Roads Sports Hall of Fame, and Hampton Roads Sports Media Hall of Fame.
Tracy Saunders, a Suffolk native who enjoyed a legendary career for the Norfolk State University women's basketball team. Saunders was a three-time All-Conference selection, a two-time All-American and the 1991 NCAA Division II Player of the Year as well as the 1991 Honda Award recipient, recognizing the top female athlete in all sports in Division II.
Al Toon, who played at Menchville High School in Newport News, then set school records for receptions, receiving yards, and touchdown catches at the University of Wisconsin in addition to setting conference and school records in the triple jump. Drafted 10th overall by the New York Jets in the 1985 NFL Draft, Toon would catch 517 passes for 6,605 yards, and 31 touchdowns over an 8-year career, all with the Jets.
David Wright, who enjoyed a 14 year MLB career that saw him set numerous team records for the New York Mets. The Chesapeake native is the Mets' all-time leader in hits, runs, RBI, doubles, extra base hits and all-star selections.