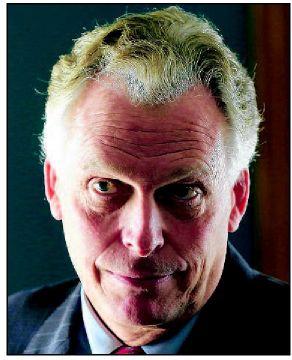 TERRY MCAULIFFE INVESTIGATION
RICHMOND — Criminal prosecutions under the obscure foreign-lobbying law said to be at the center of the federal investigation into Gov. Terry McAuliffe are exceedingly rare. In the past 50 years, prosecutors have brought just seven cases.
If the probe leads to charges against McAuliffe under the Foreign Agents Registration Act, or FARA — which he says will not happen because investigators have no evidence of a violation — the Democratic governor would be the highest-profile figure targeted by prosecutors for failing to disclose foreign ties while seeking to sway U.S. policy.
Much about the Department of Justice and FBI investigation, first reported by CNN using anonymous sources, remains unclear.
McAuliffe's lawyer has said the Justice Department told him the agency is looking into McAuliffe's foreign sources of income before he took office and a potential violation of FARA.
The law requires those engaging in political activity on behalf of a foreign entity to register and file reports with the Justice Department. McAuliffe said he never has lobbied for a foreign government.
Of the seven FARA prosecutions since 1966, when the statute underwent a major transformation, four have been brought within the past decade.
McAuliffe has called FARA a "very specific" question of lobbyist registration, though the prosecuted cases typically involve elements of hidden money, political influence and broader international intrigue.
In the most recent FARA case, Prince Asiel Ben Israel, a Chicago religious leader, pleaded guilty in 2014 to agreeing to perform paid lobbying work on behalf of Zimbabwean officials seeking an end to U.S. economic sanctions imposed over human rights abuses.
Ben Israel and a co-defendant, C. Gregory Turner, met with and agreed to help Zimbabwean President Robert Mugabe and the head of the Reserve Bank of Zimbabwe, both of whom were subject to individual sanctions.
Syed Ghulam Nabi Fai, the former director of a D.C. nonprofit that prosecutors said was funded secretly by the Pakistani government and its spy agency to influence U.S. policy in the Kashmir territorial dispute, pleaded guilty in 2011 to tax and conspiracy violations. His FARA charge was dropped as part of the plea deal.
Former Rep. Mark Siljander, R-Michigan, pleaded guilty to violating FARA in 2010 in connection to his paid work for an Islamic charity suspected of supporting terrorism.
Prosecutors said Siljander illegally lobbied to have the charity — the Islamic American Relief Agency — removed from a U.S. Senate Finance Committee list of organizations linked to terrorism.
Tongsun Park, a South Korean citizen who also was at the center of a 1977 congressional bribery and influence-peddling scandal dubbed "Koreagate," was convicted in 2006 of acting as an unregistered agent of Saddam Hussein's Iraqi government, prosecutors said.
Park was paid at least $2 million for work related to the Oilfor-Food Program set up by the United Nations to allow Iraq to sell oil for money to buy humanitarian goods for the Iraqi people in the face of severe sanctions imposed after the first Gulf War.
The scheme involved Saddam's regime extracting hundreds of millions of dollars of illegal kickbacks from companies, including some in the U.S., participating in the program.
Enacted in 1938 with an emphasis on Nazi propaganda, FARA was amended in 1966 to focus on federal lobbying.
A FARA unit within the Justice Department enforces the statute, often by sending letters to those who may be subject to the registration requirement. In an email, the FARA office said it "cannot comment regarding the existence or nonexistence of communications with Terry McAuliffe."
Kelly Kramer, a white-collar defense and compliance attorney in the D.C. office of Mayer Brown who has represented clients in FARA cases, said prosecutions under the act are rare and difficult.
"FARA is typically enforced civilly," he said. "There's really only a handful of prosecutions. There is a lot of ambiguity about the enforcement of the statute. There's also a lot of ambiguity about what constitutes lobbying."
For example, lobbyists representing foreign businesses can opt to register under the Lobbying Disclosure Act of 1995, which involves a less rigorous process, Kramer said.
Issues can surface if it's determined that the business' financing comes from a foreign government entity, and violations can hinge on what the lobbyist knew and how much effort went into finding out who his real client is, though both can be problematic for prosecutors to establish.
"Is the client really the company, or is the private company doing work on behalf of the foreign government?" Kramer said.
It's not clear what specific foreign connection is being scrutinized in McAuliffe's case. The governor has an extensive history of business ventures that at times overlapped with his deep political connections as a Democratic Party fundraiser.
Last year, the inspector general for the Department of Homeland Security found McAuliffe received special treatment from a federal official in 2010 while seeking to speed up EB-5 visas for foreign investors in his electric-car company, Green Tech Automotive.
The EB-5 program allows foreigners to obtain permanent legal status in the U.S. by investing $500,000 or $1 million in projects that create American jobs.
McAuliffe, who started Green Tech by purchasing a Chinese company and moving it to America, resigned as the company's chairman in late 2012.
The GreenTech visa applications were tied to a partner company, Gulf Coast Funds Management, run by Anthony Rodham, a brother of then-Secretary of State Hillary Clinton.
Republicans have leapt to connect the current McAuliffe probe to Clinton, a McAuliffe confidante now on the cusp of becoming the Democratic nominee for president. McAuliffe himself has alluded to the presidential campaign as a possible motivation for what he has called "leaks" from federal officials.
Randall D. Eliason, a former U.S. attorney for the District of Columbia, including eight years as a member of the public corruption and government fraud section, said he has not followed the details of the McAuliffe investigation but pointed out that once an investigation or grand jury process begins, prosecutors and investigators can see leaks spring from sources outside of their control.
"What can happen and what frequently happens is someone gets a subpoena or someone gets called in to be interviewed. They're not obligated by any grand jury secrecy," said Eliason, who is now on the faculty at George Washington University Law School.
"Ideally, it's almost certainly not what the investigators would prefer is to have information trickle out in the press like that."
Wang Wenliang, a Chinese businessman named in initial reports as a focus of the McAuliffe probe, contributed to both McAuliffe's 2013 gubernatorial campaign and the Clinton Foundation. The foundation, which performs global charitable work, has come under scrutiny over foreign contributions.
McAuliffe has said the investigation has nothing to do with the foundation. A spokesman for Wang said he had not been contacted by investigators.
International connections
McAuliffe's international connections before he took office were not limited to GreenTech.
In 2010, he partnered with another Chinese firm, A-Power Energy Generation Systems, that hoped to supply turbines for a proposed wind farm in Texas that never materialized.
Paladin Capital Group, a D.C.based private equity firm in which McAuliffe has an investment interest, announced in 2012 it was establishing a $100 million joint venture with an investment arm of the Abu Dhabi government.
The announcement, which named McAuliffe as a member of the venture's advisory board, said the effort would focus on deals in the Middle East, North Africa and Turkey.
Though McAuliffe has denied lobbying for foreign governments, a D.C. lobbying firm that bore his name performed work in the early 1990s on behalf of Turkey, India and Taiwan, according to federal records.
Those activities required the firm — McAuliffe, Kelly & Raffaelli — to disclose its activities under FARA. McAuliffe was not among the individual lobbyists listed in the firm's filings, which suggests he did not personally lobby for foreign interests.
The Justice Department generally does not confirm or deny ongoing investigations.
Whether the case is focused on Wang's donations or some other element of McAuliffe's time in private business, Kramer said, either avenue would be a rocky path for prosecutors.
"These are not areas where prosecutors typically judge that it's appropriate to bring criminal cases," Kramer said. The unclear nature of the scope of the investigation indicates that the initial disclosures about it that formed the basis of some media reports may not have been "fully informed," he said.
"You wonder about how or why this came out to the public," Kramer said. "This is a tough one in the sense that there just isn't very much public, factually, to make any kind of analysis as to whether there's meat to this, if you will."
However, for lawyers like him who specialize in what can be a nebulous realm, the case should prove "fascinating" as it unfolds, Kramer said.