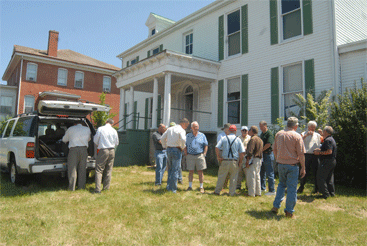 The presumed birthplace of President Chester Arthur's wife – a large 19th century home in downtown Culpeper – sold at auction Thursday for $148,000.
The new owner, though not fully aware of its link to presidential history, plans to preserve and renovate the three-story, 5,306-square-feet house that dates back to 1836.
About two dozen people – a combination of bidders and curious onlookers – gathered in the sunshine for the bank-ordered noon auction on site at 605 N. Main St., a busy area in between Dick Weaver's car lot and Baby Jim's Snack Bar.
Long neglected, the so-called Old Herndon House is located just outside of the town's historic district, and yet at least one local historian feels it is one of the town's most historic structures.
Auctioneer Tim Dudley of Motley's Auction & Realty Group of Richmond started the bidding at $300,000, but the first bid was just $50,000. The next bidder jumped it up to $75,000 and then another, to $100,000.
From there, the bidding went up slowly in increments of $5,000 and then $1,000.
"You'll never buy it any cheaper than you will today," Dudley said, the bid stuck at $140,000.
In the final moments, two bidders – an auburn-haired female and a clean cut man in his 40s – competed for the property, inching up their bids to two thousand short of $150,000.
"Sold right here for $148,000, subject to bank approval," Dudley said, pointing to the woman directly to his right.
Elise Stevenson of Culpeper, a licensed psychotherapist and owner of Chrysalis Counseling Center on Sunset Lane, gave the winning bid. She plans to fix up the 174-year-old house and relocate her business there.
The tax value of the North Main Street property is $387,300. The auction selling price also included nearby houses at 118 E. Evans St., valued at $76,600, and 122 E. Evans St., valued at $101,800.
"I looked at the house and saw a lot of potential for offering additional services here," said Stevenson, who also owns two other Chrysalis centers in northern Virginia. "We want to save it."
She lives less than a mile away from her new property in a historic house she's also been working to preserve.
"We're history nuts," said Stevenson.
In addition to the $148,000, the terms of the sale through Motley's Auction required a 10 percent "buyer's premium" and a $10,000 immediate deposit.
Mr. Dudley, the auctioneer, was also not aware of the property's past, but said his company likes selling old houses.
"It always seems like someone famous was born there," he said, laughing.
Local lore has long subscribed to the theory that President Arthur's wife, Ellen Lewis Herndon Arthur, a.k.a. "Nell," was born in the sprawling Main Street house.
Several sources, including the official White House web site, state she was born Aug. 30, 1837 in Culpeper Court House, as the town was called then.
Ellen Arthur's uncle, Dr. Brodie Herndon, born 1810 in Fredericksburg, built the house auctioned off Thursday, according to "Historic Culpeper," a book published 1974 by the Culpeper Historic Society and a 1936 Works Progress Administration report by Margaret Jeffries.
The WPA report, in addition, lists Dr. Herndon as the owner of the house from 1836 to 1840, thus establishing the date of its construction, based on courthouse deed books, and also jibing with the birth year of Ellen Arthur.
"About 1835, there were five physicians practicing at Culpeper Court House, a village of some 400," writes Eugene Scheel in his book, "Culpeper: A Virginia County's History Through 1920," published 1982. "Drs. Matthew Creel, Philip C. Slaughter, Daniel Mason and Brodie Herndon had offices in their homes – well-separated from each other."
The "about 1835" reference coupled with the date in the deeds when Dr. Herndon owned the house further solidify the 1830s age of the structure at 605 North Main.
"This is a very large house and it exceedingly well built," the WPA report says. "It was built by old Dr. Herndon … Mr. Thomas Jeffries, a contractor, did the work, and being himself a good cabinet maker, made the mantels himself.
"This place too claims the distinction of having been the birthplace of Eleanor Herndon, later Mrs. Arthur."
Prior to living in the place on North Main Street, while it was being built, Dr. Herndon and his family lived on South Main Street in the so-called Norris House, built 1835, in the area of today's 7-Eleven, according to "Historic Culpeper."
The 1835 Thompson map of the town of Culpeper, drawn by resident merchant F.J. Thompson, shows the Norris house, but not the Old Herndon House, more proof of its construction date the year later.
"Some people contend that it was before they moved that Ellen Herndon was born while others say she was born in the new house," the WPA report says.
But local historian Zann Nelson, former director of the Museum of Culpeper History, said she would put her money on the Old Herndon House as Ellen's birthplace due to the dates of ownership and her birth.
So why in the world was she born in Culpeper?
Nelson speculates it was because her father, famed Navy officer and Amazon explorer William Lewis Herndon, was away at sea at the time of her birth. Her mother, Frances Hansbrough Herndon, had a sister living in Culpeper, whose husband, Brodie Herndon, was a doctor.
"So she went to stay with her sister and doctor brother-in-law to have her child," Nelson said. "My other theory is she was visiting her sister and happened to go into labor."
Their only child, Ellen Herndon Arthur grew up in Washington, D.C., where her father helped establish the Naval Observatory.
It should be noted that Ellen Arthur was never actually First Lady. She died in January 1880 of pneumonia; in November of that same year her husband was elected vice president and was still mourning her bitterly.
In his own words: "Honors to me now are not what they once were." Whitehouse.gov says, "His grief was all the more poignant because she was only 42 and her death sudden."
Just two days before, Ellen Arthur attended a concert in New York City and she caught cold that night waiting for a carriage. By the time her husband reached her side, Nell was unconscious.
Chester Arthur became president in 1881 following the assassination of his predecessor President James Garfield.
President Arthur never remarried.
Besides the presidential connection, the house at 605 N. Main St. has other storied ties.
Robert Coleman, founder of the town of Culpeper, owned that very house lot from 1750 to 1774, according to the WPA report. The property, located not far from Mountain Run, was also owned by Gen. Edward Stevens of Revolutionary War distinction.
"Another interesting owner of the place was Mr. I.L. Johnson, sometimes known as Silver Johnson because of his connection with some silver mines," the WPA report says.
An L.G. Straus, a merchant with 10 children, owned the house from 1883 to 1893, the report says. Three of those children became millionaires.
More recently, a local branch of the Odd Fellows, meeting in Culpeper since the 1890s, owned the house, operating the Phoenix Lodge No. 59 within its walls.
Odd Fellows Treasurer Carl Broyles, a member for 40-plus years, said it served as their lodge starting in the early '60s through 2005, when the trustees sold it to a local contractor.
"We sold it because the maintenance was so (costly)," Broyles said. "The people we sold it to had plans to renovate it as an office, but because of the recession, everything changed."
Broyles hoped, as appears to be the case, that someone would buy the Old Herndon House with the intent to fix it up.
"If someone buys it that has some money, it could be really nice," he said.
Nelson called it one of the most historic structures in Culpeper, saying very few structures dating back to the 1830 – prior to the Civil War – still stand in the downtown.
It's also almost structurally identical to when it was first built, she added.
"It's not just that we think Ellen Herndon was born there. It is one of the last existing houses of its period in the town, so it speaks volumes to the town's history," Nelson said.
Zann Nelson contributed research to this story.
About Ellen Herndon Arthur
- Born 1837 in Culpeper Court House
- only child of Elizabeth Hansbrough and William Lewis Herndon, United States Navy
- spent childhood in Washington, D.C.
- known for her beautiful contralto voice; in the choir at St. John's Episcopal Church in Lafayette Square
- Married Chester Arthur 1859; the couple had three children
- Died January 1880 in New York City of pneumonia; her husband elected vice president later that year
- born 1829 in Fairfield, Vermont the son of a Baptist preacher
- Graduated from Union College in 1848
- worked as a school teacher before practicing law in New York City
- served as Quartermaster General of the state of New York early in the Civil War
- appointed Collector of the Port of New York by President Ulysses Grant in 1871
- elected vice president November 1880
- became the 21st president in 1881 following the assassination of predecessor James Garfield
Be the first to know
Get local news delivered to your inbox!