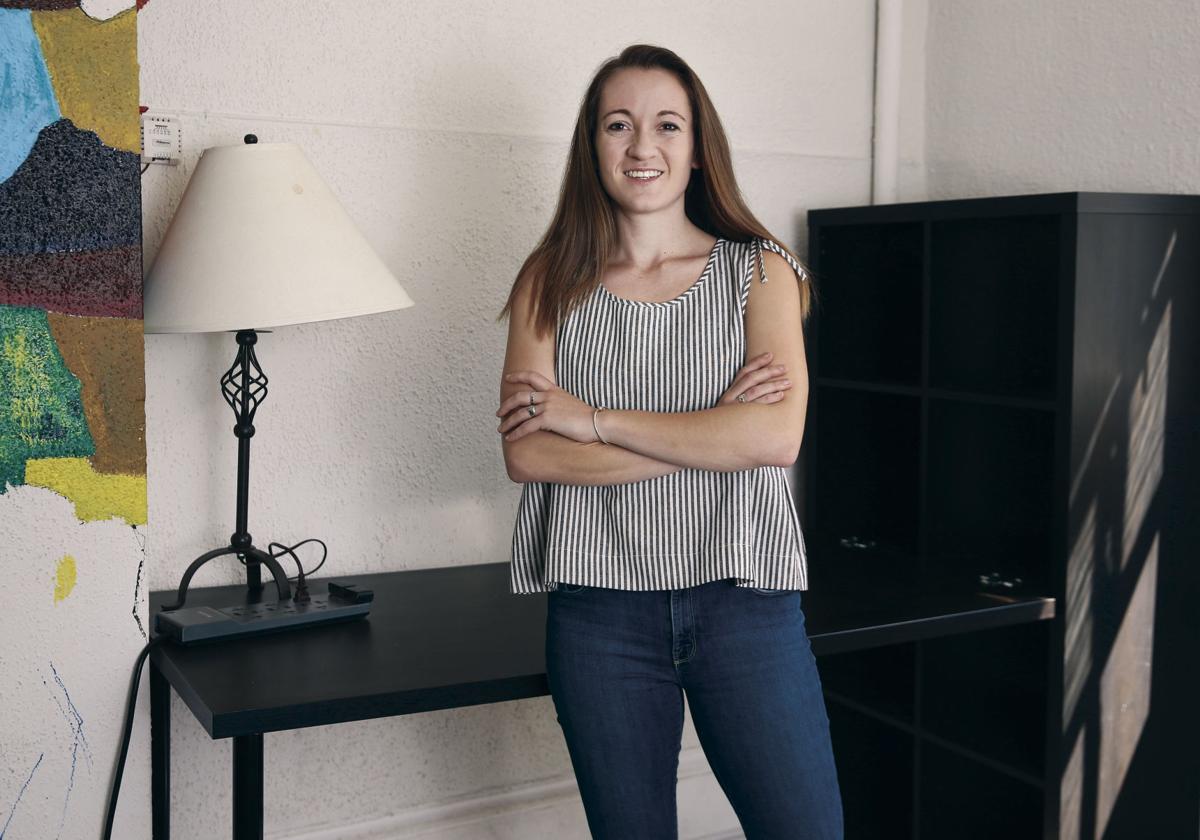 by Richard Alblas
Kaleigh Watson, at just 23, is in the business of preparing her peers for the internships that will jumpstart their careers. As the Launch Director at HackCville, Watson is making sure UVa students have the resume and experience they need to succeed in startup or entrepreneurial careers. She does that by running the Launch Program during the summer, with one clear mission:
"My job is to create super interns," Watson said.
Seven years ago, a group of UVa students was looking for a spot to share ideas, collaborate and learn important skills that are essential in today's job market. They dubbed their endeavor HackCville and it became a hub for mostly UVa students eager to learn and expand their skill set. That mission is still very much alive, but HackCville is now a non-profit organization, serving up to 1,000 students per year in several professional development programs.
Watson is an important part of that mission. The UVa graduate, who as a student took advantage of HackCville, is the Launch Director, responsible for running the huge summer program.
"In the Launch Program students get a chance to focus on developing a specific set of skills in four programs," Watson said. "In four weeks, eight hours a day, we train them to become a software engineer, web designer, digital marketer or data scientist. I call it a boot camp. After those four weeks, students are immediately ready to apply their new skills in real life."
Part of the Launch Program is a nine-week internship at a local, Washington DC, New York City or Richmond startup or tech company. Students are paired with a company even before the program starts, so they can focus on and prepare for the specific demands of the internship. Companies also take care of any costs involved with the summer program.
"Because these companies know they are getting the best of the best. That's what we deliver," Watson said. For this summer, around 60 businesses are expecting HackCville interns.
This summer marks the third year of the Launch Program. According to Watson, the acceptance rate is around 10 percent.
"This year we had around 1,100 applications, but only ninety spots to fill. The program is in high demand," she said. "We are not trying to make this exclusive, but this is all we can handle right now. And we are vetting carefully, making sure we end up with the right candidates."
Watson hopes that for the summer of 2020, she can accommodate around 130 students in the program.
 The Richmond native ("I'm a Richmond girl through and through") starts working on the summer program around September, reviewing applications. After candidates are selected to move forward, they have to perform a skills challenge, followed by an interview. The process to secure a spot in the Launch Program is far from easy and Watson is involved in all aspects of the process.
Chip Ransler, Executive Director of HackCville, feels grateful Watson is doing what she's doing for his organization.
"She's never shied away from a challenge even though I keep throwing her curveballs," Ransler said. "She is only 23 and she's been able to manage a huge program that, to be honest, I'd be nervous giving to even a seasoned manager. She has shown amazing commitment to our organization, to the city, and to our UVa students."
Watson is passionate about her work and thrives on the personal interactions with students. As part of the program, Watson teaches students soft skills, like writing a good resume, how to write professional emails and how to dress properly.
"It's great to see that students develop an important skill they can use in their careers. During the program you can also see confidence build. That's just as important and I love being able to provide that, together with the whole team at HackCville."
Watson is convinced that what HackCville is providing in its semester-long programs and with the summer Launch Program, is unique to the country and perhaps even the world.
"I don't know of a single place in the world that's doing what we're doing. On a day-to-day basis, I'm running the program and doing my thing," she said. "In the bigger scheme of things, I think that we are doing here is pioneering. And I'm happy to be part of that."
 Being inducted in the inaugural 10 Under 40 class is a huge honor, Watson said.
"I can't stop smiling. There are some incredibly young and smart people in Charlottesville and to be nominated and then selected is fantastic," she said. "I love what I'm doing and I'm dedicated to giving students in my program the best we have to offer, so they can become the best they can be."
Be the first to know
Get local news delivered to your inbox!